Communities along the Waccamaw and conservation partners, have made the Waccamaw River a recreational and economic attraction, moving it out of the shadow of nearby Myrtle Beach and into the spotlight across the region. By protecting riverside tracts of land and creating an ideal setting for people to enjoy the river's natural beauty, recreation and tourism to riverside communities and the Waccamaw River has flourished.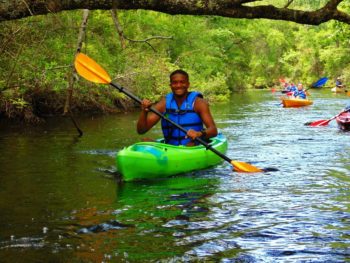 American Rivers and our partners are celebrating the Waccamaw River and its immeasurable benefits for people and nature by launching Welcome to the Waccamaw!. This story map provides an interactive and engaging way to understand the significance of this blackwater gem, its threats, and steps we can take to protect this national treasure.
Considered one of the finest blackwater rivers in the Southeast, the Waccamaw River provides communities in North and South Carolina with clean drinking water, scenic landscapes, diverse fish and wildlife, and outstanding recreation opportunities which substantially benefit the regional economy. The river's crown jewel is the Waccamaw National Wildlife Refuge, which protects the diverse habitat of the river corridor and the greater Winyah Bay watershed for wildlife like the swallowed-tailed kite, coastal black bear and a wide variety of rare plants. Additionally, the area provides amazing outdoor recreation opportunities for boating, fishing, birdwatching and more.
Recurring floods resulting from a spate of recent hurricanes and extreme rainfall events have flooded homes, businesses, roads and communities along the Waccamaw River. Rather than a threat, a healthy Waccamaw with protected floodplain lands are part of the solution, valuable assets for increasing flood and climate resiliency. The river's vast forested floodplains store floodwaters to protect downstream communities, provide critical habitat for rare plant and wildlife species, and filter pollutants essential for the region's clean drinking water.
Waccamaw Flooding | Photo by Robbie Bischoff
Welcome to the Waccamaw! helps people understand the many community and environmental benefits of the Waccamaw River and Waccamaw National Wildlife Refuge. It describes the impacts of flooding and climate change, along with rapid population growth and poorly planned development that threaten the area. The story map also shows how protecting and restoring floodplains, and other riverside lands are part of the solution to improve the resiliency for communities along the Waccamaw by reducing flood risk.
Explore Welcome to the Waccamaw! to learn about how the health and security of surrounding communities are closely tied to the river, the refuge and their abundant forested floodplains.