Intrepid Voyagers Through Arizona Geology
Insight from an American Rivers staff on a journey down the Grand Canyon of the Colorado River.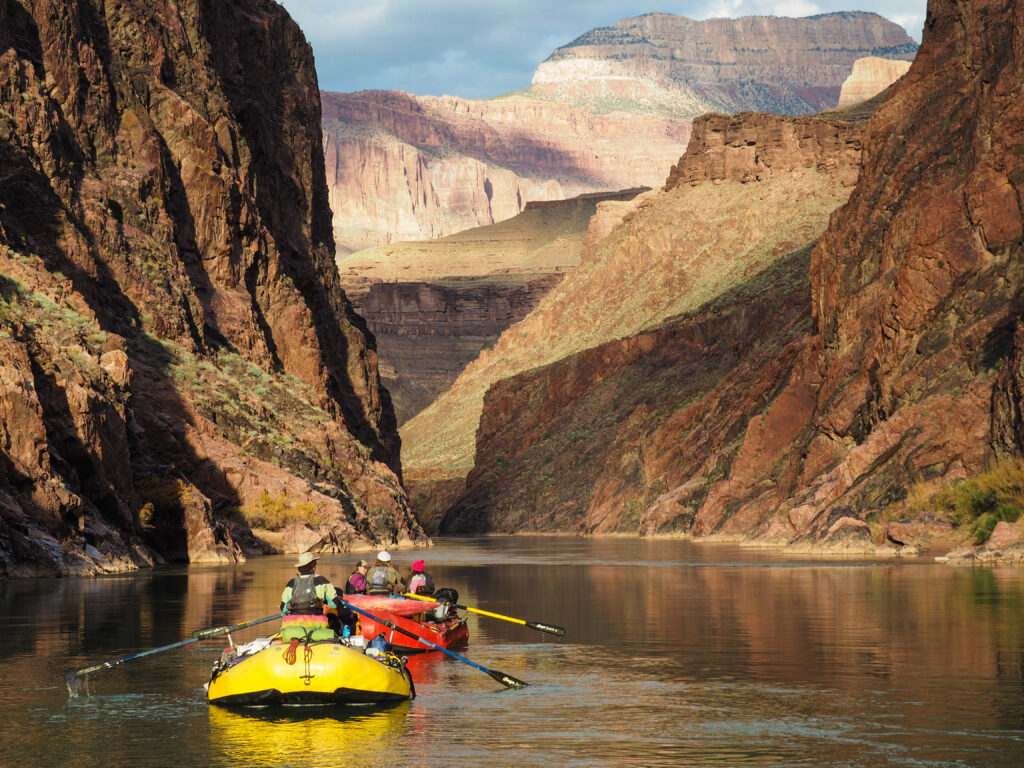 "If there is a point to being in the canyon, it is not to rush but to linger, suspended in a blue-and-amber haze of in-between-ness, for as long as one possibly can. To float, to drift, savoring the pulse of the river on its odyssey through the canyon, and above all, to postpone the unwelcome and distinctly unpleasant moment when one is forced to reemerge and reenter the world beyond the rim-that is the paramount goal." ― Kevin Fedarko, The Emerald Mile: The Epic Story of the Fastest Ride in History Through the Heart of the Grand Canyon 
I still remember the late-February evening in 2017, sipping a porter at my home in Brevard, North Carolina, when I opened my e-mail to find a new arrival to my inbox with the subject line "You have won a Grand Canyon River Launch Date." This message from the National Park Service thanked me for submitting an application for a 2018 launch and notified me that, if I desired, myself and 15 companions could journey into the Grand Canyon the following fall. Needless to say, I was ecstatic.  A few months earlier, a few friends and I decided to apply for a weighted lottery permit to raft the Grand Canyon in the autumn of 2018. Of the collectively-applied-for 30 dates, we pulled two permits.  I pulled one for November 17th, and our friend Emory succeeded with a Thanksgiving Day launch date. We ended up choosing to use Emory's permit, and upon confirming with the National Park Service, our dreaming shifted to planning; we were heading to Lee's Ferry in less than two years!
The following year-and-a-half was a whirlwind. We expanded our group to 16 river runners; 9 ladies and 7 men, hailing from California, Montana, Colorado, North Carolina, and Canada. Most people only knew a few others at the time, but fantasies of the Canyon and trip planning over group messages started to pull the new friends together. 21 months later, after endless planning, permitting, gear-wrangling and renting, money exchanges, transportation logistics, team member changes and miles traveled… amazingly, we were all in Arizona, sprawled across the floor of my friend Anona's home in downtown Flagstaff. Sleeping pads were strewn about, last minute gear-checks and casual conversation filled the room, and a general sense of excitement buzzed about. We were heading to Lee's Ferry the following morning with our outfitter, Ceiba Adventures, from whom we had rented 6 oar rigs, along with food and cooking supplies for our upcoming 24-day and 277-mile journey down the Colorado's deepest canyon. We were anxious, stoked, nervous but generally delighted to be finally leaving the civilized world for a few weeks, and solely focused on traveling downstream through a wonderland of whitewater, geology and culture.
Our collective pushed off from our camp at Lee's Ferry the following morning to a warm breeze and beautiful sunshine. As the Grand Canyon National Park ranger told us the evening prior, we had only one appointment in the next 24 days; to be at Pierce Ferry by the morning of December 15th.  When else in our lives had we only one appointment in the next 3 ½ weeks? As Kevin Fedarko says in his book, The Emerald Mile, "If there is a point to being in the canyon, it is not to rush but to linger, suspended in a blue-and-amber haze of in-between-ness, for as long as one possibly can." We had a long way to go and plenty of time to get there.
The next 277 miles would test us physically, mentally and spiritually, but we would also find many lessons and gifts between the stone walls, rushing waters and open sky. Towering waves and sticky hydraulics would grapple with our control of the rafts, strong eddy lines would attempt to push our vessels off course, sandy winds would disrupt evening sleep, heavy midnight rain would flood camp, and bitter chills would be cause for morning fires to ensure warmth. However, we would be pleasantly surprised by cozy afternoon sun, giggle to endless raft guide jokes, be inspired to learn about the geology of the Grand Canyon (Vishnu Schist, an intrusive igneous rock, is over 1.71 billion years old!), share laughter within a homemade camp sauna, rappel down side canyons, cook delicious meals over open fires, and cheer each other on as we rowed and kayaked through endless beautiful whitewater.
The journey through the Grand Canyon reaffirmed my own feelings that protection of open spaces and clean and plentiful water is vital to our nation's health and longevity. A vague yet powerful sentiment arising from feeling small in large spaces. A floating morsel of adventurous attitude amongst an amphitheater of granite, sand and rushing river. The Grand Canyon and the Colorado River, although mighty and powerful, is an ironic wild space; a huge expanse of rugged natural landscape between two of the largest man-made nature-controlling devices in the United States.
 I come from a background in natural resource management, outdoor recreation, water quality, stream restoration and self-propelled adventure travel, where wild spaces are sought and appreciated. Living in the southern Appalachians, I am no stranger to large hydropower projects on special rivers. The Tennessee, Little Tennessee, Pigeon, Ocoee and Savannah rivers are all restricted by impoundments for sake of generating electricity and flood control. The effects of these dams include dewatering of stream channels, restricting migration of fish and negatively fluctuating water temperatures.
In Arizona, the Colorado River is impounded above the Grand Canyon by Glen Canyon Dam and Lake Powell, and below by Hoover Dam and Lake Mead.  Historically, snow would melt from the Rocky Mountains in Colorado and springtime high-flow torrents would cascade down the Colorado River. This would form a liquid crescendo of momentum, gathering silt and sediment along its journey through Colorado, Utah and Arizona before rushing through the Grand Canyon as muddy brownish-red (where the name Colorado comes from). "Too thick to drink, and too thin to plow" has been used to describe many rivers within our nation, but it undoubtably pertained to the Colorado before the dams were in place.  Since the gates were closed on Glen Canyon Dam in 1966, the silt and sediment traveling down the barren landscape between the Rockies and the Grand Canyon, now becomes trapped within Lake Powell, and thus the water released from Glen Canyon Dam runs a cold, clear green versus its historic muddy brown.
High flow releases occur sporadically to mimic these historical pulses, with the purpose of shifting sediment around the canyon; rebuilding sandbars, beaches, etc., yet the river runs colder and clearer on average than its pre-dam days. The reservoirs themselves are also becoming less efficient. As sediment builds up behind the dam, there are fewer acre-feet available for water storage. These negative impacts, combined with evaporation and lower volume inputs into Lake Powell are components of a dire situation in the southwest. Human alteration of the landscape and climate change have caused shortages of water for consumption, energy, agriculture and cleaning all across the arid southwest, and predictions for the future suggest worsening drought conditions and increasing human populations. Fortunately, the landscape between the dams, the Grand Canyon of the Colorado, is still protected and managed as a special wild space. Grand Canyon National Park is a product of many people's dedication and enthusiasm towards conserving natural beauty, ecologically rare habitats and recreational opportunities. The National Park Service does a fantastic job of managing a wilderness experience for boaters between the rims.
24 days after our first moments together at Lee's Ferry, our crew docked our rafts at Pierce Ferry under an open sky on Lake Mead. We were exhausted, but our hearts were full.  3 ½ weeks away from the 'real world' brought our focus back to the important themes of life; community, hard work, laughter, good food, the natural world and love. Trips like these not only recharge our bodies and minds, but also can have a large impact on our interest and inspiration towards conserving and protecting the places that just brought us so much adventurous joy. I encourage everyone to spend time on rivers; whether it be 277 miles through northern Arizona's Grand Canyon, or even just a few moments in a canoe on a neighborhood pond.