The Clean Water Act's path toward protecting our waters has many twists, turns, and apparent dead ends. The law's treatment of stormwater– the polluted and untreated rain and snowmelt that runs off of streets and parking lots into our creeks and rivers – is one of the convoluted chapters. Some thirty years ago, Congress amended the Act to begin reining in this most widespread of pollution sources. Urban areas, in particular, were required to develop stormwater management programs to reduce future discharges, particularly those from municipal operations and from new development projects.  These programs have had many successes, but still struggle to adequately restore and protect our urban waters.
In large part, the difficulties in reducing urban stormwater pollution stem from the way the Clean Water Act has been implemented by the EPA.  The permit programs administered by the Agency and its state partners generally do nothing to get at the real source of the stormwater problem – the vast acreages of concrete, asphalt and rooftop that already dominate urban watershed.  Owners or operators of existing "impervious areas," as they're called, are almost never required to take on-site steps to reduce runoff. This creates huge inequities in efforts to prevent stormwater pollution: new property developers must take costly steps to control runoff, and the strained budgets of municipal agencies are forced to bear the expense of controlling pollution from exiting parking lots, businesses, and institutions.  Meanwhile, our waters are slow to heal.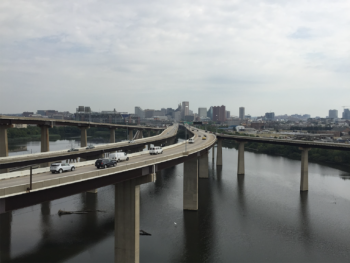 In 2015 American Rivers and its partners Natural Resources Defense Council (NRDC), Los Angeles Waterkeeper, and Blue Water Baltimore sought to change this.  We filed a series of petitions with the EPA requesting that they follow the law, and require that owners of certain impervious areas obtain stormwater permits where their runoff causes or significantly contributes to water quality impairments. The EPA rejected those requests, even as they acknowledged that these areas were the source of serious water pollution.  In an effort to hold the Agency accountable, we took the Agency to court, challenging decisions it made to reject our efforts to protect the Dominguez Channel in Long Beach, CA and the Back River, near Baltimore, MD.  In August 2018, we won our first case, in the Central District of California.  Just last Friday, we won the second, when the U.S. District Court for the District of Maryland ruled in our favor.  As a result of these twin victories, EPA's efforts to turn away from these permanent pollution sources, and to count on ineffectual local stormwater programs, have been soundly rejected.
Going forward, we have the responsibility of making sure that the EPA, its regional administrators, and state agency partners respond diligently, and commit to meaningful measures to reduce stormwater from large commercial, industrial and institutional properties that discharge harmful pollutants to our waters.  Fifty years after the passage of the Clean Water Act, Americans in cities across the country, large and small, deserve to the promise they were made in 1972 – to have waters that are fishable, and swimmable, and healthy enough for all Americans to enjoy.