What is your favorite river?
I spent my childhood surrounded by creeks and rivers. But one always stood out above the rest.
My parents, brother and I used to call Big Snowbird Creek home for weekends at a time. We camped along its banks with my grandparents, aunts, uncles and cousins. Our days were spent swimming, fishing, picking blackberries, cooking together, telling stories, riding four-wheelers and bicycles, playing cards when it rained, and shooting off fireworks on the Fourth of July.
As adults, my husband and I make trips back to that place as often as we can. When we hit the gravel road, we both reach to roll down our windows and take in the cool air and smell of the river. That smell floods me with precious memories every time. Instantly, I'm home. Memories like these are why I chose to work for rivers.
Here at American Rivers, we love starting conversations by simply asking, "What is your favorite river?"
This was the topic of the night when supporters of American Rivers, American Whitewater and MountainTrue gathered to celebrate the 50th anniversary of the Wild and Scenic Rivers Act at New Belgium Brewing in Asheville, North Carolina.
[su_carousel source="media: 45362,45361,45360,45359,45358,45354″ title="no" autoplay="0″]
Around 500 people came together that evening to celebrate rivers and to share their stories with us. Folks showed up eager to talk about their favorite rivers and ready to act to protect them. Activists wrote passionate messages to elected officials, urging them to protect more waterways under the landmark Wild and Scenic Rivers Act. Together, we enjoyed fellowship with river lovers by telling stories about our favorite rivers.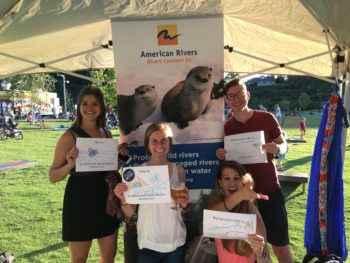 Ask a group of people "what is your favorite river?" And you'll sometimes hear the same river name. But the story is always different. From serene paddles to whitewater action; from lazy floats to fly-fishing; from riverside hikes to family picnics — rivers are eager to give. We all have connections to rivers and rivers connect us.
During the 50th anniversary year of the Wild and Scenic Rivers Act, American Rivers has been celebrating how far we have come in safeguarding rivers, and we look ahead as we work to protect 5,000 additional miles. Many of these special places are at risk. Visit 5000Miles.org to tell us your river story and to take action for our wildest, most outstanding rivers.
Thank you to all those who came out in Asheville to celebrate rivers and join us in protecting them.