Like many American families, road trips were a big part of my upbringing. Every summer, my parents would pack up our red Chevy Blazer and we'd hop in the car in pursuit of our next big adventure. Regardless of our destination and the time it took to arrive, my brother and I would always play the license plate game, each determined to beat the other in finding all 26 letters of the alphabet exclusively on license plates. Not only did the game fuel our competitive spirits, it also helped pass what seemed like days to get to our destination.
While I haven't played the license plate game in quite a few years, I can't help but check out the different plates when I'm on the road. Who knew there were so many different plates available. It wasn't until I was much older that I learned many of these designs actually raise money and build awareness about important issues to state residents.
Here in Colorado, and just north of us in Montana, rivers are making a statement on license plates.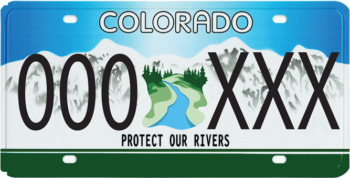 In Colorado, American Rivers partnered with Colorado Trout Unlimited, Audubon and the Colorado Watershed Assembly to build support for rivers across the state. In Montana, American Rivers worked with Bozeman artist Rachel Pohl to depict the North Fork of the Flathead River, one of Montana's four Wild & Scenic Rivers, on their license plate.
If you're a resident of Colorado or Montana, show your support for rivers by purchasing and proudly displaying a river-themed license plate on your vehicle! All money raised goes toward the conservation, protection and restoration of rivers and streams in Colorado and Montana respectively. So whether you're a farmer, kayaker, hunter, rafter or angler – or just someone who appreciates the natural beauty that rivers bring to our landscape – these license plate shows your willingness to put your money where your interest lies!
Purchase a Colorado Protect Our Rivers license plate here (to donate to American Rivers, put our name in the "Partner Code" box) and read up on a few Frequently Asked Questions.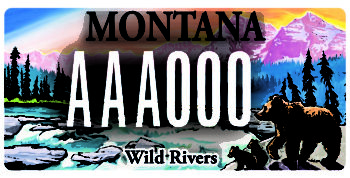 Purchase a Montana Wild Rivers license plate here (scroll to the second line to find American Rivers' plate).
Who knows, maybe I'll bring back the license plate game this summer. One thing I do know, I'll be on the lookout for more river themed license plates!