Major Fishery Threatened by Proposed Alaska Mine
Pebble Mine would be disastrous for Bristol Bay and the fishermen who rely on it. Take action before June 27th to help protect this world-class fishery!
This guest blog was written by Katherine Carscallen and is a part of our blog series on America's Most Endangered Rivers® – Rivers of Bristol Bay, Alaska.
As I type this blog, I can feel my fingers sting with layers of cuts and grime. Looking at my Band-Aid and grease saturated hands, I'm reminded that it was never my intention to be a mechanic. In no way do I mean to disparage mechanics, I'm often gratefully indebted to them. It's just that I grew up on my parent's commercial fishing boat.
I was always drawn to the bridge of the boat, watching the net go out, fish pile in, and my favorite part, picking each fish out of the net, one by one as they come aboard. Picking fish is a race against yourself, to get the salmon out as quickly as possible while taking care to remember that each one will end up on a person's plate in the near future.
Fishing to me was always intense. Exciting. An adventure. And of course when we were lucky – lucrative.
It wasn't long after college I knew I wanted fishing to be a permanent part of my life and I bought my boat. That was my first inadvertent step towards becoming a mechanic. I learned very quickly that in order to do the fun parts of fishing, you must first ensure your engines, hydraulics, steering, pumps, and every other detail of the boat is maintained to run without fail at a critical moment. Without all the equipment we depend on running well, I would never have the opportunity to put my net in front of the world's largest runs of wild salmon year after year in Bristol Bay. So, this time of year, with an estimated 51 million salmon only a week or two away, I guess I am a mechanic, anxiously awaiting my chance to be a fisherman again.
When I decided to make fishing my career, I also never intended to become an environmental advocate.
By the same token however, the un-paralleled fishing here in Bristol Bay is only possible thanks to generations of people caring for the habitat that sustains our salmon. Centuries ago, healthy salmon runs were all over the West Coast, unobstructed by dams, sediment, roads and other inevitable side effects of industrialization.
Today, those runs are diminished, and Bristol Bay is now unique. It's the last great wild sockeye run in the world, and the habitat that sustains our watershed has not been damaged by development. Keeping our fishery intact means advocating for the habitat that sustains it.
Ever since a Canadian company called Northern Dynasty proposed to build what would be one of the largest mines in North America just upstream from my home in the headwaters of our two most important salmon rivers, I've become an environmental advocate too.
Today, the Pebble Mine is closer to becoming a reality than ever before. Northern Dynasty has entered the federal permitting process. The U.S. Army Corps of Engineers is taking comments on the impacts the mine would have – this is the first phase in the permit application's environmental review.
I've already submitted my comment, asking that the Army Corps consider the downstream impacts this mine would have. I asked them to consider the generational threat a toxic tailing dam would pose, the economic harm the existence of a mine would have on our fishing industry that is rooted in quality, sustainability and pristine wild salmon. I asked them to prioritize thousands of years of tradition and a way of life sustained by the people of this region, and to consider the permanent and irreversible harm this mine would bring to an otherwise unaltered watershed, as one mine after another was built on top of our salmon nursery.
This is our opportunity to take a different path than the places where salmon runs have already been decimated. We can still prioritize water, salmon, people and Bristol Bay's world-class fishery.
So, while I anxiously await the coming salmon, I'm taking a break from my boat work to ask you to submit a comment as well. Please support the last great wild sockeye fishery, and the pristine habitat that sustains it.
Please join American Rivers in asking the U.S. Army Corps of Engineers to defend indigenous peoples, commercial fishermen, wild salmon and clean water by rejecting Pebble's mining permit application.
Sign-on by June 27th to be included in our petition!
[su_button url="https://act.americanrivers.org/page/5000/petition/1″ background="#ef8c2d" size="4″ center="yes"]Take Action »[/su_button]
---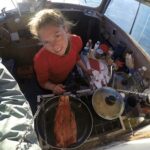 Author:  Katherine Carscallen
Katherine Carscallen is a commercial fisher woman and lifelong resident of Bristol Bay.