Fighting for My Dad's Legacy on the Vermilion River
Brian Hanson reminisces on his fathers - a former Chief of Environmental Resources Division at the U.S. Army Corps of Engineers - impact on Illinois' Middle Fork of the Vermilion River, currently listed as one of America's Most Endangered Rivers®.
The following guest blog from Brian Hanson is part of our America's Most Endangered Rivers® series on the Middle Fork of the Vermilion River in Illinois.
I am writing in response to an article about the Middle Fork of the Vermilion River published in the Chicago Tribune on April 10, 2018. The river has been selected as one of America's Most Endangered Rivers®.
I broke into tears when I read it.
I confess to being a bit emotional recently. I've been told that it's a common problem with people who have had death or near-death events and develop a heightened sense of what is or has been important in their life. I had my own near-death experience two months ago and now wear a portable defibrillator.
Seeing the Vermilion River in the paper brought back a favorite memory of my dad, H. Gordon Hanson, a great guy who died way too young. I had high hopes for more quality bonding time with him after he took early retirement from his job. His job? He was a biologist for the U.S. Army Corps of Engineers. In the early days of his career, it seemed like his job was to try and make the pillage of our environment "look pretty." But then, the word "environment" became more important. He gave me his copy of "Silent Spring", the anti-pesticide book by Rachel Carson, to read shortly after it came out. Eventually, his job title was changed from just "Biologist" to "Chief of Environmental Resources Division" for the Army Corps.
For those of you who enjoy fishing for Coho salmon in Lake Michigan, my dad deserves more than a tip of the hat. He was involved in many projects like that during his career with the Army Corps.
He was also largely responsible for the development of recreational areas on Army Corps property along the upper Mississippi. Many campgrounds on Army Corps property there and throughout the Midwest were due to his efforts. If you've camped at any of them you can thank my dad.
While I was a student at the University of Illinois in Champaign, Dad came down to spend a little time with me. He suggested that we take – what appeared on the map to be – a reasonably short float down the Vermilion River. He had our clunky old aluminum canoe strapped to the top of the car. The Vermilion was not known as a float stream back in those days, and we soon found out why. It took all of our strength on umpteen occasions to lift that canoe over massive logjams and downed trees. We arrived at our takeout point well after dark. Dad had to hitch a ride (in the dark) to go back and get our car.
Of all my memories of time spent with my dad, that "gentle" float trip down the Vermilion River has been a favorite. Part of his legacy that I cherish is that he had a big part in rivers like the Vermilion becoming National Scenic Rivers. I wonder if I was an unknowing member of his scouting mission that day.
Polluters like Dynegy and others have tried to tarnish my father's legacy in Illinois and where I live in Michigan. Lake Michigan continues to be threatened with horrific environmental damage if and when Line 5 bursts beneath the Straits of Mackinac.
Our current leadership – or lack thereof – in Washington and in state capitals across the country tell us they want to roll back regulations that protect valuable resources like the Middle Fork Vermilion River.
I have good reason to be crying.
Please send a letter to Governor Rauner and Illinois EPA Director Alec Messina asking them to ensure this toxic waste will be removed and relocated to a properly-constructed, lined, and monitored facility far from the Middle Fork.
[su_button url="https://act.americanrivers.org/page/4946/action/1″ background="#ef8c2d" size="4″ center="yes"]Take Action »[/su_button]
Editor's Note:  A more recent article has been published on this issue in the Chicago Tribune. Check it out!
---
Author: Brian Hanson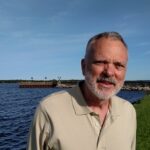 Brian Hanson is an advocate for healthy rivers in Illinois.