"We need to keep the lake fish away from the river fish."
This outdated idea was the reason the Roaring River dam was completed in 1976 by the Tennessee Wildlife Resources Agency (TWRA) to limit "rough fish" from moving upstream from a large reservoir in the Roaring River watershed. Biologists do not propose rough fish barriers anymore, and biologists at the TWRA like Mark Thurman are working now to remove these structures that block rivers.
The Tennessee Wildlife Resources Agency with support from the Tennessee Aquatic Connectivity Team identified this dam removal as an excellent opportunity to restore the Roaring River, a Tennessee state scenic river, because the dam was in disrepair, blocked passage for aquatic species, and was a public safety hazard for those who love to recreate in and along this beautiful river. The dam was removed in August 2017 and to date is the largest river restoration dam removal in Tennessee.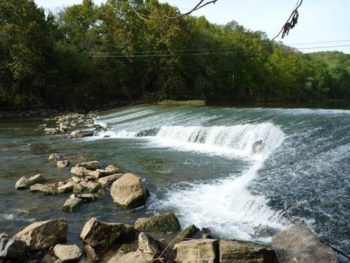 Like most dam removals, there were challenges to overcome in the process. A surprising challenge was handling the significant public interest in the project. Community members were concerned about what the river would look like after the dam was removed, so TWRA met this need for information with press releases and public notices. The removal drummed up excitement in nearby communities and locals even brought lawn chairs to watch the show. The project managers met with local press and talked about the benefits and goals of the project which helped the community embrace a river that better supports safe recreation and allows aquatic communities to thrive now that the Roaring River dam is gone.
The removal of this outdated structure connects 250 miles of main stem and tributary river miles up and downstream of this project. This popular paddling stretch no longer requires a portage and fish and other aquatic species have improved passage. Species such as white bass, redhorse, and the Eastern hellbender are expected to benefit by reconnecting populations above and below the dam.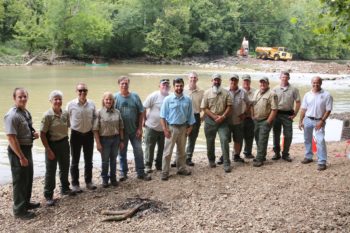 American Rivers congratulates all the partners that made this project a success including the Tennessee Wildlife Resources Agency, U.S. Army Corps of Engineers, The Nature Conservancy, Tennessee Department of Environment and Conservation, U.S. Fish and Wildlife Service, Tennessee Technical University, Southeast Aquatic Resources Partnership, and others who participate in the Tennessee Aquatic Connectivity Team. Thanks to your hard work the Roaring River flows freely for the benefit of people and nature.
Want to read about another project like this one? Check out the Citico Creek dam removal project blog here.