A New and Improved Way to Move Salmon in Washington's White River
Salmon and steelhead recovery in Puget Sound's White River gets a kick start with a new and improved fish passage facility at Buckley dam.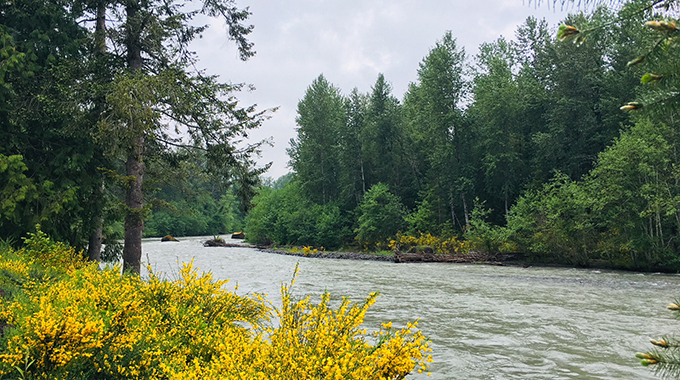 Last week, after four years of pressure to improve fish passage at Buckley and Mud Mountain dams on Washington's White River from tribes, American Rivers, and others, the U.S. Army Corps of Engineers hosted a groundbreaking ceremony for a new state-of-the-art fish passage facility.
On Friday afternoon under a drizzly yet glorious spring day, we joined individuals from the Army Corps, Puyallup Tribe of Indians, Muckleshoot Indian Tribe, Cascade Water Alliance, and Senator Patty Murray at a groundbreaking ceremony that kicked off the two-and-a-half-year project and eventual completion of the nation's largest fish trap-and-haul facility.
Originating from the Winthrop, Emmons, and Fryingpan glaciers on Mt. Rainier, the White River travels 68 miles and drains almost 500 square miles before flowing into the Puyallup River and South Puget Sound. The White River is enjoyed by kayakers, fishermen, hikers, and visitors to Mt. Rainier National Park and the surrounding area. The river is home to four species of salmon (coho, chum, pink, and Endangered Species Act (ESA)-listed Chinook), as well as ESA-listed steelhead and bull trout. The river's salmon and steelhead are central to the culture of the Muckleshoot and Puyallup Indian tribes.
Over $150 million in taxpayer funds are spent each year to restore salmon to rivers and streams around Puget Sound. This investment is undermined every year when thousands — even hundreds of thousands in some years — of salmon and steelhead die at the antiquated and dangerous Buckley Diversion Dam fish collection facilities, due to the poor condition of this dam and its undersized fish trap.
The Buckley fish trap was built in 1941 and from its inception, was never really sufficient to transport the large numbers of salmon attempting to return to their spawning grounds above Mud Mountain Dam. Even if salmon do make it into the overcrowded fish trap, they are often exhausted, delayed, impaled on rebar, and/or injured from the cramped holding facilities, which reduces their chances of survival and lowers their spawning capability after release.
To address the threat, American Rivers named the White River among America's Most Endangered Rivers® in 2014, shining a national spotlight on the impacts of two Army Corps dams on salmon and steelhead runs and river health. Additionally, with the help of Earthjustice, we sued the Army Corps for "take" of a threatened species and failure to consult with NOAA Fisheries over dam operations. The legal action resulted in consultation and a plan by the Army Corps to avoid "take" and begin work on updated fish passage, which will help ensure the long-term survival of Puget Sound spring Chinook and other salmon and trout species in the basin.
The original facility was designed to move only 20,000 fish annually. During peak salmon migration, in odd years, the facility is overloaded, as it struggles to move upward of 20,000 fish per day. The new facility is designed to transport 60,000 fish a day, or upward of 1.2 million fish per year.
Last week's commencement of the project to improve fish passage and upgrade the facility would not have happened without the dedication of the Muckleshoot Indian Tribe and the Puyallup Tribe. It also would not have happened without the leadership and commitment from Senator Patty Murray. Additionally, this project was made possible by the hard work of the Army Corps of Engineers – Seattle District along with the Washington Department of Fish and Wildlife and NOAA Fisheries as wells as the Cascade Water Alliance.
We look forward to monitoring this project as it progresses toward a 2020 completion date and many thanks to all of our supporters who spoke up about Buckley Dam, which has killed thousands of salmon and steelhead in this endangered river. Because of your advocacy, the Army Corps is addressing the problems, which is great news for the White River, the threatened salmon and steelhead populations, and the overall health of Puget Sound.