In this episode of We Are Rivers, we discuss the collaborative efforts Arizona and other Lower Basin states and water users are taking to address challenges facing the Colorado River and solutions, including the Drought Contingency Plan.
This blog was co-authored by Jeffrey Odefey & Kathryn Sorensen, Director of Phoenix Water Services
Arizona is a renowned leader in water management thanks to more than a century of careful planning and effective leadership. But, with drought and declining water levels in the state's key water supplies, Arizona must do more.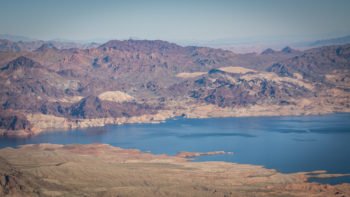 Nearly half of Arizona's water is provided by the Colorado River via the Central Arizona Project (CAP) canal. However, the Colorado River is over-allocated. Over the past decade, the Colorado River has been the subject of a series of high-profile planning efforts and negotiations, including the recently proposed Drought Contingency Plan. These efforts reflect the widespread recognition of significant legal over-allocation and physical overuse of water in the Colorado River Basin, as well as a more accurate understanding of historic hydrology in the Colorado River Basin and the likely near-term impacts of climate change.
Due to both drought and the basic problem of over-allocation of the river, Lake Mead levels have dropped quickly, leaving Arizona at risk of a shortage declaration that will diminish the amount of Colorado River water available to Central Arizona.
System conservation is an innovative and extremely promising approach to reducing risk and building resiliency and certainty into Colorado River Basin operations. Willing funders compensate water users who are willing to voluntarily reduce their water use. Voluntary system conservation allows Colorado River users to collaborate on ways to use less water in the lower basin so that it can be stored in Lake Mead to benefit the system as a whole. This storage benefits people and communities because a model that sustains Lake Mead's water levels will allow people and communities to predict and understand the long-term management of the Colorado River.
The Colorado Basin states have inherited this problem, and it is our inherent duty to work together to fix it. Public health, economic development, and quality of life here in Arizona are contingent upon a reliable and safe water supply. We must be committed to building resiliency and implementing innovative water management strategies to ensure dependable water supplies for generations to come.
Tune in to "Episode 10: Securing Arizona's Water Supply is a Team Effort," to hear how Arizona and other Lower Basin states are working together to reduce demand of the Colorado River through the Drought Contingency Plan.