Georgetown Student Consultants Complete Research Project
Leveraging bright young minds to achieve our mission to protect wild rivers, restore damaged rivers, and conserve clean water for people and nature.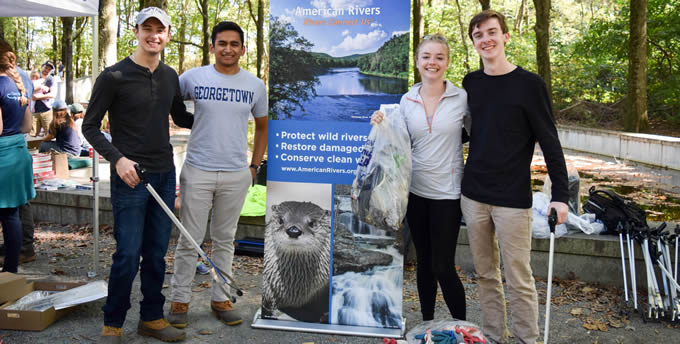 Guest post by Nikhil Mendiratta, a junior at Georgetown University within the McDonough School of Business.
This semester, I had the opportunity to work with American Rivers as a Project Manager with Hilltop Consultants at Georgetown University. Hilltop Consultants is an entirely student-run organization that works with nonprofits in the United States and abroad to provide strategic and meaningful solutions for various issues. We typically select five-six client groups for a strategy consulting engagement each semester. I have been involved in the organization since my freshman year, and this was my first opportunity leading a team of consultants to complete a client project.
Through a semester-long consulting process, Hilltop teams take a deep dive addressing issues, overcoming a barrier, or tackling a challenge presented by our clients. In this case, the project presented by American Rivers was quantitative and financial in nature, which fit well with my background. I study finance and accounting, and worked at Citigroup this past summer, so I was excited to be working on this project. Of course, I would not have been able to complete this project without an incredible team comprised of a senior consultant and three other members, who hit the ground running from week one in early-September.
The project consisted of three key areas. Most importantly, we researched how American Rivers could build a new model to forecast corporate and foundation revenue. Additionally, we examined how American Rivers compared to its peers in terms of the breakdown of its revenue sources. Finally, we recommended key performance indicators (KPIs) that the corporate and foundation fundraising team could use for internal evaluation and decision-making. Our research process involved both academic research and real-world case studies, allowing for a comprehensive understanding of each situation.
Ultimately, we compiled recommendations about how American Rivers can implement our findings going forward. We included step-by-step guides about the implementation of five different forecasting models, in addition to a discussion of forecasting methodology and modeling best practices. Furthermore, we updated a previously completed analysis of the revenue breakdowns of other conservation organizations to include data from similarly sized organizations without a conservation focus. Finally, we recommended a new methodology for key performance indicators and specific KPIs that American Rivers can implement. Our project culminated in a presentation of our findings and recommendations to the staff on December 11th, 2017.
Overall, our team had a very positive experience working with American Rivers throughout the fall semester. The biggest takeaway for me was understanding how nonprofit organizations operate. This project is revenue-based, so I have learned about factors that drive both revenues and expenses, as well as how financials generally work in nonprofits. It's very different from my previous experiences working with large corporations and analyzing large market cap companies.
A highlight was when we were able to participate in a National River Cleanup event in October. The team went to Teddy Roosevelt Island and spent a few hours cleaning up the Potomac River, just a short walk from our campus. It was an eye-opening experience about river cleanliness, and helped us become even more committed to advancing the mission of American Rivers.