2017 Year in Review: 5 Success Stories from California
From completing a major meadow restoration project to forming multiple collaborative partnerships, there are many reasons to celebrate American River's work in California in 2017.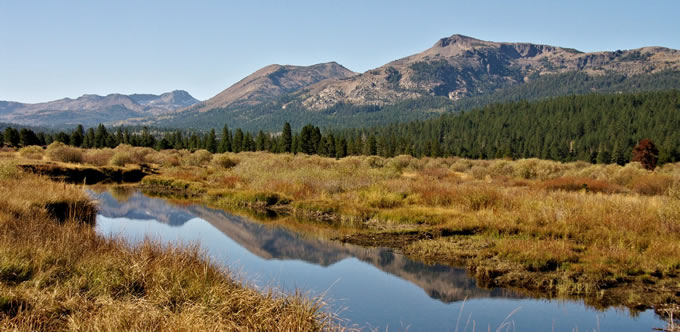 There are a number of ways that 2017 has been tough on the environment, rivers included. But in California, we did achieve a number of victories for rivers across the state. Below are a quick top five victories – but we aren't done yet, we are excited to see how many meadows, rivers, and floodplains are restored thanks to your help in 2018!
· Major steps to improve flood management and restore Central Valley rivers and salmon
The 2017 Central Valley Flood Protection Plan Update embraces a dramatically different approach, which we have been advocating for over 10 years, called "multi-benefit" flood management. This approach recognizes that by expanding floodplains, floodways, and flood bypasses, we can reduce flood risk to people and property while providing benefits to fish, habitat, and recreation. American Rivers is leading and assisting on several large "multi-benefit" projects that the new plan identifies as priority projects.
· Completed restoration of Hope Valley Meadow and two other meadows
In the Sierra Nevada, we restored two miles of habitat for fish, beavers, and birds along the Carson River through Hope Valley. In two other Sierra meadows, we removed diversions to improve flow and we fixed eroded stream channels. We have already seen improvements to water quality and habitat for native fish and threatened species. Total: 3 miles and 450 acres restored.
· Formed the Central Valley Salmon Partnership
American Rivers and partners formally launched the Central Valley Salmon Partnership, which is designed to increase the pace and scale of salmon restoration in the Central Valley. American Rivers initiated this effort more than three years ago when we realized all sectors of the salmon restoration community face common challenges that can best be solved together, particularly with regard to permitting and funding.
· Important progress towards the most significant river restoration project in U.S. history
We are on track for the removal of four dams on the Klamath River in 2020. Over the past year, the Klamath River Renewal Corporation, a new organization that American Rivers helped create, finalized applications to the Federal Energy Regulatory Commission for approval to take ownership of the dams from the current owner PacifiCorp and start demolition within two years!
· Established the Sierra Meadows Partnership
We formed the Sierra Meadows Partnership and set restoration goals with 20 state, federal, and nonprofit partners. We also showed highly successful restoration projects to the leaders of the top four state and federal agencies that fund meadow restoration along Sierra Nevada rivers.