Major Meadow Restoration in Hope Valley Complete
The much anticipated and needed Hope Valley Meadow Restoration Project is now complete! This project restored about one mile of stream channel in beloved Hope Valley Meadow, located on the West Carson River.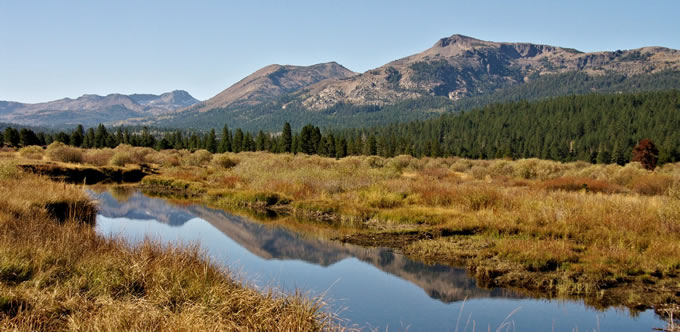 A major and long anticipated effort to restore iconic Hope Valley Meadow has been completed this fall!
The project will reduce erosion, improve floodplain connectivity and enhance aquatic and wet meadow habitat for birds, fish and other wildlife.
This effort started decades ago with an admirable grassroots effort to protect and restore Hope Valley, a beloved recreational site and fishery, and important ecological refugia.
Historically, Hope Valley was an important stopover site along the Mormon Emigrant Trail and was heavily grazed as summer pasture, which caused lasting impacts to the meadow and stream channel. The stream channel became eroded and disconnected from its floodplain, and lost much of its willow cover, reducing the meadows storage capacity, impairing water quality and degrading habitat for fish, birds and other wildlife.
In addition, Hope Valley was once threatened by a plan to dam and inundate the valley with a reservoir. Luckily, local community members and organizations, Friends of Hope Valley and Alpine Watershed Group, took action to prevent the dam and place the valley into public agency ownership. These groups have been working to restore Hope Valley Meadow by ever since, and have been planting willows to improve meadow conditions for over 20 years!
In 2011, American Rivers joined these local groups to help carry out project planning for large-scale restoration of the meadow. And now, after years of planning, major restoration is complete!
The project repaired approximately 1 mile of stream channel by stabilizing banks, planting willows and reconnecting the channel with its floodplain. This work, coupled with the activities of the local beaver population who are also helping to repair the stream channel, have set the meadow on the road to recovery.
[su_youtube_advanced url="https://www.youtube.com/embed/VnMhEF0KbRI" width="1000″ height="520″ showinfo="no" rel="no" modestbranding="yes" https="yes"]https://youtu.be/mbpmAJq4XWw[/su_youtube_advanced]
The project was a highly collaborative effort that included the US Forest Service, California Department of Fish and Wildlife, Friends of Hope Valley, Alpine Watershed Group, Waterways Consulting, Habitat Restoration Sciences, Institute for Bird Populations, Trout Unlimited, Great Basin Institute and more, and received funding from six sources including National Fish and Wildlife Foundation, Sierra Nevada Conservancy, California Wildlife Conservation Board, California Department of Water Resources, Wildlife Conservation Society and Bella Vista Foundation, which contributed hugely to making it a success!