Loving Rivers Is an Old Idea
Cities across the globe prove that we have always needed our flowing water, and still do. Take a trip to Europe with our staff and experience their rivers.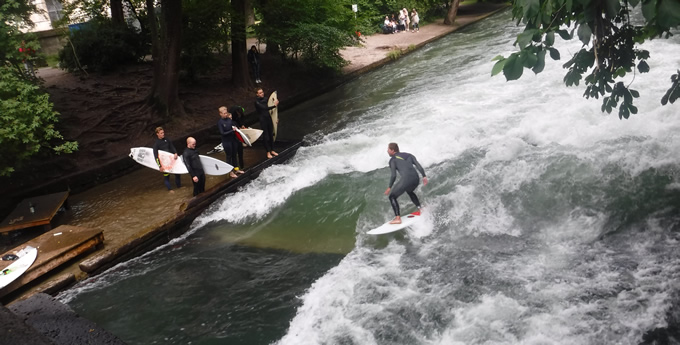 When traveling in Europe this summer, I was struck by how European rivers are central to their lives and history – just like on this side of the Atlantic.
Our first stop was in Paris, where the Seine is a central theme. From a historical perspective, the river was named for Sequana, Goddess of the River, and received the ashes of Joan of Arc. From an artistic angle, the river has been the location of Seurat's "Sunday Afternoon", Javert's death in Victor Hugo's Les Miserables, Jake Barnes' late night strolls in Hemingway's The Sun Also Rises, and more recently, La La Land's "Fools Who Dream". And it's hard to walk near it without being drawn to the artists offering their souvenir paintings for us tourists to take home.
Our next city was Munich, where in the 12th century Henry the Lion burned a competitor's bridge as a way to expand both his wealth and the city of Munich. The Old Town sits close to the River Isar, with the prominent Isartor (Gate to the Isar) still looming large. It is along the river in the English Garden and Maximilian Park where the locals enjoy their sunshine and local offerings (such as at the Chinese Tower Beer Garden). And in the English Garden, you can see locals surfing 24×7, on a channel pulled off of the Isar (click here for an amazing video).
In Italy, Florence's location was decided by the narrow spot in the River Arno, which later became the birth of the Renaissance. And our stop in Rome was perhaps the most impressive. Here, Rome's location was defined by an important river crossing for trade, and the river became even more important after the Roman aqueducts were destroyed during the Dark Ages, motivating the Roman Catholic Church to move the city's center closer to the Tiber River as its main water supply. The Roman love of rivers can best be seen in the Piazza Navona where you can see Bernini's Fountain of the Four Rivers (1651) (see photo).
There's an old adage: "If you want a new idea, read an old book", which completely applies to understanding the importance rivers have played in these European cities, and ones like them here and across the globe. We have always needed our flowing water, and still do.