Natural Infrastructure Helps Economy and Communities
Today, American Rivers and Clean Water for All Campaign Partners are releasing Naturally Stronger that lays out the economic case for large-scale, nationwide investment in natural water infrastructure.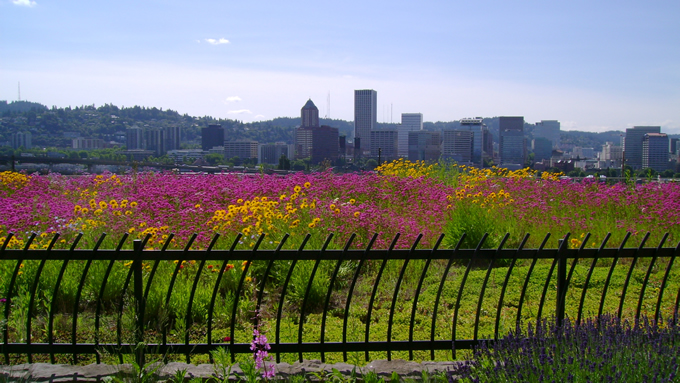 Today, American Rivers and Clean Water for All Campaign Partners are releasing Naturally Stronger that lays out the economic case for large-scale, nationwide investment in natural water infrastructure. Get the report here and read more below.
The Menomonee Valley is the industrial bedrock of Milwaukee. Because the Menomonee River offered easy access to Lake Michigan and neighboring waterways, the valley has been home to a variety of heavy industries, from rendering plants to shipyards. Over the years the industrial activity took its toll on the valley. Economic shifts took much of the Menomonee Valley's trade with it, leaving behind a legacy of toxic water pollution. By the 1970s, the city viewed the area as a blighted eyesore.
Milwaukee's challenges are by no means unique. The United States is at an inflection point with its water infrastructure, which is in many cases inadequate or nearing the end of its useful life. Low wealth neighborhoods and communities of color, which already suffer from a dearth of investment and opportunity, are hit the hardest.
Naturally Stronger takes a high-level look at how water infrastructure intersects with equity, community development, job creation, and public health in both urban and rural communities.
In the context of our daunting infrastructure challenge, we see tremendous opportunity: By investing in equitable, integrated natural water infrastructure we can transform and restore our living environment, invigorate the economy, and confront some of our country's most persistent inequities. Communities across the country are proving that this model not only works, but saves money, grows the economy and improves lives.
For too long, inadequate budgets and institutional siloes have prevented us from matching the scale of our water infrastructure problem with an effective solution. We fail to draw the connections between water quality, drinking water supplies, urban parkland, wetlands, floodplains and employment. We've been playing whack-a-mole, building single-issue systems that only look at one piece of the puzzle. Our research clearly illustrates that the best path forward is to recognize these intersections, and develop inclusive strategies to tackle them simultaneously.
A focused approach to water infrastructure would drive major economic growth, accelerating job creation in the already rapidly growing "natural infrastructure" jobs sector. This would create jobs and opportunities where they are needed most: low-wealth neighborhoods and communities of color that have suffered for decades from a systematic lack of investment. Jobs maintaining natural infrastructure – such as trimming trees, landscaping, roofing and construction – are accessible, stable, provide fair wages, and offer opportunities for career advancement. Driving these benefits to communities that have been historically not gotten their fair share of opportunities and investment and an economic imperative.
Fast-forward to today, and the Menomonee Valley is once again a thriving industrial area – except this time, it's working with nature instead of against it. Ten companies employing over 1,400 workers call the Menomonee Valley Industrial Center home. It's an innovative business and community park, with 60 acres of open space, sports fields and a boat launch. A pedestrian and bicycle bridge across the river links the site to 7 miles of regional trails throughout greater Milwaukee. More than 22,000 people use the park annually, spanning all four seasons. And the Center's centralized stormwater facility, maintains high quality water through a natural landscape that mimics a natural river.
By using natural infrastructure to manage the Center's stormwater, rather than relying exclusively on traditional 'gray' pipe infrastructure, the Milwaukee Metropolitan Sewerage District saved over $45 million – savings that were then passed on to grateful customers. The plants soaking up and naturally filtering the rainfall are also helping reduce carbon pollution – the equivalent of taking 14,000 cars off the road – and saving enough energy to power 1,400 homes. You can find other similar projects all across the city – the results of a broad-based effort to upgrade Milwaukee's failing water infrastructure while delivering a range of other community benefits and improving peoples' lives.
The story of the Menomonee Valley teaches us that a holistic, integrated approach to water infrastructure can positively transform a community. There are stories just like it popping up everywhere. Cities like Philadelphia, Toledo and Portland, Maine and are showing the power of natural infrastructure to restore both ecological and social balance. Rural communities are also benefiting from a holistic approach to natural infrastructure by protecting critical drinking water and restoring degraded wetlands and floodplains to reduce chronic flooding challenges.
These bright spots give us hope that we are on the leading edge of a transformational shift – that we can respond to the challenge of our failing water systems to positively transform our communities into places that are both just and sustainable.
Read more about these solutions in our new report.