Montana's Upper Missouri River Breaks in the Crosshairs
President Trump's executive order threatens to erode the Antiquities Act and shrink or even reverse recent national monument designations. Montana's Upper Missouri River Breaks is a special place deserving of permanent protection.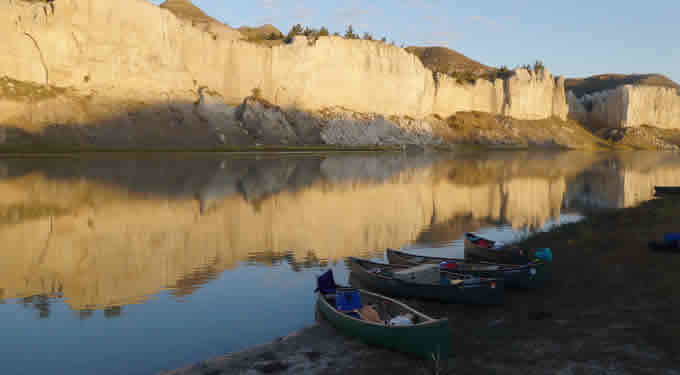 Let's be clear about one thing – President Trump's April 26 executive order in which he directed Secretary of the Interior Ryan Zinke to review all national monuments of more than 100,000 acres created since 1996 is not a routine review meant to improve management of some of America's most treasured public lands. It is a frontal assault on the Antiquities Act and a precursor to eroding protections for at least some of the more controversial monuments that were proclaimed by both Democratic and Republican presidents over the past two decades.
President Trump's executive order was issued at the behest of members of Utah's congressional delegation, who went apoplectic after President Obama proclaimed the 1.35 million acre Bears Ears National Monument in southeast Utah last December. But the order could affect as many as 27 national monuments from Maine to the South Pacific.
Here in Montana where I live, the executive order threatens to weaken protections for the Upper Missouri River Breaks National Monument, proclaimed by President Bill Clinton on January 17, 2001. This spectacular monument encompasses 378,000 acres of federal public lands along and adjacent to the 149-mile-long Wild and Scenic reach of the Upper Missouri River, one of just four Wild and Scenic Rivers in Montana. It was this landscape that most inspired the great western artist, Charles M. Russell, for whom a nearby national wildlife refuge is named.
In the Upper Missouri River Breaks, Americans can get a rare glimpse of what the Northern Great Plains looked like when Meriwether Lewis and William Clark passed through on their way to the Pacific Ocean in 1805. Here, the Missouri River flows past dazzling white sandstone cliffs, rugged badlands, and century-old cottonwood groves, and the stars in the night sky shine so bright it seems you can reach out and touch them. My favorite way to enjoy the monument is by taking a five-day canoe trip through the White Cliffs section, where one can fish, hunt, hike, and search for Native American pictographs in hidden side canyons.
As wild and remote as this landscape is, the designation of the Upper Missouri River Breaks National Monument allowed historic activities such as livestock grazing, off-trail motorized use, and flying small planes into remote airstrips to continue, even though many visitors would like to see them phased out to restore the area to a more pristine condition. About 10,000 cattle graze within the monument, which takes a toll on riparian vegetation such as cottonwood seedlings that grow on sand and gravel bars deposited by spring floods.
Americans are incredibly fortunate that President Theodore Roosevelt had the foresight to come up with the idea for the Antiquities Act, which allows presidents to declare national monuments to preserve some of our country's most magnificent natural and cultural treasures without having to go through Congress. He recognized not only how special our public lands are to the American identity, but also how dysfunctional Congress can be when it comes to setting aside these places.
Please help us protect the Upper Missouri River Breaks, Bears Ears, and other national monuments from the Trump administration's unprecedented attack on the Antiquities Act and our public lands legacy.
[su_button url="https://act.americanrivers.org/page/804/action/1″ background="#ef8c2d" size="5″ center="yes"]Take action »[/su_button]