Feeding the Soul and Saving the Pascagoula River
The Pascagoula is a beautiful place to feed the soul. Take action to save the Pascagoula from two new dams.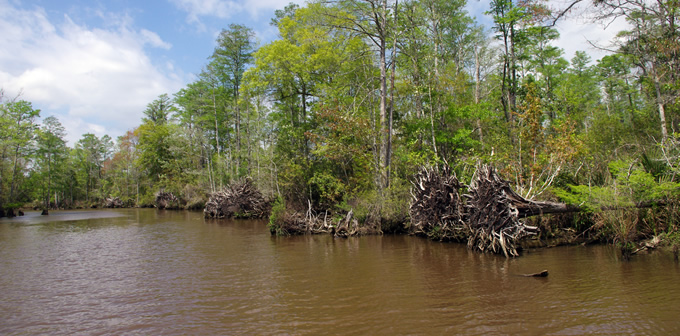 Guest post by Nancy Blue is a part of our America's Most Endangered Rivers® series spotlighting the Pascagoula River.
Our journey on the Pascagoula began about five years ago and our love for the river was instant. We started off by restoring a vintage houseboat, BlueByYou, which we trailer from our home to the river. We quickly marveled as to how the time we spent on the river also restored our souls. This river was giving so much to us each time we visited that we quickly began to give back. Little did we know, BlueByYou would become a workhorse vessel for our adventure in river stewardship. Over the years, we have independently picked up, hauled home, and disposed of approximately 20 tons of river trash.
We have spent many hours enjoying the natural habitat of the peaceful cypress swamps. The serene mirror images of reflections in the water of the sky, swamps, and marshes are forever in our minds. After navigating our way through raging flood waters, we gained more respect for the power of the river.
We have seen many wonders on this river. A pair of Bald Eagles in a downward spiral locking their talons in their mating ritual. Ospreys and Great Horned Owls nesting then caring for their young. Alligators peeping out of the water and sunning on the banks. American White Pelicans migrating for the winter. These are just a few of our favorite things.
The Lake George project that would dam the Pascagoula River tributaries Little Cedar Creek and Big Cedar Creek is unfathomable. There will be huge impacts to the wetlands and streams. Big Cedar Creek is a direct tributary of the Pascagoula. The river and creek provide habitat for common species and those of special concern, including the Gulf sturgeon, striped bass, pearl darter, Alabama shad, yellow-blotched map turtles, numerous species of rare mussels, and gopher tortoises.
The remarkable experience of the Pascagoula River is as close to being an unspoiled, resilient wilderness as imaginable for this area. The Pascagoula River is truly a local and national treasure. Please join us in our efforts to eliminate this current threat.
---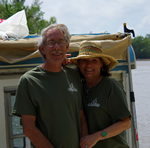 Nancy and her husband Rick are local residents and river stewards living in the Pascagoula River watershed.