We Shouldn't Mess with the Pascagoula
Mississippi's Pascagoula is a natural treasure that should be protected from dams. The Pascagoula River Drought Resiliency Project should not be approved.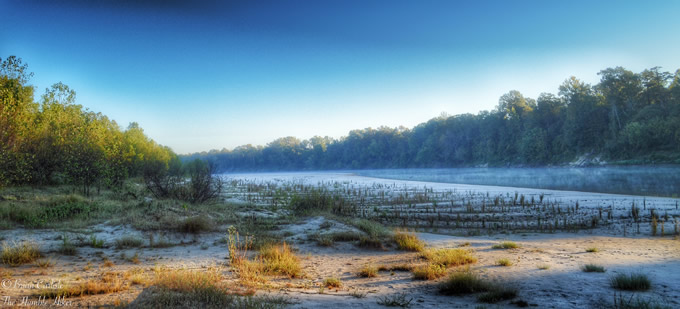 Guest post by Ernest Herndon is a part of our America's Most Endangered Rivers® series spotlighting the Pascagoula River.
It was inevitable. We just can't leave well enough alone.
The Pascagoula River has national distinction as the last remaining undammed major river system in the lower 48 states. So it's only natural, you might say, that officials would want to "improve" the situation by damming one of its tributaries.
The "Pascagoula River Drought Resiliency Project" consists of damming Big Cedar and Little Cedar creeks to form two lakes that total 2,868 acres. By way of comparison, Okhissa Lake is around 1,100 acres, and Lake Tangipahoa at Percy Quin State Park is 700.
I've canoed the Pascagoula from stem to stern but had never heard of Big Cedar Creek, so I had to look it up. It enters the river from the east about halfway between Lucedale and Moss Point.
The stated purpose of the lakes is to store up water for future dry spells. That's according to the "Joint Application and Notification" by the U.S. Army Corps of Engineers, Mississippi Department of Marine Resources, and Mississippi Department of Environmental Quality Office of Pollution Control.
The $80 million project will supposedly benefit industry, agriculture, towns, residences, and others who use water from the Pascagoula, as well as providing recreation in the form of boating and fishing.
Critics say the lakes are a thinly disguised real estate development and will mar the Pascagoula's distinction as being undammed, not to mention destroy lots of prime habitat.
Though the Pascagoula River itself is undammed, there are a number of manmade lakes in the watershed already, including Flint Creek Reservoir, Little Black Creek Water Park, Geiger Lake at Paul B. Johnson State Park, Lake Bogue Homa, Maynor Creek Water Park, Archusa Creek Water Park, Lake Ross Barnett (not Ross Barnett Reservoir), Turkey Creek Water Park, and Okatibbee Lake.
Lake George would be bigger than most of those and much closer to the Pascagoula River itself, as opposed to far off on the headwaters of a distant tributary.
Each side can cite a long list of arguments. But here's the thing:
The Pascagoula River Basin is a national treasure, on a par with Florida's Everglades, Georgia's Okefenokee, Alabama's Mobile Tensaw Delta, Louisiana's Atchafalaya Swamp, and Texas' Big Thicket.
Ecologically, it's Mississippi's claim to fame.
So why do we want to keep chipping away at it?
An earlier proposal, for instance, called for sucking 50 million gallons of water a day out of the river for the Richton Salt Dome. Another one, in 1999, sought to dam Bowie Creek, a major tributary.
We just can't leave well enough alone.
The Pascagoula's distinction came to light in the Nov. 4, 1994, issue of Science magazine, which identified the last remaining undammed, unchannelized major river systems in North America. The Pascagoula was the only holdout in the lower 48.
That's remarkable.
I got to float the entire river in 2004. Travis Easley and I launched canoes on the upper Leaf River, while Scott Williams put his kayak in on the upper Chickasawhay. Those are the two chief tributaries of the Pascagoula.
We rendezvoused at their junction and continued on to the coast — over 200 miles and roughly two weeks. Scott and I coauthored a book on the experience, "Paddling the Pascagoula," published by University Press of Mississippi.
On that journey we got to see what a natural river looks like, or at least as natural as it gets in the lower 48 states.
It's far from perfect. We passed sewer pipes, cutovers, erosion and a paper mill. But mostly we experienced nature — mile after mile of woods and wildlife, the handiwork of God Himself.
So that's why I say: Let it alone. Let's quit chipping away at this rare treasure and focus on guarding it instead.
What You Can Do
A public scoping meeting will be held to discuss this project. If you are in the area, please consider attending.
Date: Tuesday, January 24, 2017
Time: Open house 5:00-8:00 pm (with presentation by the Army Corps at 6:30pm)
Where: George County Senior Citizens Building, 7102 Highway 198 East, Lucedale, Mississippi 39452
---
Ernest is an outdoor writer. This piece was first posted as a blog with the McComb MS Enterprise-Journal on October 11, 2015, and has been reposted with permission from the author.