A Mega-Victory for Two of Idaho's Most Cherished Rivers
Two of America's original Wild and Scenic rivers have been protected from a major threat.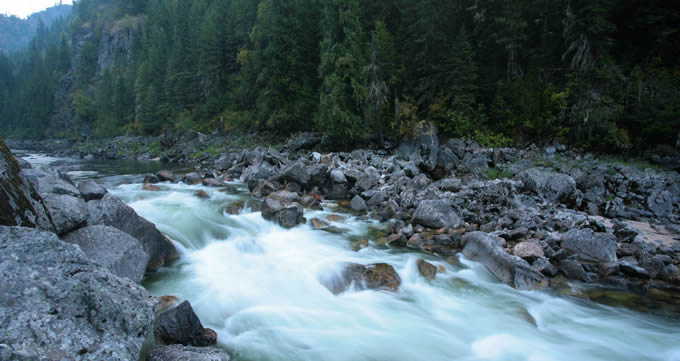 Every spring as the snow melts from the Bitterroot Range along the Montana-Idaho border, the Lochsa River transforms into a raging torrent, drawing whitewater enthusiasts from across the region and around the country. It was here where I first learned to row whitewater almost two decades ago while working for Idaho Rivers United, a ragtag band of river advocates who have a penchant for playing David to industry's Goliath.
Back in 2013, that Goliath came in the form of multinational oil companies wanting to use highway 12 along the Wild and Scenic designated Lochsa and Middle Fork Clearwater rivers (the Lochsa and Selway join to form the Middle Fork Clearwater) to transport huge pieces of equipment from the inland seaport of Lewiston, Idaho to the Canadian tar sands in northeastern Alberta. So huge were these loads that a new word was coined to describe them – megaloads – some of which are longer than a football field and weigh a million pounds.
The oil companies envisioned moving hundreds of megaloads annually along highway 12, which would have snarled traffic, marred the spectacular scenery, impacted riverside campgrounds, and diminished everything that anglers, boaters, and campers love about these rivers. And it would have only been a matter of time before a megaload ended up in the river, where it would have been a logistical nightmare to remove.
For these reasons, American Rivers named the Lochsa-Middle Fork Clearwater River corridor the nation's #10 Most Endangered River of 2014.
Given that the Lochsa and Middle Fork Clearwater rivers were among the nation's first to be protected under the Wild and Scenic Rivers Act, river advocates thought the U.S. Forest Service would use its authority under the Act to ban megaloads from the river corridor. But billions of dollars were at stake for the oil companies and the Forest Service was uncertain whether it had the authority to regulate them, so it did little to stop them. That's when Idaho Rivers United and the Nez Perce Tribe sued the agency for failing to protect river values and consult with the tribe, for whom this area has been home for millennia.
That was in 2013.
Today, we have fantastic news to report. After more than three years of federal court-sanctioned mediation involving Idaho Rivers United, the Nez Perce Tribe, and the U.S. Forest Service, a settlement was announced on January 27 whereby no future megaloads will be allowed to travel the highway 12 corridor. For anglers, river-runners, Nez Perce tribal members, and anyone who holds a special place in their heart for these magnificent rivers, this victory is as sweet as they come.
American Rivers extends a special thanks to Idaho Rivers United, the Nez Perce Tribe, and the environmental law firm Advocates for the West, without whom this victory would not have been possible.
Read more about this ruling from the Spokane Spokesman-Review at: http://www.spokesman.com/blogs/boise/2017/jan/27/megaload-settlement-some-oversize-trucks-ok-no-more-megaloads-scenic-highway-12/
To learn more about how American Rivers is working to protect our Wild and Scenic Rivers and win protections for an additional 5,000 miles of rivers to celebrate the 50th anniversary of the Wild and Scenic Rivers Act, visit: https://www.americanrivers.org/campaigns/5000-miles-wild/.