Oil and gas development, including fracking, near streams and rivers can have a number of impacts. These include pollution of surface and groundwater, sedimentation of streams from construction of roads and well pads, dewatering of streams, and displacement of wildlife.
Heavy machinery, trucks and other buildings and equipment turn pristine and scenic areas into industrial zones.
What is Fracking?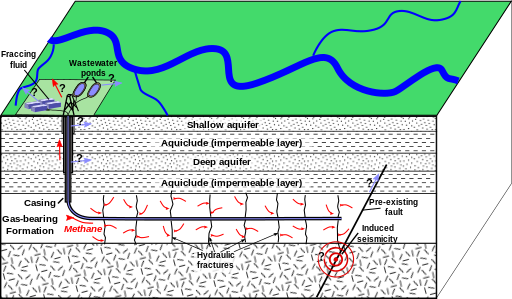 Hydraulic fracturing is an oil and natural gas production technique that involves the injection of millions of gallons of water, plus chemicals and sand, underground at very high pressure in order to create fractures in the underlying geology to allow natural gas to escape.
It also is called hydrofracturing, hydrofracking or more commonly known as fracking.
The sand is used to keep the fractures open and allow oil or gas to flow more efficiently. Hydraulic fracturing is commonly used in many types of geologic formations such as coal beds, shale plays, and previously-drilled wells to further stimulate production.
Thirty-three states have oil and/or natural gas production and, according to the Interstate Oil and Gas Compact Commission, more than 90% of U.S. oil and natural gas wells use hydraulic fracturing. Tens of thousands—if not hundreds of thousands— more wells are planned across the country over the next decade.
The Problems With Fracking
Hydraulic fracturing fluids can contain a variety of toxic chemicals such as diesel fuel, acids, and acetone. Though industry proponents of the practice assert that only a small fraction of the fluid volume used in any fracturing operation consists of chemicals, because of the large volume of fluids needed for each "frack job"—sometimes millions of gallons—the chemical components of fracturing fluid can amount to tens of thousands of gallons.
Hundreds of different types of chemicals are used in fracturing operations, many of which can cause serious health problems—some are also known carcinogens. After hydraulic fracturing takes place, both the waste fluid that is brought back to the surface as "flowback" as well as the fluids that remain underground can contain toxic substances that may come from the fracturing fluids.
In addition, hydraulic fracturing can release hazardous substances that are naturally occurring into the environment, such as arsenic, mercury, and naturally-occurring radioactive materials (NORMs). All of these substances present risks to underground sources of drinking water and need to be regulated properly, especially because each well may be hydraulically fractured as many as 15 times. Hydraulic fracturing has been suspected in cases of drinking water contamination around the country, and in some areas where there has been hydraulic fracturing, residents have reported illnesses.
Does Fracking Threaten Drinking Water?
In many places, hydraulic fracturing takes place on private property, even in backyards where children play or where a drinking water well is located. Depending on local circumstances, property owners have little or no leverage in determining where hydraulic fracturing operations may take place.
Hydraulic fracturing frequently necessitates drilling through drinking water aquifers, exposing such aquifers to the risk of contamination from the tens of thousands of gallons of chemicals typically employed in a single fracturing operation or from naturally-occurring hazardous substances.
Is Fracking Regulated?
Hydraulic fracturing is one of only two underground injection processes exempted from the federal Safe Drinking Water Act. States where hydraulic fracturing occurs have varying regulatory requirements, some of which are weak.
For example, in most states oil and gas companies are not required to publicly disclose the types and amounts of chemicals that are injected underground in the fracturing process. In other words, nearby residents or landowners have no way of knowing what kinds of chemicals are being injected underground that may have contaminated their drinking water.
Success: Saving Wyoming's Hoback River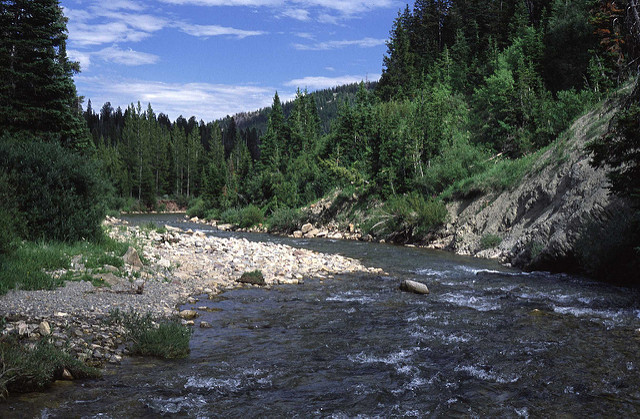 Wyoming's Hoback River was threatened by industrial-scale gas drilling and American Rivers named it among America's Most Endangered Rivers® in 2011 and 2012.
Flowing for 55 miles from the Wyoming Range to the Snake River, the Hoback River is extremely valuable as a pure drinking water source and contributor to the region's recreation-based economy. The river is treasured by local residents and tourists alike for its paddler-friendly rapids and superb fishing opportunities for native cutthroat trout.
The mosaic of grassy meadows and forested slopes where gas drilling was proposed serves as vital habitat for big game animals such as elk, mule deer, moose, and pronghorn antelope, making it a popular area for hunting. In 2009, Congress granted Wild and Scenic River status to the Hoback downstream of the proposed drilling site, legally prohibiting any activities that would degrade its water quality, fisheries, or other special values.
Plains Exploration and Production, a Houston-based energy company, had secured 58,000 acres of oil and gas leases from the Forest Service in the headwaters of the Hoback, threatening the river's clean water, wildlife and recreation economy.
American Rivers and our conservation partners launched a fundraising effort to raise $8.75 million to buy out the company's leases. We were successful, and today the headwaters of the Hoback remain in pristine condition for anglers, hunters, paddlers and hikers to enjoy forever.
The most important lesson that we learned from this effort is that the time to stop oil and gas drilling on ecologically sensitive and recreationally valuable public lands is during the forest planning process, before any leases are granted. Once an energy company holds a valid lease, they can hold our public lands hostage and force conservationists and taxpayers to come up with huge sums of money to buy them back.