Speak up for Wild Salmon in the Columbia and Snake Rivers
Together with our partners, American Rivers is committed to finding the best solutions for the people and salmon of the Columbia-Snake basin.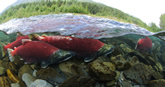 Healthy rivers are the lifeblood of the Pacific Northwest, vital to our identity, economy and way of life. Right now, we have an unprecedented opportunity to restore river health and wild salmon runs in the largest river basin in the region – the Columbia-Snake.
The three federal agencies that manage the Federal Columbia River Power System – the U.S. Army Corps of Engineers, Bonneville Power Administration, and U.S. Bureau of Reclamation – currently are holding open houses across the Northwest to gather public comments about salmon recovery in the Columbia and Snake rivers.
Please attend an open house near you (see list of dates and locations below) to speak up for healthy rivers and wild salmon.
Dams have transformed the Snake and Columbia rivers, once among the world's largest producers of wild salmon and steelhead (ocean-going rainbow trout). More than 400 dams harness the basin's rivers for hydropower, irrigation and flood control. These dams, combined with other factors, have pushed some wild salmon runs to the brink of extinction.
Last May, American Rivers and our partners won a major court victory where the federal judge required a new examination of the impacts of Columbia and Snake River dams on imperiled salmon.
American Rivers believes any salmon recovery solution must look at the entire Snake-Columbia hydrosystem, and should include removal of four low-value dams on the lower Snake River in eastern Washington. Improvements in the operations of some Columbia River dams are necessary.
Over the past two decades, billions of dollars have been invested in habitat improvements throughout the basin to recover salmon runs. While these investments are necessary and have shown some positive results, they are not sufficient to bring wild salmon runs back to healthy, sustainable levels.
It's time for a regional conversation about how we can remove the four lower Snake River dams and replace their benefits with cost-effective alternatives.
What does this transition look like?
We need to examine how power from the dams could be replaced through a combination of energy efficiency gains, new renewables like wind, and perhaps changes in the operation of the region's other dams. Let's look at how grain currently transported on barges instead could be moved on upgraded railroads and highways. Irrigation is provided from only the lowermost of four lower Snake River reservoirs – above Ice Harbor Dam – so let's look at how that irrigation water could be pumped from a free-flowing river.
It's time to act to create the future our children deserve: a future where wild salmon are restored to healthy, harvestable numbers; where continued investment in renewable energy and conservation provides low-cost and stable sources of energy; where water supplies and transportation infrastructure serve farms and communities; and, where risk of flood damage is reduced.
Achieving this vision will require strong leadership from the White House, Northwest governors and the Northwest congressional delegation.
And, it will require the voices of people like you who care about healthy rivers and wild salmon.
As other dam removal and water management settlements around the country have demonstrated, it takes hard work to chart out a solution that all parties can endorse, but it is possible. Just look at the tremendous dam removal success stories on the Elwha River in Washington and the Penobscot River in Maine, to cite just a few recent examples where fish runs are being restored and local economies are being revitalized.
Together with our partners, American Rivers is committed to finding the best solutions for the people and salmon of the Columbia-Snake basin. We hope you will join us.
Find an open house near you. Speak up for rivers and salmon!
Spokane, Washington: Monday November 14, 4 p.m. to 7 p.m. The Historic Davenport Hotel, 10 South Post Street
Lewiston, Idaho: Wednesday, November 16, 4 p.m. to 7 p.m., Red Lion Hotel Lewiston, Seaport Room, 621 21st Street
Walla Walla, Washington: Thursday, November 17, 4 p.m. to 7 p.m. Courtyard Walla Walla, The Blues Room, 550 West Rose Street
Pasco, Washington: Monday, November 21st, 4 p.m. to 7 p.m. Holiday Inn Express & Suites Pasco-Tri Cities, 4525 Convention Place, Pasco, Washington 99301.
Boise, Idaho: Tuesday, November 29, 4 p.m. to 7 p.m., The Grove Hotel, 245 S. Capitol Blvd.
Seattle, Washington: Thursday, December 1, 4 p.m. to 7 p.m. Town Hall, Great Room, 1119 8th Ave.
The Dalles, Oregon: Tuesday, December 6, 4 p.m. to 7 p.m., The Columbia Gorge Discovery Center, River Gallery Room, 5000 Discovery Drive
Portland, Oregon: Wednesday, December 7, 4 p.m. to 7 p.m., Oregon Convention Center, 777 NE Martin Luther King Jr. Blvd.
Astoria, Oregon: Thursday, December 8, 4 p.m. to 7 p.m., The Loft at the Red Building, 20 Basin Street