Gateway to the Upper Colorado Permanently Protected
Dewey Park was recently protected and is seen as the scenic gateway to the Colorado River corridor.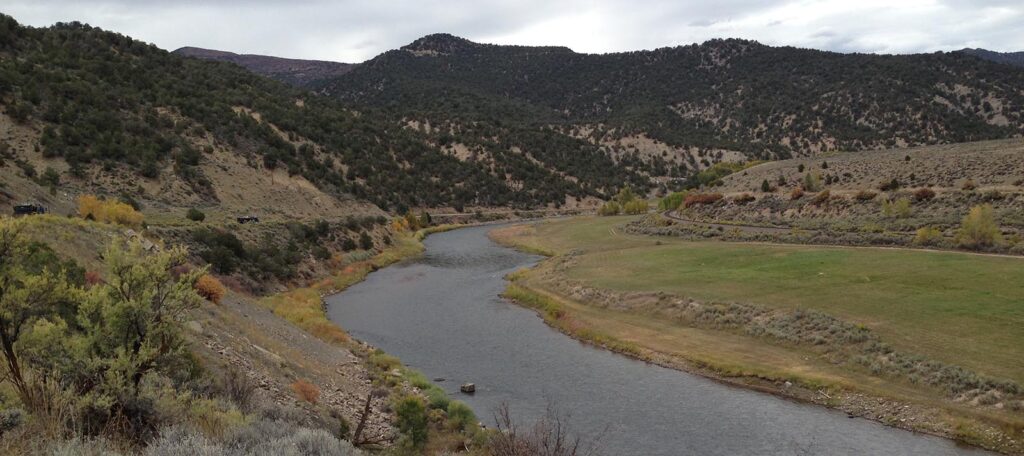 Earlier this month, I had the opportunity to celebrate a fantastic addition to protected land in Eagle County, Colorado – Dewey Park! With over a mile of Colorado River frontage permanently protected it was an excellent cause for celebration!
The Eagle Valley Land Trust, a grantee of the Connecting Communities to Rivers Grant Program, along with Eagle County Open Space, added another parcel of protected land along the upper Colorado River to the open space network. Dewey Park, a scenic, 38-acre property with 6,000 feet of Colorado River frontage was permanently preserved. Not only is this land visible from the Colorado River Road, but it can also be seen from nearby public lands.
Wildlife species such as bald eagles, osprey, great blue herons, and songbirds rely on this undeveloped land for habitat. The perpetual conservation easement ensures that development will never encroach on this scenic stretch of river. Just north of the Dotsero Landing Boat Ramp, the Dewey Park easement will preserve the scenic and iconic views of the Colorado River and surrounding area. Additionally, the easement will provide a buffer to the river, as well protect current agricultural uses and associated water rights for the property.
The upper Colorado River lies at the heart of a nationally recognized recreational area in Eagle County, Colorado, home to Vail and Beaver Creek Ski Areas. The upper Colorado River is widely known as one of the most popular whitewater and fishing rivers in the country. Whether you enjoy pursuing a rainbow or brown trout, relaxing in a raft with friends, enjoying the Colorado River from its banks or along the Colorado River Road, the reach of the river from State Bridge to Dotsero in central Colorado is as scenic as it is adventurous!
Congratulations to the Eagle Valley Land Trust board and staff, the Eagle County Open Space Advisory Committee, and the Eagle Board of County Commissioners. Land protection was supported through funds from American Rivers and the Gates Family Foundation.