Protecting the Russell Fork River One Cup of Coffee at a Time
Gene Counts has been defending against threats to the Russell Fork River for decades. This is the story of how the Friends of the Russell Fork came into being.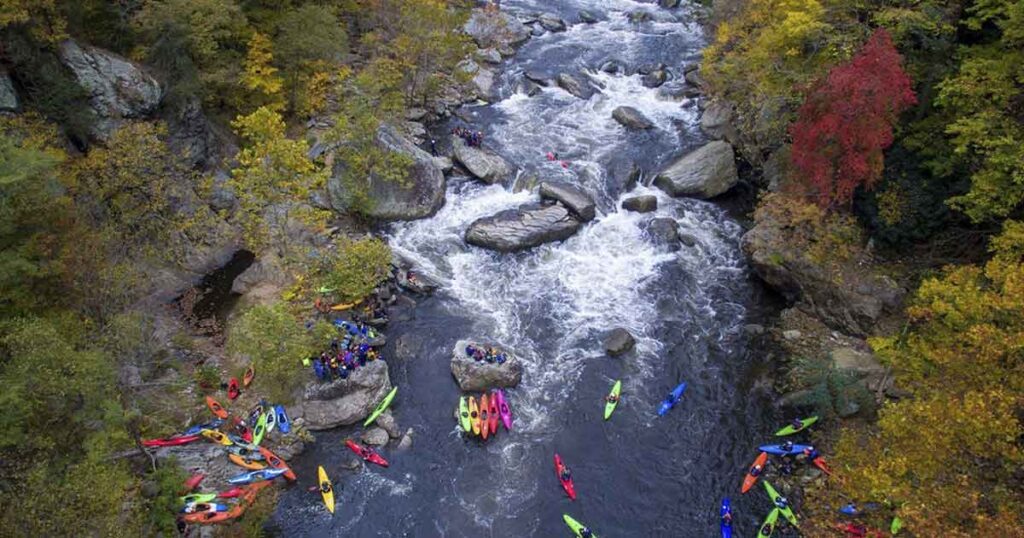 Guest post by Willie Dodson is a part of our America's Most Endangered Rivers® series spotlighting the Russell Fork River.
The best cup of coffee in Southwest Virginia won't be found in a fancy cafe in some college town, and it won't be served by a twenty-something with those big things in their ears. I have nothing but love for the Ugly Mug in Wise, Zazzy's in Abingdon, and my old haunt Bollo's over in Blacksburg. Each of these shops makes a mean cup that will put a pep in your step and bring peace to your addicted soul. But if you really want a coffee experience to write home about, you're going to have to go to Haysi up in Dickenson County, Virginia, on the Russell Fork River and find Gene Counts.
Gene is a retired public school teacher and administrator, a Haysi native, and an active and outspoken advocate for the Russell Fork River. If there's anything he's more enthusiastic about than coffee, it's the river. In his seventies, the dude is still out there in his kayak, tearing through the set of Class V rapids with names like Fist and El Horrendo, that draw hundreds of other whitewater nuts like him to the Breaks Interstate Park every year. Here at the park, just about six miles from Haysi as the crow flies, the Russell Fork cuts a deep and winding canyon through the mountains, surging from Virginia into Kentucky.
One late August afternoon, I paid Gene a visit to talk about his organization, the Friends of the Russell Fork, and about past and ongoing efforts to protect, improve and promote the river. Per his request, I make a habit of bringing my banjo with me when I visit. I sit at the kitchen table and frail out old tunes while Gene fusses around with an assortment of barista gadgets, crafting my coffee like it's an art and a science. I'll say it again. It's the best cup of coffee in Southwest Virginia.
When the jam session ended (me on banjo, Gene providing the gurgle and hum of the cappuccino machine), I asked him to tell me about the birth of the Friends of the Russell Fork. As many a good storyteller is prone to do, his answer started with a prequel, "Well, in a way, it began when I was a child. My father was a union organizer. I remember riding around with him to all these little coal camps around here organizing for the United Mine Workers of America." This experience of growing up in a union household instilled in Gene a belief that change is possible when people work together. He described how much he respected and looked up to his father, and how this aspect of his old man's life inspired him to walk a similar path.
When strip mining started up in the 1960's, Gene became a vocal opponent of the practice. "I was quick to argue," he said. "These strip mines that you see around here, I fought them!" He eventually joined with a regional social and environmental justice organization called the Council of the Southern Mountains, and traveled to Washington, D.C., to meet with Robert Byrd (at the time a Congressman from West Virginia and eventually a Senator) and other legislators to push for the establishment of firm restrictions around the practice. The fruits of this labor would later bear out as the 1977 Surface Mining Control and Reclamation Act.
Shortly thereafter, Gene had to take a step back from activism in order to focus on his career in the public schools where practically all of his students were the children, grandchildren, nieces and nephews of miners and others who worked in the coal industry. Throughout this time that Gene's activism took a back seat, his convictions persisted, and his love affair with the Russell Fork grew ever deeper. In the latter part of his working years, he began to envision a new grassroots project. Gene stated, "Back in the 1990's, I started thinking of a group that could help us back here to go into these mountains and put in some hiking and biking trails to attract tourism. I knew that the future of this county wasn't minerals. It was gonna be tourism."
He discussed the idea with friends, other local leaders, representatives of the Breaks Interstate Park, and members of the Great Eastern Trail Conference (an effort to establish a hiking trail from Northern Alabama to the Finger Lakes region of New York State). Over time a consensus was found, grants were secured and a board of directors was formed. The Friends of the Russell Fork emerged as a locally-led organization dedicated to water quality protection, environmental education, and the promotion of the Russell Fork as an ecological treasure and an economic engine for the area.
It's difficult to pinpoint a specific start date for the organization, as the networking, fundraising and projects that would become Friends of the Russell Fork began to manifest years before the group was officially chartered. It is safe to say, however, that in one form or another, FORF (pronounced just how it looks), has been a leader in environmental education, conservation and service in the area for well over a decade. The organization has provided a book about the natural and cultural history of the Russell Fork watershed to every ninth-grader in the county. They've partnered with AmeriCorps VISTAs to survey over 200 homes within the watershed for straight pipes (a plumbing design that results in untreated sewage entering into waterways), faulty septic systems and other potential sources of bacterial contamination to make this information available to state agencies charged with eradicating such point sources of pollution.
Bacterial pollution is only one of the threats the Russell Fork has faced. Extractive industries, such as coal mining and more recently natural gas drilling, have contributed pollution in the form of sediment and metals. However, it's important to note that while Gene himself has been an outspoken critic of strip mining in this area, it's not an issue on which FORF has taken a position. Regardless, just a few miles upriver from Gene's home, a company called Contura holds a disputed permit for an 1,100-acre mountaintop removal mine called the Doe Branch Mine. While state mining regulators have indicated their approval, the U.S. Environmental Protection Agency maintains a hold on the project, as it is expected to cause further harm to the already impaired Russell Prater Creek, one of the primary tributaries of the Russell Fork.
"What concerns me is that we have absentee people owning this permit. If they go up there and start stripping, who knows what would happen to our Russell Fork watershed? They're just about money. They don't care about our environment," said Gene.
These days, Friends of the Russell Fork is not as active as it once was. "What we need now is young people," Gene said, as he got started weighing out precisely 16.1 grams of home-roasted beans for my second cup of coffee. "Our current board — we're getting old. We need some new energy and new leadership from the young people in this area."
Some local young folks are staying in the area and working to build a new economy that works for everyone. Meanwhile, the area's abundance of outdoor recreation opportunities and just plain wilderness is drawing in new arrivals, so there's hope yet that this river will continue to inspire new generations of caretakers. One easy way to speak up for the river now is to urge the Environmental Protection Agency to uphold its objection to the Doe Branch Mine permit.
---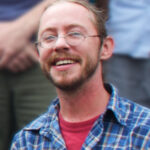 Willie Dodson is the Central Appalachian Campaign Coordinator for Appalachian Voices. Appalachian Voices is an environmental non-profit committed to protecting the land, air and water of the central and southern Appalachian region, focusing on reducing coal's impact on the region and advancing their vision for a cleaner energy future.