Energy development can also produce toxic waste that can seep or spill into groundwater and rivers, threatening fish and wildlife and drinking water supplies. Here's how:
Mountaintop removal mining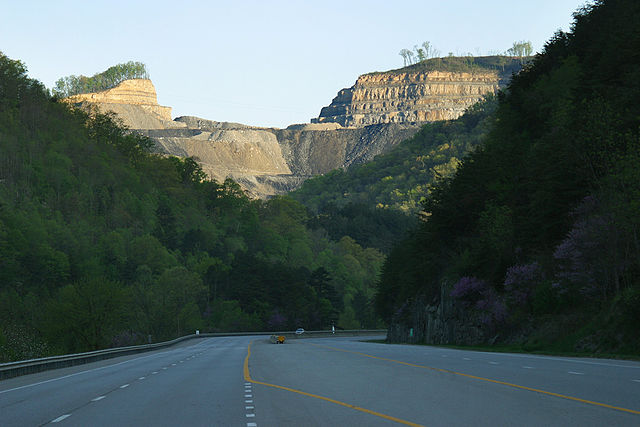 One of the most damaging forms of mining is mountaintop removal, where entire mountains are blasted to reach the coal seams underground. In the process, small streams are buried under excess rock, water is polluted and habitat is destroyed.
American Rivers has listed several rivers threatened by mountaintop mining in our annual America's Most Endangered Rivers® report, including the Coal River in 1999 and 2000, the Big Sandy River in 2001, and Russell Fork in 2016.
Health Impacts: one nurse's story
Pamela Johnson is a registered nurse in West Virginia. When American Rivers named the Coal River among America's Most Endangered Rivers®, she shared her concerns about how mountaintop removal mining was impacting the health of her community.
"As a child, a stream behind my house in Hughes Creek, West Virginia, provided endless hours of entertainment.  I turned over rocks to find crawfish.  I skipped rocks across it and attempted to catch minnows.  I sent bottles downstream with notes in them requesting someone (I imagined in a foreign land) contact me.  I waded across the stream in summer and had my own private "pool."
As a nurse, I've seen the impacts of poisoned water.   I did health assessments in the Prenter area, where coal slurry has polluted residents' wells, and my findings were appalling.  Before I went to Prenter, I thought that people were exaggerating their problems, but when I got there, I realized that they were under-reporting their health problems.
Cancer, skin lesions, kidney disease, rashes, ADD/ADHD, Asperger's Syndrome, and other illnesses are all far above the national average.  Ninety-eight percent of the people I've seen on Prenter Road have gallbladder disease; children's teeth are dissolving.  Five people, including a child, with brain tumors lived on a single stretch of road.
Given that we are putting our families at risk, I am appalled that there is not more concern for the toxins we are putting in our water.  Creeks, streams, and lakes all drain into our drinking water – so at some point we are drinking our mining waste.
We must do more to protect our small streams from pollution and destruction to protect the people and wildlife downstream.
This generation has no "imagination pool." The crawfish, minnows, and clean streams that once held endless dreams and fascination for me are slipping away from our kids.  We cannot live, and certainly cannot be healthy, without clean water."
Copper-Nickel Mining in Minnesota's Pristine Boundary Waters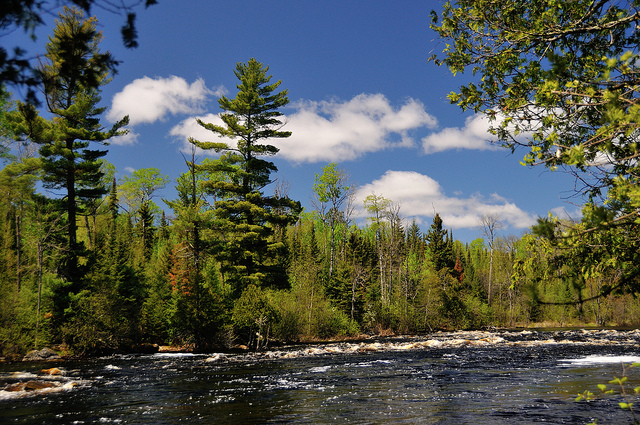 The 1.1 million-acre Boundary Waters Canoe Area Wilderness is the most popular wilderness area in the country. The South Kawishiwi River, which flows into the Boundary Waters, is threatened by copper-nickel mining proposals.
If mining is permitted, the Boundary Waters and its clean water will be irreparably harmed by acid mine drainage containing sulfates and heavy metals. This is why American Rivers named the Boundary Waters among America's Most Endangered Rivers® in 2013.
According to the Environmental Protection Agency (Toxic Release Inventory: 2010 National Analysis), hardrock mining produces more releases of toxic materials than any other industry.  Approximately 99% of the rock extracted in the proposed mine will be waste.  When this waste rock interacts with water and air, sulfuric acid and toxic metals will be released.  Similar mines throughout America generate hundreds of millions of gallons of acid mine drainage and will require active water treatment for thousands of years to avoid complete destruction of streams and groundwater.
With the Boundary Waters and Superior National Forest as a magnet, vibrant local economies have developed in Ely, Grand Marais, and other communities around the Wilderness.  Large numbers of vacation homeowners, retirees and residents provide an economic and tax base for the area.  Scores of diverse businesses thrive because of the economic activity generated by tourism and residents attracted to the region.  Poisoning of the Boundary Waters would drastically, if not fatally, undermine these thriving local economies.