I always say I want to hang out with Hal and Ricky, the U.S. Fish and Wildlife Service dam removal folks, as much as possible, and it isn't only because they are great people. Hanging out with Hal and Ricky means that the hard part of my job – getting a dam removal project ready for demolition (fundraising, permits, design, coordination, etc.) – is done. Last week, Granite Mill dam on the Haw River was ready to meet its end. Thanks to our partners, the U.S. Fish and Wildlife Service, for their dedication, high quality of work, and shared joy for making rivers run freer.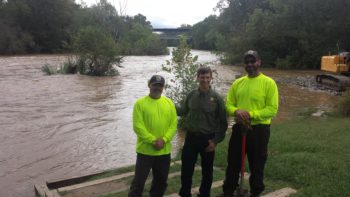 The dam backstory:  The Granite Mill dam was built and rebuilt several times on the Haw River in the Cape Fear River basin in the Town of Haw River, NC, in the 1800s to power area industry. Before demolition started, only remnants of the dams were left that created a public safety hazard and negative impact to river health.
Why remove the Granite Mill dam?
Improve recreation
Improve public safety
Stimulate local river based economy
Improve river health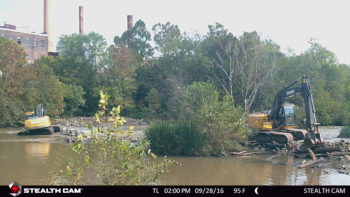 A local perspective: Joe Jacob with The Haw River Canoe and Kayak Co. told American Rivers, "We would love to put more folks on the stretch of river, but cut back because it was such a bad and unsafe put-in. Our guests were getting pinned all the time. It hasn't been a good place for beginners to start paddling. [After the dam is removed], we will start putting more folks on that stretch of river. Thanks for making that possible."
This dam removal adds to other efforts by American Rivers in the Cape Fear River basin like the removal of the Upper Swepsonville dam in 2013. The Cape Fear River is home to the federally endangered Cape Fear shiner, a fish only found in the Cape Fear River basin.
Want more? To learn more about how dams affect rivers, check out this blog: https://www.americanrivers.org/threats-solutions/restoring-damaged-rivers/how-dams-damage-rivers/