Solving the Mysteries of Meadows
This summer, American River staff members from the California Regional Office have been conducting meadow assessments.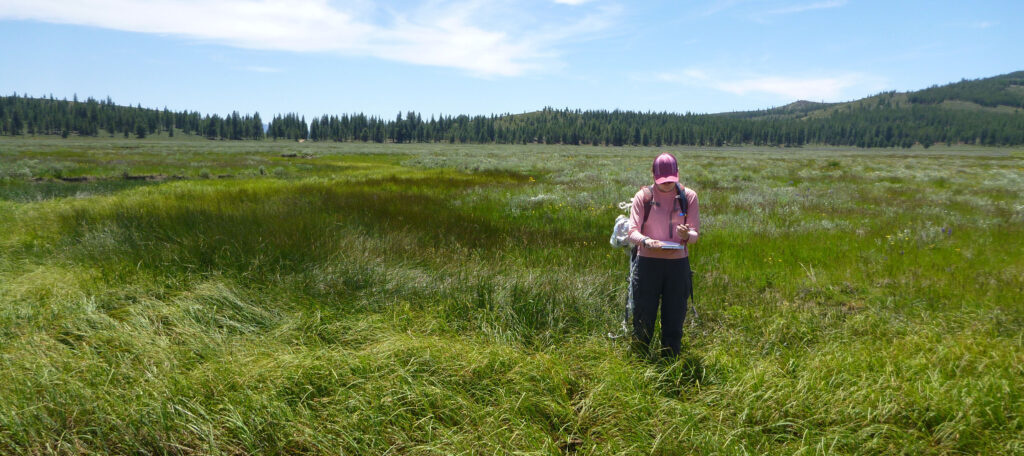 "What's happening here?" I exclaim as I look at a large barren patch of dry ground surrounded by green corn lily, and steep banks leading down to the river channel. As I turn slowly in a circle, I see patches of wet meadow covered in sedges and rushes, and I can see dense willow thickets from where I stand. But the area around me is unexpectedly dry, dusty, and void of most plant life. Each meadow has a story – a unique combination of geomorphic characteristics and history.
Recently, Max Odland (California Conservation Associate) and I embarked on a backpacking trip into the Granite Chief Wilderness, home to the headwaters of the American River. Over the course of the summer, we have been using the meadow scorecard (developed by American Rivers staff and colleagues) to assess mountain meadows in several different Sierra Nevada watersheds. This rapid assessment method requires us to take a lot of photos (which proves to be helpful in comparing changes to the stream channel size and shape), and GPS points, but the rest of our time spent in a meadow is relatively unstructured: mostly, we walk.
Conducting a meadow assessment turns out to be a lot like solving a mystery: putting together observations in order to see the most complete picture possible. To assemble this picture, I have found myself standing knee deep in small stream channels, estimating bank height. I've walked many, many transects across the mountain meadows, using my paces to estimate relative abundances of different plant categories. I've scrambled over boulder piles and slogged through beaver ponds.
Being able to travel to and spend time in these remote areas has been incredibly rewarding. The plant lover in me has gazed upon deep purple fields of camas flowers, observed pink stalks of elephant's head pushing out of pristine mountain springs, and crushed fragrant sagebrush underfoot as I make my way through meadows.
Time slows down during meadow assessment field days, when the most important task is to pay attention to what is right in front of me. Translating observations into scores for vegetation cover, presence of gullies and ditches, and upland shrub encroachment is one piece of the picture of each meadow; we'll use the scores to help inform and prioritize restoration projects.
For now, we'll keep assessing them, slowly putting together observations to tell their stories.