Celebrating Congaree National Park and the Congaree River Blue Trail
We're celebrating the centennial of the National Park Service by celebrating the rivers the parks help protect.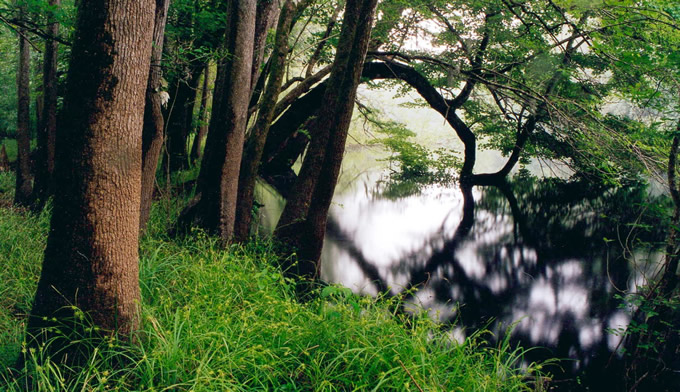 A recent visit to the Congaree National Park website brought home an important landmark in time – 2016 is the 100th anniversary of the National Park Service. And what a great testament to the successes of the National Park system the Congaree is! One of the newer national parks, the Congaree was protected with help from local support. The Congaree was first protected as a National Monument in the mid-1970s. The area escaped the bite of chainsaws thanks to the strong advocacy of local citizens who didn't want to clear cut one of the last remnants of virgin, bottomland forests in the Southeast. In 2003, the Congaree became a National Park, a great tribute to the conservation legacy of South Carolina Senator Fritz Hollings.
The Congaree National Park is also great testament to how American Rivers' Blue Trails initiative can connect people to a river and a park. Coursing some 50 miles from Columbia, South Carolina to the southeastern end of the park, the Congaree River Blue Trail links urban residents to one of the wildest places left in the eastern US. It offers a multi-day paddling adventure as one travels from within view of the state capitol dome into a wilderness that touts some of the tallest trees east of the Mississippi. Countless sandbars just right for a picnic or an overnight camp border the river's bends while bluffs of multicolored clay contrast the area's extensive floodplain forests. For those with less ambitious appetites, the park also offers Cedar Creek, a blackwater gem with a tree canopy cathedral that abounds with birdlife well worthy of its designation as a globally important birding area.
The Congaree River Blue Trail collaborative has also brought additional support for the park including citizen backing for adding new lands to the park, involvement in river cleanups, and a recreation paddling map for the Congaree River and Cedar Creek that is offered online and as a colorful, printed version available at the park and from local outfitters.
As we mark the 100th anniversary of the National Park Service, let's make sure to celebrate Congaree National Park and the Congaree River Blue Trail.
---
­­­
Gerrit Jöbsis is a resident of Columbia, SC and directs American Rivers' efforts to protect and restore the Rivers of Southern Appalachia and the Carolinas.