River Magic
Moving water creates magic. It happens in places where the endless force of current marries with the land in stunning and awe-inspiring ways.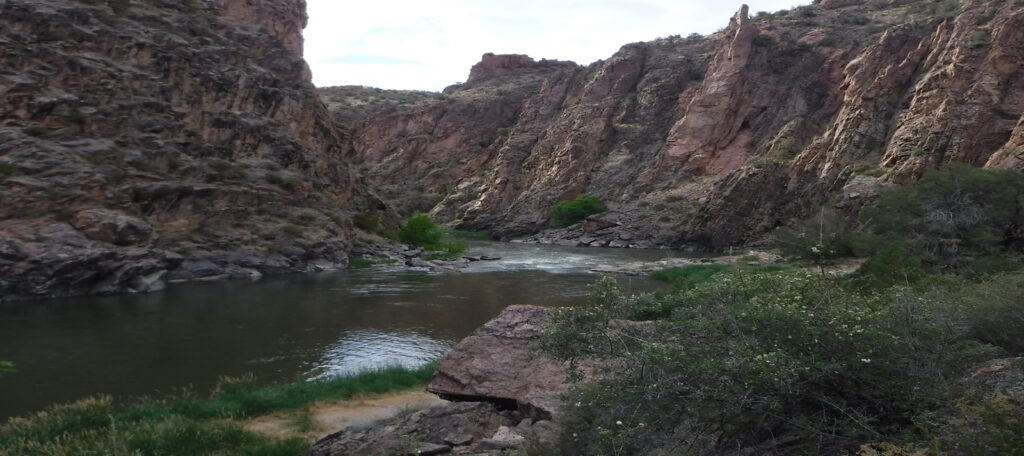 Moving water creates magic. It happens in places where the endless force of current marries with the land in stunning and awe-inspiring ways, and in places where people who love rivers can connect with their passions for fishing, paddling, or being in a gorgeous, natural area.
One such place is the Gunnison Gorge National Conservation Area, just downstream from the Black Canyon of the Gunnison National Park in western Colorado.  Here, the Gunnison River has cut a canyon so deep and steep that after hiking over a mile down into it, you are in another world – one where some of the oldest rock on the planet has given way to the power and persistence of rushing water.  It seems fitting that the words "gorgeous" and "gorge" come together here.
Having heard high praise for the Gorge and its fishing, my son and I took a 3-day float trip last month with the fantastic staff of Black Canyon Anglers.  We were hoping to be there for the famous salmon fly hatch that brings massive trout to the surface to engorge themselves on these huge bugs.  We were a little late for the hatch, but thanks to our guide, Angus Drummond, we had a wonderful time catching our share of good-sized Brown trout.  But beyond that, we became awestruck floating between the tight canyon walls, sleeping under the stars to watch the Milky Way cross the sky above the Gorge's rim, swimming under hidden waterfalls that defy the arid heat, shooting the many Class III rapids, and being taken in by all that the Gorge offered.  All of these experiences were thanks to the river as it tirelessly pushes downstream.  And did I say that the fishing was good, too?  Magic.
A second place to find this magic is Pisgah National Forest in Transylvania County in the North Carolina mountains – home to 250 waterfalls.  After I had returned from Colorado, my wife had planned a trip with our daughters to see these wonderful sites.  In the span of a few days, we visited DuPont Falls, Twin Falls, Sliding Rock Falls, Skinny Dip Falls, and Looking Glass Falls.  Some were crowded because of the holiday weekend, but others we had to ourselves.  At all of them, you could see the beauty of shining water taking flight from rocks that are as old as time. To sit in the cavern behind a waterfall, to swim against the current that comes from the stream's 100-foot fall, and to feel the cool mist from the fall's spray is to connect with a phenomenon that has been here for eons.  Magic.
Since American Rivers is in the business of protecting and restoring rivers as the national treasures they are, it must be said that we can all visit these places because of the foresight of those who worked to protect them. We continue to follow that path with a goal to protect another 5,000 miles of Wild and Scenic Rivers in celebration of the 50th anniversary of the Wild and Scenic Rivers Act, so that many more of these magical places will be protected forever.
We would love to hear about your favorite places of river magic! Share them here in the comments, on our story pages or on social media with the hashtag #WeAreRivers.