Using Citizen Monitoring to Inform Drought Response in the Blackfoot Valley
We've partnered with other area non-profits, local schools, and community volunteers to expand our monitoring capacity and to educate area residents about watershed processes.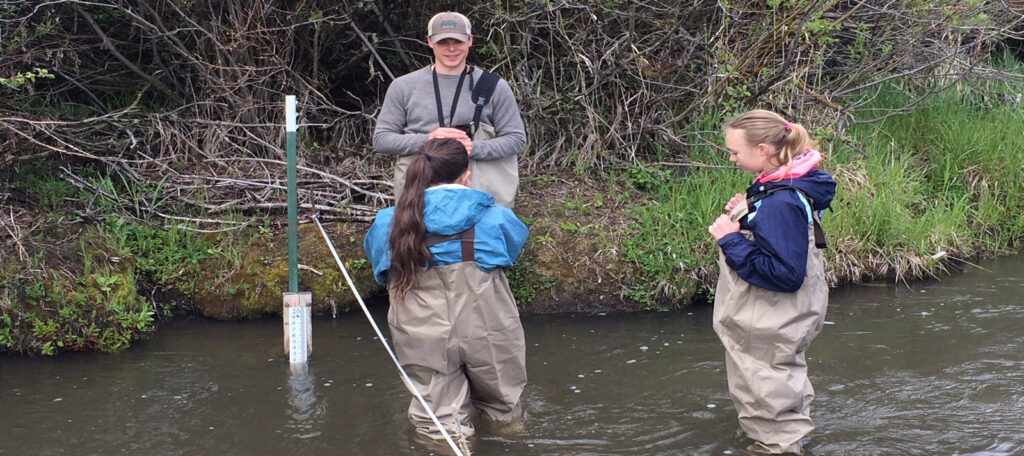 Today's post is a guest blog from Joe Zimbric, A Big Sky Watershed Corps Member with the Blackfoot Challenge. The Blackfoot Challenge is a grant recipient of the Connecting Communities to Rivers Grant Program, working to connect their community to the Blackfoot River.
Nested in the far eastern edge of the Columbia River Basin lies the 2,500 square mile Blackfoot watershed in Western Montana. While the total area is expansive, the watershed itself can be unpacked into dozens of smaller watersheds and sub-drainages, each one with its own reservoir – or more accurately, a reservoir of snowpack.
In the spring, water cascades down from the mountains through thick coniferous forests, sagebrush steppe, and onto the grasslands and croplands where tributaries converge and drain into the Blackfoot River. When viewed from above, the natural fractal symmetry of this extraordinary tributary network of the valley is extraordinarily beautiful and mesmerizing.
Escorted by the mountains, the Big Blackfoot flows about 130 miles, trickling from the high reaches of the Continental Divide before snaking its way along the valley floor. From riffle to run to pool and over and over again, it meanders its way west, supporting everything from the iconic megafauna like grizzly bears, to unassuming microorganisms, to the people who call the Blackfoot valley home. It's essential to all life here.
I came to the Blackfoot Challenge as an AmeriCorps member in early January from Minnesota, and once I found my bearings and finished gawking at the mountains and wildlife, I set out to help my colleagues build upon an existing citizen science-based watershed monitoring program. Funding, or rather the lack of funding, for monitoring has historically been an issue for small non-profits working with water resources. At the same time, we determined that this type of monitoring program was the best way to bridge the gap with the local community on watershed health and drought response awareness.
We've partnered with other area non-profits, local schools, and community volunteers to expand our monitoring capacity and to educate area residents about watershed processes. Currently we have students taking flow measurements on a number of streams alongside other volunteers taking water samples, and we're building a robust database to support our efforts for years to come. Our volunteers are excited to be participating and they are looking at our changing water resources in a new light and with a greater appreciation. However there is still plenty of work to do.
The Blackfoot has about 50 segments that are impaired for at least one pollutant as defined by the Montana Department of Environmental Quality (including sediment and elevated water temperature). Repairing these streams requires research, restoration, and consistent monitoring. Concurrently, the Blackfoot watershed has struggled with drought conditions in 10 of the last 16 years. Our organization knows it takes community involvement to find solutions to these watershed challenges. Blackfoot Challenge works with an amazing group of partners and stakeholders, and every year we make progress. Our monitoring program is just one piece of a larger undertaking, and an informed and enthusiastic community will continue to strengthen our restoration efforts and promote important drought resiliency work. We appreciate the support of American Rivers in bringing new capacity to the Blackfoot's community-based drought response program.