Fishing on the Eagle Blue Trail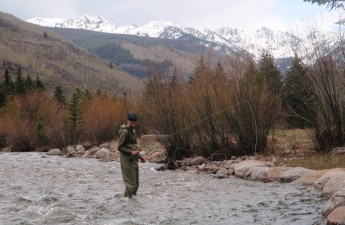 Fishing the Eagle and Upper Colorado Rivers as a part of the Eagle Blue Trail is one of the most popular recreation activities. Whether you are fishing from the banks on a public access point or casting a line from a boat, there are many opportunities to catch a whole lot of fish!
Colorado Fishing Rules and Regulations:
After purchasing your fishing license, check the fishing laws and regulations that apply in your area. Anglers are required to follow both statewide and waterway specific rules so that fish populations are protected now and into the future. Always check for fishing regulation updates prior to each fishing trip.
Colorado Parks and Wildlife Fishing Rules and Regulations
Colorado Parks and Wildlife's Total Licensing System
Ethical Fishing Best Practices:
Fishing ethics and proper fishing etiquette are responsibilities of all anglers. These ethics and etiquette can be distilled down to a "golden rule" – treat others the way you want to be treated. Be respectful of others and be responsible for the area you are fishing. If you are new to the sport, some of these practices may not be as obvious as others.
Take Me Fishing Ethical Fishing Practices
Remember, as long as you have a valid fishing license, fishing ethics are not in place to restrict you. Fishing ethics are in place to help build a positive angling community.
For more information about fishing in Colorado, check out these resources:
Colorado Parks and Wildlife Fishing Page
Colorado Parks and Wildlife Fishing Brochure
Colorado Parks and Wildlife Boating Statutes and Regulations
BLM Fishing Information