Want to remove a dam? Not sure where to start? Check this guide out.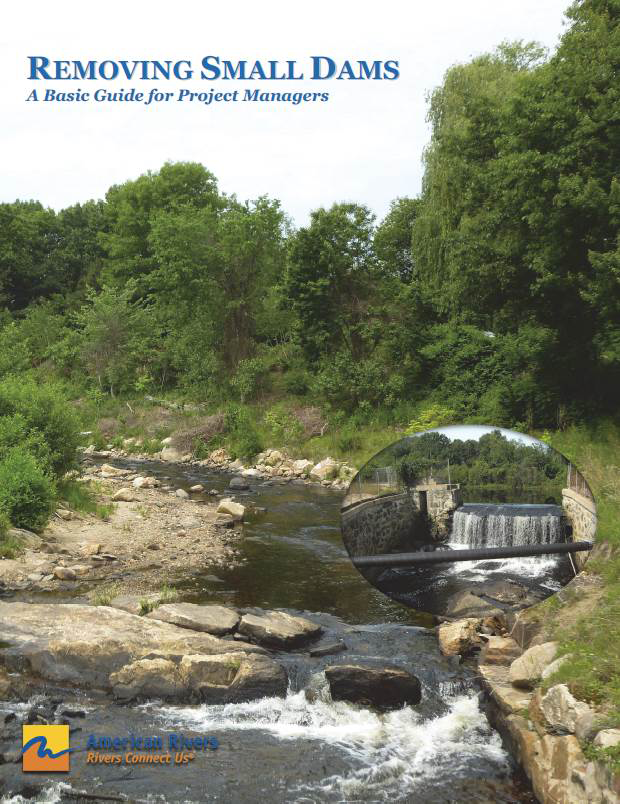 As a national leader on dam removal, American Rivers strives to provide resources to the public to help inspire, educate, and ultimately increase the comfort level of groups working on-the-ground that would like to get involved in opening up rivers across the country. Did you know that we have an entire online resource center packed with great information about dam removal? You should check it out!
If you prefer to watch-and-learn, we have captured an informative series of presentations about the process of taking out dams in a video series. These videos allow you to virtually attend one of our training sessions in the comfort of your own home or office. The best part is that you can go back and reference them in whole, or in part, whenever you are unsure about how to take the next step in a dam removal project.
In an effort to make our dam removal trainings even more accessible remotely, today we are sharing our how-to manual — Removing Small Dams: A Basic Guide for Project ManagersRemoving Small Dams: A Basic Guide for Project Managers. This guide contains useful information on many dam removal related topics, such as:
Recruiting a Good Project Manager
Dam Removal Check List
Conducting Initial Reconnaissance
Funding Your Dam Removal Project
Developing a Preliminary Design Plan
Finalizing Your Engineering Design
Helping Your Community Learn About Your Project
Completing Your Project
Monitoring Your Project
American Rivers has been refining the content of this manual for a number of years, and many practitioners have found it to be a very useful starting point for getting acquainted with the process of removing a dam. At first, this process might seem a bit daunting. However, you do not have to be an engineer, or hydrologist, or an expert in river habitat in order to remove a dam. You only need to recognize your strengths and be willing to reach out to, and partner with, others who are experts in these various fields. No one can remove a dam on their own. Recruiting a great team of experienced professionals (as with many things in this world) is the first step towards achieving a successful dam removal project and restoring a healthy river!