Transforming A Forgotten Creek Into A Community Treasure
Once a forgotten stream, thousands now use Hitchcock Creek even before the Blue Trail officially opened.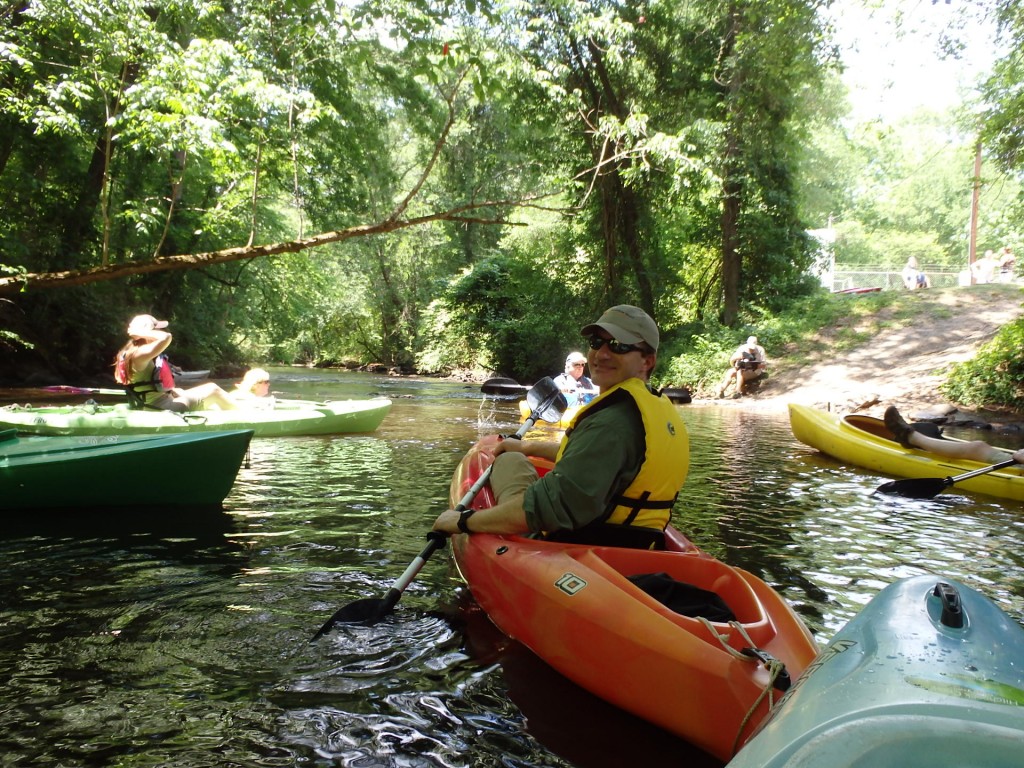 "This all has far exceeded our expectations" Rockingham, NC mayor Steve Morris told American Rivers' President Bob Irvin and me as he drove us on an early May day to the Roberdel Access. We were going to kayak down the Hitchcock Creek Blue Trail to celebrate its official opening.
The Mayor proudly admitted to taking us the long way to show off some of his community's highlights. To our right we passed a pick-up truck, its bed stuffed with four kayaks. "See, they're not even part of our group" the mayor exclaimed.
In 2009, American Rivers helped the City and other partners remove the Steeles Mill Dam which for more than 100 years had clogged Hitchcock Creek, blocked access for families wanting to boat or fish, and caused stagnant conditions which lowered oxygen levels and choked aquatic life. We then collaborated with the City to develop the Blue Trail to connect the community to the creek, improve recreational access and protect its natural setting. Once a forgotten stream, thousands now use Hitchcock Creek even before the Blue Trail officially opened.
Blue Trails help people discover rivers, provide connections to communities and the outdoors, and are economic drivers that benefit local economies and quality of life. The City of Rockingham understands this. Once the economic hub of the area, all of the textile and paper mills in Rockingham many of them on Hitchcock Creek closed during the final decades of the past century. The city had a new vision for its community and turned to Hitchcock Creek as a focal point of its economic future. Following the removal of Steeles Mill Dam, American Rivers and the City developed the Blue Trail which runs 14 miles starting in Rockingham, courses through floodplain forests, passes remnants of old mills and is home to many rare plants and animals. The Blue Trail offers not only an intimate recreational setting, but also an opportunity to learn about the area's history and natural places.
River recreation is not only good fun; it's good business, too. Three out of every four Americans participate in active outdoor recreation each year and paddle sports are among the fastest growing segments of the industry. All of this outdoor activity generates 1.6 million jobs in industries including manufacturing, leisure and hospitality, transportation, and wholesale and retail trade. That's why the increasing popularity of Blue Trails in our region is a good thing for our economy.
After our two-hour paddle along river banks bounded by massive trees and blooming rhododendron, we arrived at the Steele Street Access. The solitude of Hitchcock Creek was broken by the throng of people there to participate in the official opening ceremony of the Blue Trail. Camera crews filmed, elected official shook hands and a red ribbon was strung before one of the footbridges that crisscross the creek as part of a greenway. Excitement filled the air as the ribbon was cut. The city's vision for Hitchcock Creek had become a reality. A once forgotten creek had been transformed into a community treasure. The community abuzz with the Blue Trail, and knowing that American Rivers helped fulfill the city's vision through funding, technical support and a lot of hard work was a reward that far exceeded my expectations.