Fundraising Resource Guide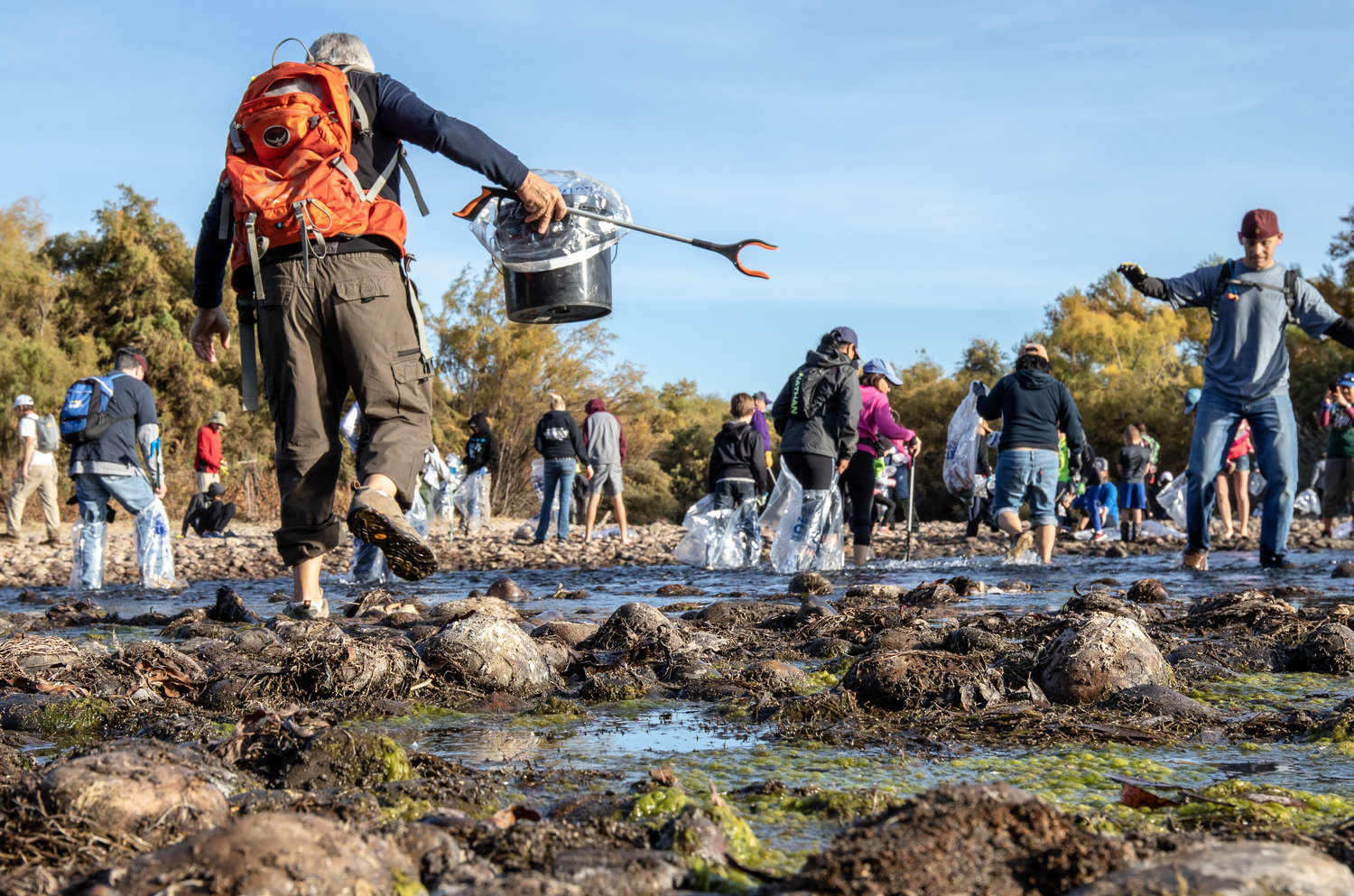 You've blocked off the calendar and gotten the permits. Now you're ready to figure out the dollars and cents of your river cleanup. American Rivers' created this guide to help you raise the support you need to host a successful cleanup event. Once you have a well thought out event plan, sit down and create a budget. Remember to include catering, technology and marketing costs. Next, you'll be ready to identify potential sources of monetary support and in-kind goods and services.
Start with your personal network — ask your friends if they know any local businesses that would be willing to donate needed goods, services or money.
Grow your network! The river is a great place to start. Talk to local retailers, outdoor guides, breweries, and riverfront restaurants that may be interested in contributing to your cleanup.
Think big! Regional and national businesses often look to support their communities through cash gifts, in-kind donations or staff volunteering.
FUNDRAISING TIPS
Visit the business in person if possible, rather than emailing or calling, and share information about your cleanup. This also provides an opportunity to hang up your cleanup flyer at the business. Follow up by phone or email afterwards.
Be respectful and grateful for any help they can provide. Avoid visiting during busy hours and be ready to leave your contact information if the manager is unable to meet.
Plan ahead! Get your request in as early as possible to avoid missing deadlines.
Thank your sponsors and highlight their support in event materials and during your event. Include them on your flyer and give them a shout-out before, during and after the cleanup.
FUNDRAISING RESOURCES
National, regional and local companies and organizations often have programs for supporting their home communities.
The following is a list of links to potential cleanup supporters. American Rivers is not affiliated with and does not endorse any business listed in this guide.
Resources on this page are provided for informational purposes only; the list is not comprehensive, and information contained on websites may change.
FINANCIAL & IN-KIND DONATIONS
C&S Wholesale Grocers: Accepts cash grant and food/product requests from community groups that are located within 20 miles of where they do business and where most of their employees live.
Captain Planet Foundation EcoSolution Grants: Offers $500-$2,500 in support of youth-led projects that positively impact the environment. Their cycles end in mid-January and mid-July.
Costco: Support their local community through cash and in-kind donations. Applications accepted any time.
Extreme Terrain: Offers $250 through their Clean Trail Grant Program to trail or environmental groups working on trail improvement projects.
LL Bean: Supports initiatives through their Outdoor Access Fund to improve public access, outdoor experiences and environmental stewardship. Apply online at least four weeks in advance of the cleanup.
Mazda Foundation: Supports environmental conservation work where they have offices (CA, NJ, IL, TX, FL). Apply between May 1st and July 1st annually.
MOM's Organic Market: Donates to local organizations in the mid-Atlantic that support environmental protection and restoration. Apply online at least 30 days in advance.
Raley's Supermarkets: Offers grants to local groups in California, Nevada and Arizona who support the environment and conservation. Apply online at least 90 days in advance of the cleanup.
Whole Foods: Partner with your local Whole Foods to request a donation for cash or in-kind products. Applications reviewed once per quarter.
State-Run and Community Foundations: Investigate your local government agencies and community foundations for cleanup grant funding opportunities.
Walmart/Sam's Club: Awards local community grants ($250-$5,000) during their grant cycle from mid-February to the end of December.
Waste Management: Donates money to environmental and environmental education initiatives nationwide.
HOST A FUNDRAISING EVENT
Choose a fundraising event date and earn a percent of sales from these companies when customers present your flyer at their establishment.
Cava Grille: Accepts requests for in-restaurant fundraisers, in-kind food donations, and gift card donations in partnership with stores located in CA, DC, MD, NJ, NY, and VA. Apply online six weeks prior to the event.
Chipotle: Supports youth and university groups by donating 33% of event proceeds. Apply online at least four weeks in advance of the event.
Panera Bread: Supports local nonprofits by donating 20% of event sales. Apply online at least four weeks in advance of the event.
Sports/Concert Stadiums: Ask your local stadiums about fundraising opportunities during their events.
UNO's Pizzeria: Supports local nonprofits by donating 15% of event sales. Apply online.
SERVICES AND SUPPLIES
Ace Hardware: Contact your local Ace Hardware franchise to inquire about potential cleanup gear requests.
American Rivers: Donates trash bags to event organizers that register their cleanups at least four weeks in advance of the cleanup date.
Budget Dumpster: Offers dumpster service donations and discounts to river cleanups.
Local Government Departments: Contact your local public works department, parks and recreation department, or waste removal service for cleanup support.
TerraCycle: The national recycling company offers extensive free drop-off locations and shipping options for hard-to-recycle items.
SNACK DONATIONS
Clif Bar: Provides Clif Bar donations to community events nationwide. Apply online at least 80 days in advance of the cleanup.
Grandy Organics: Offers snack donations to nonprofits. Apply online at least 3 months in advance of the cleanup.
Insomnia Cookies: Donates cookies and gift cards to organizations near their stores. Apply online at least four weeks in advance of the cleanup.
MOD Pizza: Locations across the country. Offers food and coupon donations. Apply online at least two weeks before the event.
Nature's Path: Donates granola bars and snacks for events. Apply online up to one year prior to the event.
Power Crunch: Offers protein bar donations for events. Apply online at least 60 days prior to your event
UTZ Snacks: The Pennsylvania-based company donates chip snack bags to local nonprofits. Apply online at least three weeks in advance of the cleanup if you can pick up donations from an UTZ facility.
SEVERAL TYPES OF SUPPORT
The following companies donate to groups and organizations in multiple ways, from monetary donations to employee volunteer teams.
Bee's Wrap: The Vermont company supports local initiatives to end plastic waste and offers sponsorships, product donations and monetary donations.
Casey's General Stores: The Midwest restaurant chain supports local organizations through sponsorships, food and monetary donations. Apply online at least 20 business days in advance.
The Cheesecake Factory: The national restaurant chain offers a "Give Back Team Sponsorship" when staff volunteer at fundraising and community service projects. Request gift card donations at local restaurants at least 30 days in advance.
Fleet Feet: The national running and footwear store offers sponsorships, donations, and advertising. Contact your local Fleet Feet store for information.
H-E-B Grocery: The Texas grocery chain offers monetary donations, volunteers and product donations. Apply at least eight weeks in advance of the cleanup.
Kroger: Provides monetary support, gift cards and product donations through the Foundation to nonprofits that strengthen communities nationwide.
New Seasons Market: The Northwest grocery chain supports initiatives to protect the environment by providing donations and volunteers for cleanups. Apply online at least 30 days in advance.
SpartanNash Stores: The Midwest grocery chain supports community groups with sponsorships, product donations and fundraisers. Apply at least 30 days in advance.
Trader Joe's: The national grocery chain donates to nonprofits working in their store neighborhoods. Apply in writing to your local manager at least three weeks in advance of the cleanup.