As communities across the country are facing needed upgrades to their water infrastructure, many are turning to green stormwater infrastructure (GSI) for a more integrated approach to clean water, greening, and public health. But GSI presents some unique challenges to existing pathways for public infrastructure funding. At the same time, there are unique benefits that, if visible, can be leveraged to draw support from the private sector.
American Rivers introduces the Gateway Garden model as an innovative approach to attracting private investment to benefit communities and help municipalities overcome stormwater management challenges. Gateway Gardens are a type of GSI that is strategically located at the entranceway or "gateway" to a community for maximum visibility. They provide opportunities for local businesses to invest in clean water projects in exchange for the direct benefit of sign advertisement and the indirect benefit of an enhanced community.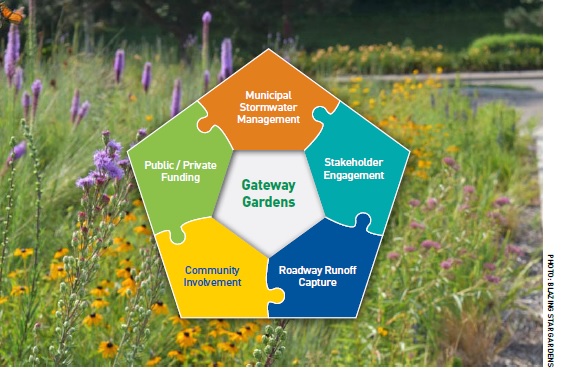 The Need for More Visible Green Stormwater Infrastructure
Water infrastructure in the United States is failing. As flooding events increase in the face of climate change this is especially true for stormwater infrastructure. The American Society of Civil Engineers gave the nation's stormwater infrastructure a D grade in 2021, and our stormwater systems will only continue to rapidly decrease without investment in more sustainable solutions. A proven method of managing stormwater pollution and decay is through green infrastructure projects. Green Stormwater Infrastructure (GSI) has a multitude of benefits that don't just include managing polluted stormwater, although GSI has become the preferred method for doing so. GSI sites also beautify neighborhoods, increase livability, lower the heat index, and create a sense of security and safety for community members.
Oftentimes, however, GSI sites are placed in such a way that the non-stormwater related benefits are not visible to most within the community. GSI sites are frequently chosen for their ability to manage stormwater, and for how easily they're paid for and maintained. So, sites such as schools, municipal buildings, and private residencies are oft used locations for GSI. These traditional sites are wonderful for stormwater remediation, but often don't showcase the additional benefits GSI provides to the entire community the way a Gateway Garden can. By attracting the support of businesses for GSI, Gateway Gardens can help to offset the misconception that GSI projects are too expensive an undertaking. 
The Gateway Garden Concept
We need to rethink the way we implement GSI. One solution to the low visibility of GSI is the "Gateway Garden" concept. They serve as not only a way to manage stormwater, but also as a community meeting place, a source of pride, and a beautiful entrance to a neighborhood. Gateway Gardens are designed to meet stormwater permit requirements, ensuring they still perform their primary function of stormwater management while creating opportunities for community engagement. Gateway Gardens' highly visible approach to stormwater management lends to a cascading effect. The more visible the Gateway Garden, the more likely more GI projects will be implemented throughout that community. A Gateway Garden can be the first step into revitalizing a community that is plagued with the harms of poorly managed stormwater.

The core concept of Gateway Gardens is sustainability. Environmentally the benefits of GSI projects are well understood. GSI projects are the gold standard for how to manage stormwater in a sustainable way. But Gateway Gardens also add new elements of sustainability, including social stability, which thrives under the Gateway Garden concept. Creating a community place of engagement has been proven to increase feelings of safety and a sense of oneness within a neighborhood. A neighborhood that has a sense of community is more likely to endure and thrive. Gateway Gardens not only give all the benefits of a well-managed GSI project, but also give the area that they serve the invaluable sense of community we all strive for.
Paying for Gateway Gardens
Gateway Gardens' most key element is sustainability. This is true throughout the product and is especially true in the innovate financing model. Gateway Gardens are financed through a public/private partnership system. Given the highly visible nature of Gateway Gardens, it makes for premier advertising space for local business owners. This financing structure is key to the success of a Gateway Garden. American Rivers asked business owners in Lancaster County Pennsylvania about their likelihood to finance a project such as Gateway Garden, and found them  overwhelmingly willing to support creating and maintaining Gateway Gardens in exchange for advertising space. Business owners also get the added benefit of being seen as cornerstones of the community that they help to finance a Gateway Garden in. Given the additional benefits, the business owners are also improving the livability of the communities they help to finance Gateway Gardens in, and the community will easily see the positive impacts the gardens have through the support of the business.
In the previously mentioned survey, business owners stated that community investment, volunteering as members of the community, and clean water were even more important factors than the location of the advertising. The business partnership also helps to alleviate one of the greater barriers to GSI projects in underserved communities, that being the cost. With the help of municipal governments and local businesses, Gateway Gardens can be a cornerstone of any neighborhood.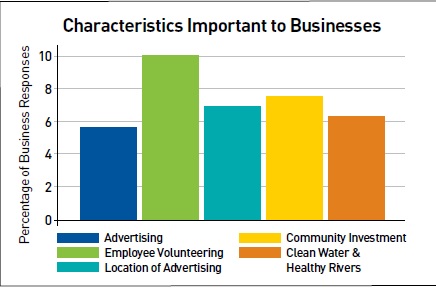 Gateway Gardens is the Kind of Innovation Communities Need
American Rivers presents the Gateway Garden concept as a new idea for community leaders to explore and adapt to their own cities and towns. These innovative projects work with their communities to build the kind of aesthetics that reflect their needs. These innovative projects work with their communities to build the kind of aesthetics that reflect their needs. Gateway Gardens work with the local businesses and municipalities to create a sustainable model that will be the cornerstone of a neighborhood for the foreseeable future. For the first steps to making a Gateway Garden in your community, see the American Rivers' brochure.