"Batting cleanup" in the Susquehanna River headwaters
Three dam removals recently completed in the West Branch Susquehanna River headwaters have reconnected 63 miles of aquatic habitat.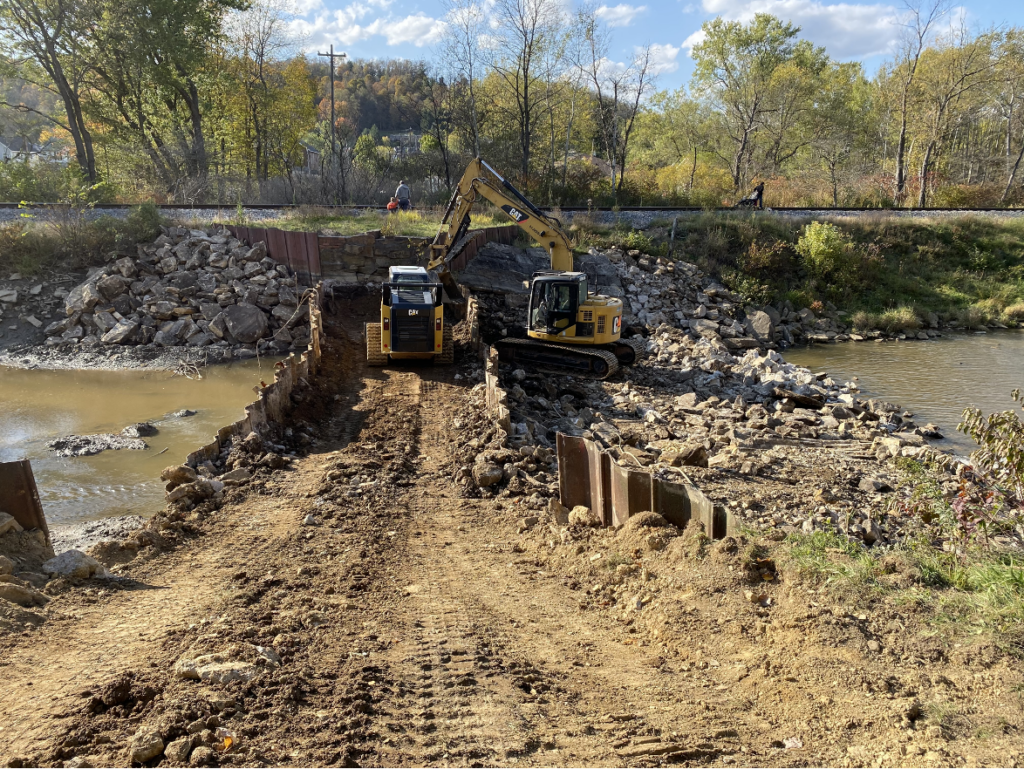 If you know baseball, you are probably familiar with the strategy of "batting cleanup." For those less acquainted with the sport, the cleanup hitter is a strong player who bats when the bases are loaded, creating the opportunity for several runs to be scored on one hit. American Rivers has been the cleanup hitter in the West Branch Susquehanna River headwaters, with three dam removals recently completed that reconnect 63 miles of aquatic habitat.
The West Branch Susquehanna headwaters were once effectively devoid of aquatic life due to the discharge of acid mine drainage from more than a century of widespread coal mining that fueled the Industrial Revolution. They've since been revived thanks to our partners' significant and effective water quality investments. American Rivers' recent investment in aquatic connectivity has reconnected these healthy waterways for wild brook trout and other river resident species, including Pennsylvania's official amphibian, the Eastern Hellbender.
The West Branch Susquehanna springs from near the village of Bakerton in Cambria County and flow due north for about 30 miles until it confluences with Chest Creek at Mahaffey. There it shifts to a northeasterly path across Pennsylvania's Appalachian Plateau and gradually arcs south to join the Susquehanna River near Sunbury. The West Branch and its tributaries are the historical range for species such as trout, shad, herring American eel, and freshwater mussels, whose lifecycle is intertwined with these fish.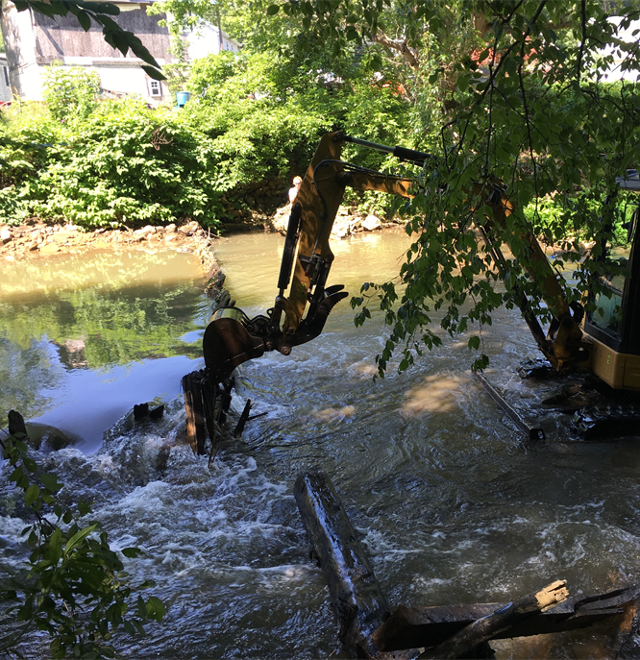 In the early 2000s, Cambria County Conservation District, Trout Unlimited, and the West Branch Susquehanna Restoration Coalition invested heavily in reversing the impacts of abandoned mine drainage in the watershed. Active and passive mine treatment systems, along with coal refuse cleanups totaling more than $30 million, have spurred a remarkable water-quality rebound in the headwaters. The Conservation District also completed award-winning habitat enhancements in the leveed section of Chest Creek through Patton to support trout accessing this reach of altered waterway.
Because American Rivers had prioritized dam removal projects in watersheds with abandoned mine drainage-treatment successes, the Upper West Branch Susquehanna and Chest Creek rose to the top of our project selection process.
In 2015, we identified two obsolete dams on Chest Creek as restoration targets, followed by a third unknown, unpermitted dam on the mainstem West Form in 2017. Eckenrode Mills Dam was removed in 2017 with both Garmantown Mill and Patton Dams removed in 2019. American Rivers owes project success to the steadfast assistance of numerous partners, including Cambria County Conservation District, Trout Unlimited, PA Fish & Boat Commission, Chest Creek Watershed Alliance, PRIDE of Cambria County North, and multiple landowners.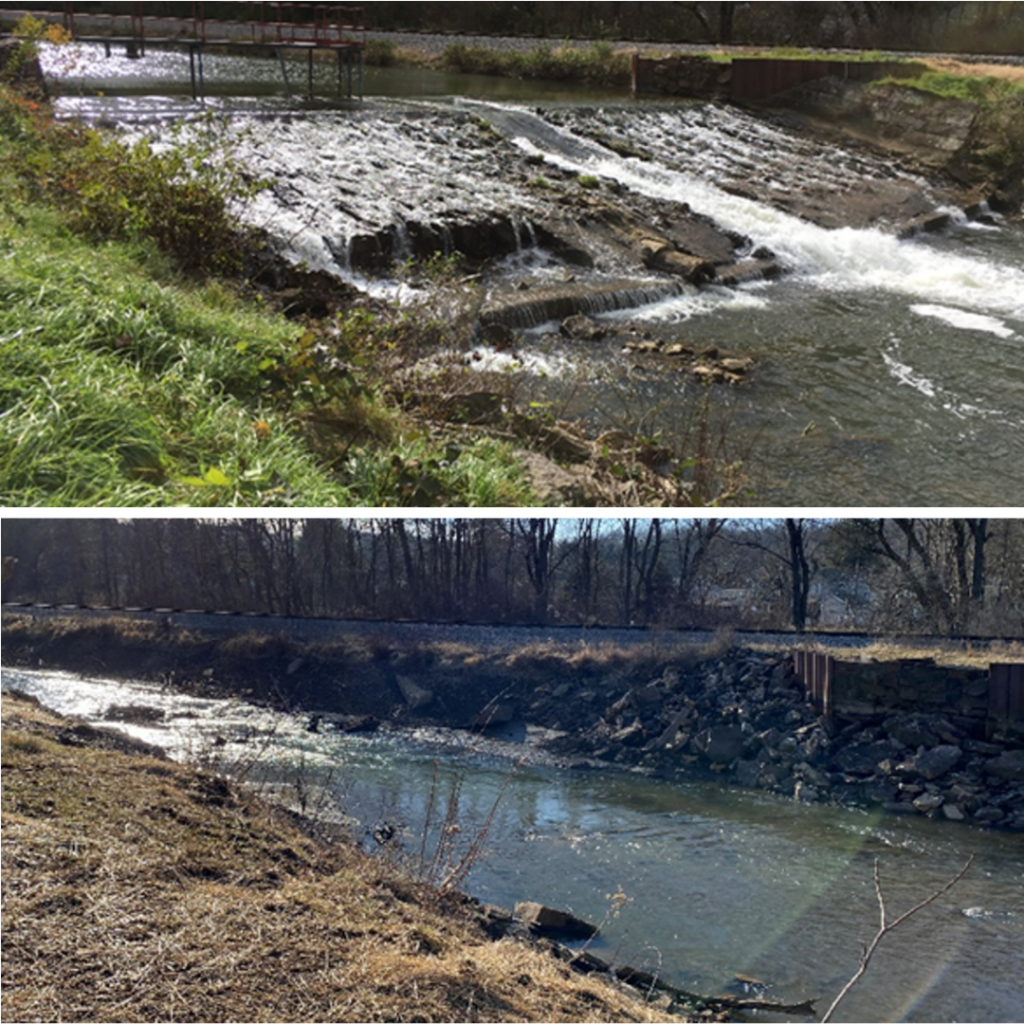 Anecdotal information from local anglers shows that wild trout are already accessing the newly-reconnected stream reaches, and hellbender are becoming more plentiful as well. We anticipate that upcoming fish surveys will confirm these early findings. American Rivers will be returning to the site of the former Patton Dam in 2020 and 2021 to restore a riparian wetland that was previously drowned by the impoundment behind the dam. This effort will improve habitat and water quality while reducing the impacts of local flooding. Local partners are now working to expand water and land recreation trails in the watershed, to provide additional aquatic habitat improvements in Chest Creek, and to promote the Upper West Branch Susquehanna River and Chest Creek as outdoor recreation destinations.
Our "batting cleanup" approach to dam removal in the Upper West Branch Susquehanna watershed has proven that once water quality impacts are addressed, habitat reconnection will return fish to their historic range. We will continue this model approach for river restoration in other watersheds, and continue building partnerships that build on the benefits of free-flowing rivers.