Investing in Rivers is Money Well Spent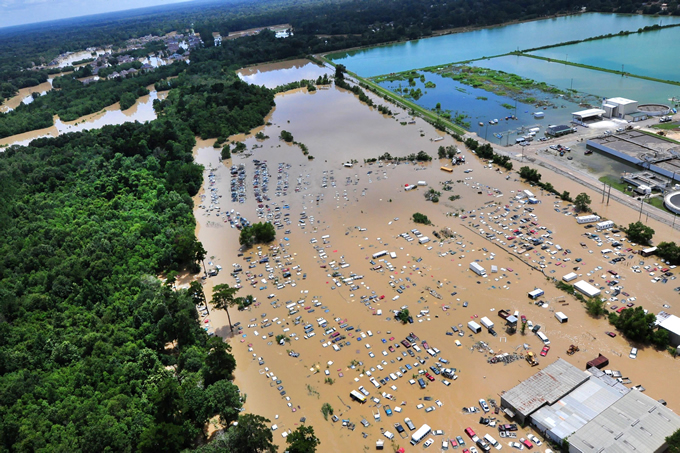 From coast to coast, communities across the country are feeling the impacts of too much – or not enough water at the right time. Drought and record-breaking wildfires have plagued the West this summer. In the last month, over 5 million acres of land has burned in California, Washington and Oregon. These wildfires are uprooting communities, causing serious health issues and when the smoke finally clears, leftover debris and toxic runoff could pollute our rivers and impact drinking water supplies. Conversely, on the East Coast and the Midwest, significant flooding has occurred. This year we've seen 20 tropical storms, 6 of which have turned into hurricanes. Crashing into the coast, storm surges are causing catastrophic flooding and torrential rainstorms are impacting communities far beyond the coast. Along the Upper Mississippi, an unusual derecho covered hundreds of miles and brought significant rainfall and wind damage to the region.
While you can't directly point the finger at climate change for any one weather event, scientists have found that climate change is increasing the frequency, intensity, and impacts of extreme weather events. On top of that, climate change is shifting where and when water is available. Precipitation is becoming more variable and uncertain, leading to more frequent and more intense floods and droughts. The impacts associated with a changing climate are exacerbating existing challenges facing our country. America's rivers and water infrastructure have been neglected and abused for decades. Too many people in our country lack access to safe, clean affordable water — two thirds of which comes from rivers and streams. Centuries of poor river management has degraded ecosystems and disconnected communities from their rivers. Many of these inequities fall disproportionately on Black, Indigenous, Latinx and other marginalized people. As communities begin rebuilding, we must address longstanding social and environmental injustices, and ensure our communities and infrastructure are more resilient in the face of a changing climate.
Clean water infrastructure and healthy rivers are smart investments for communities across the country. They create stronger, more resilient communities and contribute significantly to local economic growth and job creation. The Value of Water Campaign estimated that every $1 million spent on water infrastructure in the United States generates more than 15 jobs throughout the economy. Similarly, the University of Oregon found that every $1 million invested in watershed restoration creates 16 new or sustained jobs on average. Healthy rivers also spur tourism and recreation, which many communities rely on for their livelihoods. The Outdoor Industry Association's National Recreation Economy Report found that the outdoor watersports and fishing economy supports over 1.5 million jobs nationwide.
Earlier this summer, American Rivers released a new report, Rivers as Economic Engines: Investing in clean water, communities and our future detailing how the right investments in water infrastructure, natural infrastructure and river restoration can create jobs, strengthen communities and address longstanding injustices. While Congress has made some initial investments in healthy rivers and water infrastructure including the recently passed Great American Outdoors Act, more action is needed. We are calling on Congress to invest $500 billion over 10 years to create the transformational change we need when it comes to ensuring clean water and healthy rivers for everyone.
We have a historic opportunity to revitalize our communities, make our infrastructure more resilient, and ensure healthy rivers and clean water for everyone. Investing in water infrastructure and healthy rivers creates jobs and economic benefits, strengthens our communities, improves public health and safety, addresses longstanding injustices, and improves our environment.
Tell Congressional leadership that investing equitably in clean water infrastructure and healthy rivers is a top priority. Take action to support game-changing investment in water infrastructure and healthy rivers – and ensuring it goes to communities most in need.