Green Infrastructure: Gateway into Sustainability for Cities
Grand Rapids, Michigan has implemented modern, and beautiful, ways to keep the Grand River clean!
Cities across the nation face severe challenges that pose a risk to the health of communities and their rivers. Unlike natural environments, the vast quantity of asphalt surfaces found in urban areas prevents rainfall from infiltrating into the ground. In cities, rain always falls on hard surfaces like driveways, rooftops, parking lots, and streets, collecting contaminants and debris that flow into waterways. Creating green spaces within a city landscape allows rain easy access into the ground, decreasing the amount of stormwater runoff that enters our water sources.
Municipalities are addressing stormwater challenges through green infrastructure—a solution designed to capture and infiltrate rain the natural way. Green roofs, rain gardens, porous pavement and rain barrels are common green infrastructure solutions that reduce stormwater runoff and improve water quality in our urban rivers. Businesses creatively use green infrastructure to achieve multiple facility management goals and provide additional benefits to the community.
Despite the benefits nature-based solutions provide, businesses are often hesitant to invest in green infrastructure on their properties. Due to various perspectives on the value of the projects, managers may face difficulty in justifying the cost of implementation. Stormwater Currency (a partnership with American Rivers, Corona Environmental Consulting and Water Environment Federation) continues to collaborate with Grand Rapids, MI to implement market-based solutions that encourage businesses to incorporate green infrastructure practices. In this region, innovative leaders purposefully design nature-based solutions to achieve cost savings, efficiency goals and facility amenities while reducing stormwater runoff on their property.
Grand Rapids receives an average 36 inches of annual rainfall and twice as much snow; concerns surrounding flooding, bank erosion and high-water levels must be a priority. Known for its outdoor recreation, the city is highlighted by the Grand River meandering through downtown. The importance of restoring water quality in the river and protecting the health of the community is a shared concern for innovative leaders across the city. Among the sustainable trailblazers, Frederik Meijer Gardens & Sculpture Park and John Ball Zoo illustrate the values of nature-based solutions by providing business strategies, guest experiences and community amenities without harming the Grand River.
Meijer Gardens implements green infrastructure to protect biodiversity and improve water quality while still addressing the needs of growing tourism. Integrating sustainable practices in the 158-acre park has restored the wetlands and biodiversity on the property. The park manages stormwater by integrating water re-use for irrigation and tree canopies for shade. A one-of-a-kind sculpture roof garden features permeable walkways and planted trees among diverse vegetation overlooking a scenic oasis.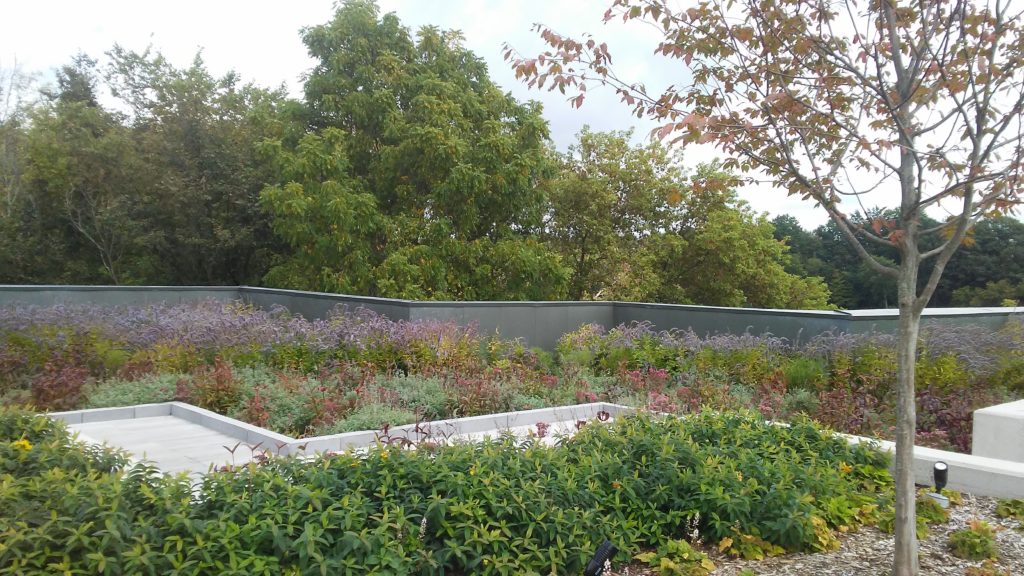 John Ball Zoo's approach reduces stormwater runoff sustainably by adding natural elements on the 103-acre property for habitats and guest. Green rooftops replaced gravel to keep animals cool and deliver accessible walkways in natural settings. Utilizing in-house staff to implement many of the green roofs reduced costs while providing facility employees with education and training for future maintenance. Garden walls appear along pathways lined of fine wood ash to provide natural spaces for guests and water quality improvements for the Grand River.
Designing natural elements into our cityscapes will help improve our urban waterways and protect the health of our communities. Businesses committed to sustainability realize the value of nature-based solutions by savings in energy cost, irrigation, landscaping and facility maintenance while increasing flood protections and improving local waterways. Our featured businesses protect natural habitats, provide amenities to guests and facilitate educational opportunities to the community through green infrastructure solutions. Progressive approaches to improve our rivers will require imaginative solutions that address environmental, economic and social needs. Business leaders in Grand Rapids demonstrate that the intentional placement of nature-based solutions can generate benefits to a business that exceed the cost of reducing stormwater alone.