This blog is part of our series on America's Most Endangered Rivers®– Buffalo National River. Learn more about how you can help rivers like the Buffalo in our Action Center.
Today is a good day for the Buffalo National River.
Thanks to the hard work of local advocates and thousands of our supporters from across the country, Arkansas' Governor Hutchinson has made a deal to close the industrial hog farm that has been impacting water quality and causing algae outbreaks stretching 70 miles downstream in the Buffalo National River. Further, the Governor plans to institute a ban on new medium and large-scale hog farms in the watershed. This is a huge win, and it couldn't have happened without our supporters taking action.
Thank you for stepping up!
In 2017, and again in 2019, American Rivers partnered with local groups to fight this hog farm through our annual report on America's Most Endangered Rivers®. We shined a national media spotlight on this issue and elevated it in the public eye beyond the local community. We also shared a series of eight blogs highlighting why the Buffalo National River is such a special place and urging people to take action on behalf of the river. Between 2017 and 2019, our activists across the country sent thousands of letters to the Governor asking that the permit for the farm be denied.
You told the Governor that polluting the Buffalo National River with hog waste was unacceptable, and the Governor heard the message loud and clear!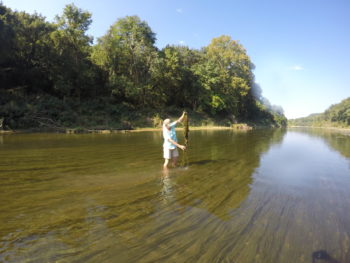 We are so grateful for the local advocates that put their hearts and souls into fighting this hog farm on the Buffalo, including Ozark River Stewards, Ozark Society, Buffalo River Watershed Alliance and others. Without the boots on the ground, it is nearly impossible to fight projects such as this. They did a fantastic job drawing the attention of people across the country to harm being brought to America's first National River, the Buffalo.
Our local partner, Teresa Turk, expressed her appreciation for our partnership by saying, "Wanted to let you know the incredible news today! The governor is closing the hog factory. All the great efforts and support from American rivers helped to make this happen!!!" Another local partner, Lin Wellford, said, "I definitely think Endangered Rivers played a huge part in taking our plight to a national level. Kudos to you and all your staff for helping us finally hit a tipping point that no one thought we would ever hit. Please spread the news far and wide to give all those other river advocates hope that they too may slay the dragons they face."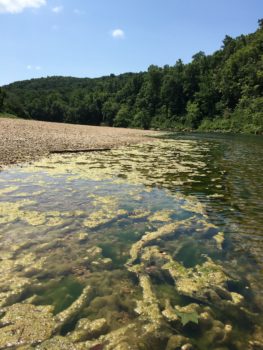 With these types of campaigns, it can be helpful to have both local and national energy combined to get people's attention. This is a great example of how American Rivers works with local groups to protect rivers from harmful threats and pollution. We are very proud and supportive of these local advocates who do whatever it takes to make the situation right for the river.
We hope you will join us in celebrating this victory! This as an example of what can happen when we all work together to get the job done.