In a Dry Summer, Forest Fires Getting the Headlines
As temperatures soar this summer, the Colorado River basin is facing the impact of too much heat and not enough water.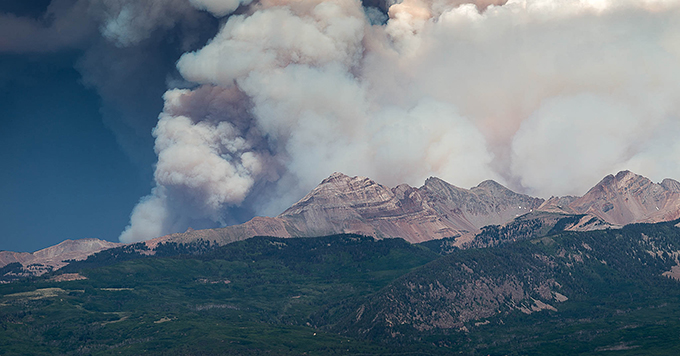 Summer has been hot already – heck, it's July – it's supposed to be hot!
But in my neck of the woods, it has been particularly smoky as well. As I sit here in my office in Durango, a campfire-like aroma permeates everything as the 416 fire, which started more than a month ago, continues to burn across more than 55,000 acres of forest, increasing daily. Thankfully, recent rains have helped stifle fire activity and this particular fire is no longer considered a threat.
Last winter, Colorado received only about two-thirds of the snowpack we normally get, especially in the Southwestern corner of the state, where both the Rio Grande and San Juan river basins had less than half what we normally receive. Less snow equals less spring and summer river flows, and the Animas through Durango is a perfect example. On the day of its peak runoff, the Animas had less than 25% of its normal flow through town, a river of sorrows for sure. Couple that with an extremely dry spring (La Plata County had less than one-sixth of its normal spring precipitation) and the formula for explosive wildfires was set. Over the course of the winter, conversations in the local post offices and watering holes about the statewide lack of snowpack resulting in an aggressive fire season were frequent – and it appears those fears are coming true. Now, maps of western Colorado are dotted by little flame symbols from the northwest corner of the state in Moffat County to south-central Colorado where the wildfire on La Veta pass is raging. Basalt has one, Silverthorne, Fairplay, Norwood, Dolores – this smoke will linger until the monsoons kick into gear (we hope…)
Here in Durango, the fire's impact to the local economy was instantaneous, as the normal influx of tourists from across the country diverted their plans and went elsewhere. In the local fly fishing shop, Duranglers, reservations for guided trips is down considerably, and the rafting outfitters were cut off from the river for more than two weeks, curtailing one of the most productive periods of the year – runoff in the Upper Animas River. Hotel and supermarket parking lots have noticeably more spaces available than normal for this time of year, and it is pretty easy to get a seat in one of our fabulous local restaurants. With the amazing fire crews gaining more control over the blaze, town is bustling, the train is running, and other than the thick brown haze outside my office window, things are getting back to normal. But it was certainly tense around here for a while.
Rain dances only work so often, and there is no reliable way to make more snow in the winter, how we manage the water we do get is something that each of us can control. Earlier this year, we released a report called Do You Know Your Water, Colorado, which outlines how Colorado's rivers, streams, and population are inherently tied together – from the western slope where roughly 80% of the state's water falls from the sky as snow, forming a welcome snowpack, to the eastern slope where more than 80% of the population lives. We describe how water moves around the state, supporting both a thriving population base as well as a vibrant economy that includes outdoor recreation, farming and ranching, and a multitude of jobs all across the state. And as important as it is for each of us to do what we can to stretch our water supplies as far as we can, understanding how the system works is key to taking action on behalf of Colorado's rivers. Check it out!