What if you couldn't pay your water bill? What if the city cut access to water in your home, and throughout your neighborhood?
In Detroit in 2014, more than 33,000 homes lost access to water service because residents couldn't afford the costs. The problem is ongoing. Just two months ago, the Detroit Free Press reported that more than 17,000 people in the city are at risk of shut-offs.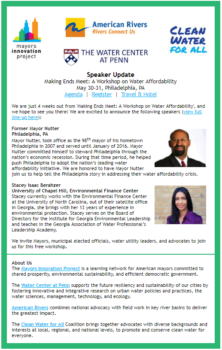 In Flint, Michigan, even at the height of the crisis when their drinking water was contaminated with lead, residents paid some of the highest water rates in America.
"If you care about clean water, you need to care about affordability," says Katie Rousseau, Director of Clean Water Supply in the Great Lakes for American Rivers.
"This is a human rights issue. When you don't have clean water, what do you do for drinking, bathing, cleaning and cooking? When you can't pay your water bills, that has all kinds of consequences. People can lose their homes, their children."
"Everyone deserves clean, safe, affordable water," Rousseau says.
That is why American Rivers is sponsoring "Making Ends Meet: A Workshop on Water Affordability" in Philadelphia, May 30-31. We're teaming up with the Mayors Innovation Project, the Water Center at Penn, and the Clean Water for All coalition to offer this free workshop to share solutions on how cities can keep water, sewer and stormwater services affordable for all residents. The workshop will feature Michael Nutter, former mayor of Philadelphia, and other experts.
"We need to get ahead of this problem. It shouldn't take a crisis to force cities and states to protect people's health. We are committed to ensuring clean water and healthy rivers for all," says Rousseau.
Learn more and register for "Making Ends Meet: A Workshop on Water Affordability"