Your Voices, Your Stories
To celebrate the 50th anniversary of the Wild and Scenic Rivers Act, we're collecting and sharing 5,000 personal river stories.
Rivers run through our lives in many ways, and each of us has a river story. To celebrate the 50th anniversary of the Wild and Scenic Rivers Act, we're collecting and sharing 5,000 personal river stories.
Your stories: diverse voices from across the country, showing decision makers the importance of healthy rivers, and demonstrating a wave of support for new river protections.
Here are some recent stories shared from rivers across Oregon. Explore more stories from your own backyard at www.5000Miles.org and share your unique story with us today!
Faith Briggs, Deschutes River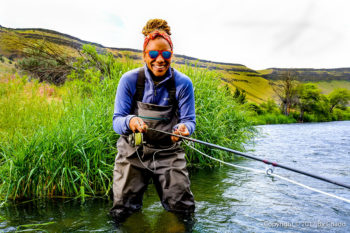 I've had an absolutely magical time exploring Oregon's rivers and the first thing that brought me out into a river, was fly fishing. I started learning to fly fish with Chad Brown this year and I fell in love. It was so incredible to spend that time out in the river, just being quiet and feeling the water moving around you. I don't tend to give myself enough quiet time, so I appreciate those moments. It's led me to join Chad's non-profit organization, Soul River Inc, so I can share that love with others.
Billy aka Sweet William aka The World's Greatest , Willamette River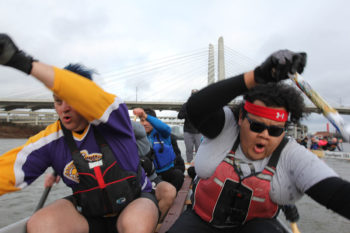 One of my favorite memories of coming here and paddling with Bridge City Paddling Club probably has to be during the winter time when it gets dark out early and you're out there with your team and you're putting everything you got out on the water and you know the people right next to you are working just as hard as you. You're all doing it together and then you look up and you see the city lights are right there in front of you and you know, it feels like you're alive.
Chris Franklin, Rogue River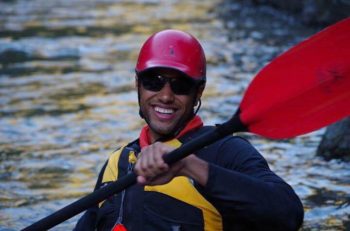 Late summer of 2016 I was invited on a trip of a lifetime. My friend suggested I join a group of 20 strangers to kayak down the Rogue River for 4 days. I grew up in Southern California where my idea of an outdoor adventure included roller coasters and corn dogs. I had never spent 4 days camping let alone traversing down a river with my paddle in hand.
I remember the nervous feeling before I got in my inflatable kayak for the first time. My hands gripping the paddle as I run through my safety instructions over and over in my head. Feeling unsure of my balance and thinking; how did I get myself into this.
We hit our first rapid, I lean forward, paddle fast and point my boat to the eddy as instructed. Whoa, I'm in the clear! I made it. We paddle for about 8 hours that day; I am learning new skills with every stroke I take. I take my first swim and jump back in the boat just to do it again. By the end of the day you couldn't wipe the smile off of my face.
We set up camp, eat dinner and lay under the stars in the wild and scenic sectioned the Rogue River in southern Oregon. My mind racing with the challenges I had overcome that day and the confidence to jump back in my boat and do it all again the next morning. Life long friendships were made on that trip. New talents were forged through trial and my life will never be the same. I experienced the power of the river while also discovering the power that lives within me.
Sophiea Tyler, Willamette River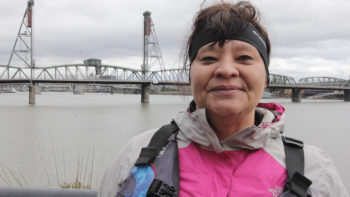 People always ask me why do you do this? I mean, how could you go out on the water when it's freaking cold and it's just really miserable? But it's not! I mean this sport truly is all about heart, and I think that's what I love about it the most. You have 20 people – this sport isn't like football where you have a star quarterback or a running back – and every single person is valuable. Every single person commits to the team, to the boat, and it's all 20 of us paddling together that makes us cross the finish line in first. So it's just something that I think about and it's a philosophy I like to carry off the water as well; we always cross the finish line better when we're working together, as opposed to just trying to go solo. That's kinda why I do it.
[su_button url="https://www.5000miles.org/share-your-story/" background="#ef8c2d" size="5″ center="yes"]Share your story »[/su_button]