Behind the Scenes of Avanyu: Learning from Indigenous Peoples
While filming Avanyu, Dana Romanoff got to experience first hand the importance of healthy rivers to indigenous peoples.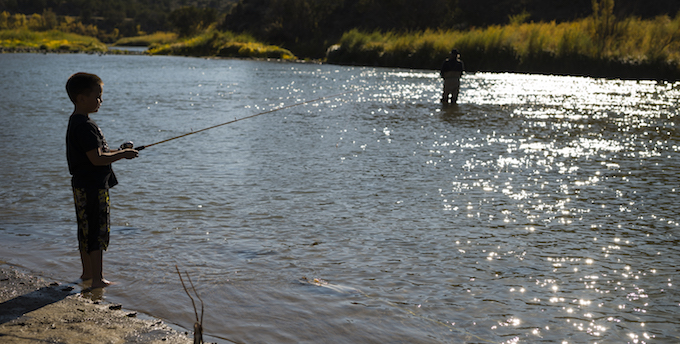 This is a guest blog by Dana Romanoff.
Films provide the viewer a chance to enter someone else's life and way of thinking and being. Making a film like Avanyu can do that for the director as well. This was apparent upon my initial meeting with Louie Hena, who is the main voice in the film. I was forced to take a step back, listen, and learn about another way of being.
Driving down from Colorado towards Santa Fe to meet up with Louie on a scouting trip, I called him asking for a specific time and meeting location. Instead of an address to plug into Google Maps, Louie instructed me to call each time I arrived at a certain town, specific store, or turn in the road, and he would direct me to the next step. Inching down the highway felt like a test of not only my navigational skills but of my perseverance and patience.
As I pulled into the traditional Tesuque pueblo, I saw the beautiful adobe buildings and let my lungs fill with the smell of sagebrush. I was reminded that I was entering someone else's life and I had to step in softly.
In the film, Louie speaks to the western way of learning and schooling (history) vs. the traditional way. He remembers as a child attending western schools, switching classes with each bell. There was no connection between the subjects that were taught. At home his elders taught through song, dance, and story, and he learned that everything is connected.
The Rio Grande serves as a conduit for Louie and his family to connect to their ancestral knowledge and pass their stories along to the guests. The Native Family Feast and Float is as much about entering the landscape and culture of the Hena family and the Tesuque people as it is about floating down a beautiful section of the river. For the Hena family, the Rio Grande valley is their church. Guests learn the meaning of the canyon walls, the ancient history of this sacred place.
Louie explain that he hopes society will listen to and learn from indigenous people.
"More people around the world need to start listening to indigenous peoples and their communities and what they're doing and help them out. Because what we do, we do it for Earth Mom. And if you look at Earth Mom, it's one big basket, and we're all the corn kernels in that one basket. So whatever happens to Earth Mom, we're all impacted."
Much of the water quality work on the Rio Grande and other rivers is based on the teachings of indigenous communities. Clean water is needed for sacred ceremonies as well as public health. Too often when we ignore traditional wisdom, the people suffer. The Standing Rock protest in North Dakota is a prime example.
As Louie says "I equate the health of my people with the health of my landscape – we heal the landscape and at the same time we heal ourselves."
[su_youtube_advanced url="https://youtu.be/JsdssG0B2FQ" rel="no" https="yes" width="1020″ height="520″]
---
Dana Romanoff is the Co-Director of Avanyu and DP of National Park Experience in Boulder, Colorado. Dana is a visual storyteller and producer whose images grace the pages of National Geographic and publications worldwide.