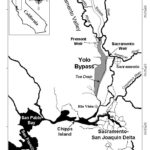 On Wednesday I rode the train across the Yolo Bypass, which provides a glimpse of the Inland Sea that once regularly inundated the lowlands of the Central Valley
The bypass comprises 70,000 acres of farmland and wildlife areas that has been intentionally managed as a designated flood basin since 1926 when the Sacramento Weir was completed. California's state capitol, Sacramento, could not exist without the Yolo Bypass. The bypass diverts floodwaters away from Sacramento and toward undeveloped farmlands.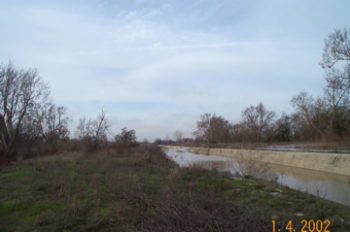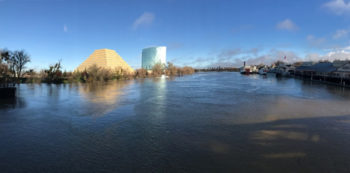 When flows in the lower Sacramento River exceed about 65,000 cubic feet per second (cfs), they begin to spill over Fremont Weir and into the Yolo Bypass.
Water from both the Sacramento and American Rivers can also enter the Yolo Bypass via the Sacramento weir that is opened less often.
Releasing water into the bypass prevents flood stages from rising above the levees that protect Sacramento. During extreme floods, the Yolo Bypass carries five times as much flood water as the Sacramento River channel itself. Today the river is flowing at approximately 93,000 cfs at the I-Street Bridge (see photo below) while approximately 210,000 is flowing through the Yolo Bypass.
Even though the Yolo Bypass looks surprisingly full, it is only carrying about 40 percent of its total capacity.  By contrast, the Sacramento River is at about 85 percent of its 110,000 cfs capacity. The National Weather Service is predicting another atmospheric river storm for next week. Thanks to the capacity of the Yolo Bypass, Sacramento will not be at risk unless the next storm is truly torrential and thanks to the new state flood plan, the bypass will someday be expanded to make sure Sacramento is protected against a changing climate.
To the south where the San Joaquin River enters the Delta, we are not as well prepared. Another big storm next week could be a big problem. Pay attention to the forecast and tune in to learn more about American Rivers' efforts to build a new bypass on the lower San Joaquin River.