Trump's Expected pick for Interior: Who is Cathy McMorris Rodgers?
President-elect Trump's expected pick for Interior raises concerns about the future of our rivers, clean water supplies, wild salmon and our nation's priceless natural heritage.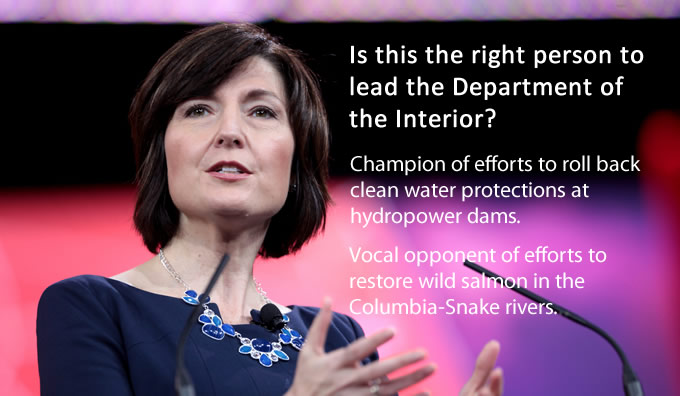 President-elect Donald Trump is expected to appoint Cathy McMorris Rodgers (R-Wash.) as Secretary of the Interior. The agency oversees conservation and management of thousands of miles of rivers and 500 million acres of public lands including National Parks, Forests, Wildlife Refuges and the National Wild and Scenic Rivers System.
McMorris Rodgers is the U.S. Representative for Washington's 5th congressional district, which includes Spokane and the eastern third of the state.
Bob Irvin, President of American Rivers, said that her nomination for Secretary of the Interior "raises concerns about what kind of Interior Secretary she will be and her commitment to conserving our rivers, clean water supplies, wild salmon and our nation's priceless natural heritage."
McMorris Rodgers has been a vocal opponent of the effort to remove four dams on the lower Snake River to restore endangered wild salmon runs – an action scientists say is needed to save the economically and culturally valuable fish from extinction.
In addition, she has championed the effort over the past two years to roll back critical protections at hydropower dams, "weakening safeguards for clean water, fish and wildlife and public lands, and undermining the protection of tribal lands in hydroelectric dam relicensing proceedings," Irvin said.
By contrast, in 2013 Rep. McMorris Rodgers worked with American Rivers on successful legislation to promote hydropower without undermining bedrock environmental laws like the Clean Water Act.
"We hope that, if confirmed as Interior Secretary, she will return to that approach and work for the conservation interests of the American people, not just the interests of large energy companies," said Irvin.
Given the Department of the Interior's role in managing public lands, rivers and water supplies, there is a lot at stake for the mainstream conservation values Americans hold dear.
"Important river restoration and water supply agreements such as those on the Klamath, San Joaquin, and Colorado are at stake, along with the health of thousands of miles of rivers and streams nationwide," Irvin said.
"With drought gripping western states, wild salmon runs on the brink of extinction in the Columbia and Snake rivers, and climate change threatening local communities and economies nationwide, we need a Secretary of the Interior who will prioritize restoration, protection and stewardship of our nation's natural resources."
"Our rivers and public lands are vital to the health and well-being of our nation. They provide clean drinking water sources for downstream communities, economic engines for local businesses, and backyard escapes for families to experience the joy of the outdoors."
The 50th anniversary of the Wild and Scenic Rivers Act approaching in 2018 is bringing heightened focus to the importance of free-flowing, wild rivers to communities nationwide. American Rivers will launch a campaign in early 2017 to protect 5000 new miles of Wild and Scenic Rivers.
"We are committed to defending our nation's free-flowing, wild rivers from unfettered oil and gas development, mining, and new dams and diversions," Irvin said.
"We hope that the Senate will carefully scrutinize Rep. McMorris Rodgers's record on clean water, public lands, fish and wildlife, climate change, and other environmental issues in deciding whether to confirm her to lead the Department of the Interior."