Ten things you need to know about Interior Secretary nominee Ryan Zinke
Rep. Ryan Zinke (R-Montana), President-elect Donald Trump's Interior Secretary nominee, has been heralded by some as a Teddy Roosevelt conservationist, but in his short time in the political arena, he has more of a mixed record than the original roughrider.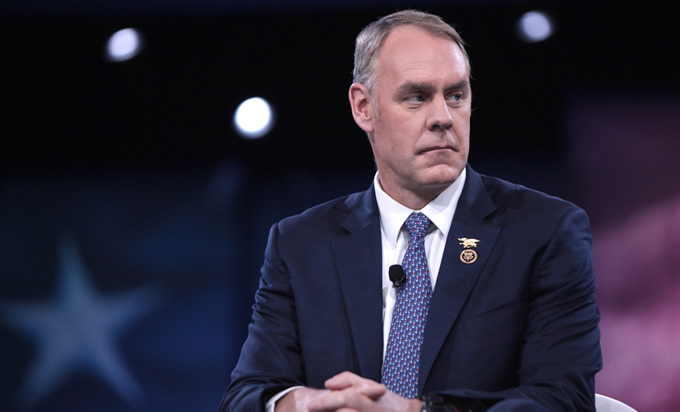 President-elect Donald Trump has named Rep. Ryan Zinke (R-Montana) as his nominee for Secretary of the Interior to oversee management of 500 million acres of federal public lands including national parks, national wildlife refuges, Bureau of Land Management (BLM) lands, and Wild and Scenic rivers.
As a longtime Montana resident and river advocate, I've had the opportunity to get to know Rep. Zinke over the past eight years since he first entered the political arena. Here are ten things you need to know about him in order to judge what kind of Secretary of the Interior he is likely to be:
Rep. Zinke is the first and only Navy Seal ever to have been elected to the U.S. House of Representatives. Over the span of his 23-year career as a Seal, he saw action in Iraq and Afghanistan and rose to the level of commander before retiring in 2008. Want to get on his good side? Ask to see his combat knife collection in his office at 113 Cannon House Office Building.
Rep. Zinke is a huge fan of former President Teddy Roosevelt, both as a warrior and a conservationist, and he has two framed photos of the original roughrider hanging in his office to prove it.
Upon retiring from the Navy Seals, Zinke was elected to the Montana Senate and served one term from 2008-2012. While there, he was one of the few Republicans in the legislature to champion a bill that called for development setbacks along many of Montana's most prized rivers.
In 2012, Zinke ran unsuccessfully for Lieutenant Governor of Montana on a ticket with Gubernatorial candidate Neil Livingstone, a Washington, DC based security consultant. What will be remembered most from that campaign was the Christmas card sent out by the Livingstone-Zinke team, which featured a dead wolf, Ryan Zinke carrying an assault rifle, and Santa carrying a bag full of jobs in the logging, mining and oil drilling industries.
While Rep. Zinke strongly opposes the transfer of federal public lands to the states, he supports transferring management of federal lands to the states in some circumstances. In fact, Rep. Zinke voted for a bill sponsored by Rep. Raul Labrador (R-Idaho) that would transfer management of up to four million of acres of federal public lands to states and counties. Under such a scenario, federal environmental laws that protect wildlife, clean water and clean air would not apply to these lands.
On the issue of permanently reauthorizing the Land and Water Conservation Fund (LWCF), which uses revenue from offshore oil drilling to fund conservation and recreation projects like community parks, Rep. Zinke supports it, although he also supports some reforms to the popular program that make conservationists uneasy.
When it comes to protecting wild rivers, Rep. Zinke has been a champion for designating East Rosebud Creek as Montana's first new Wild and Scenic River in 40 years. But when he had the chance to support federal legislation to withdraw 435,000 acres of the North Fork Flathead River watershed along the western border of Glacier National Park from new mining and oil and gas drilling, he never fully supported it because the ban was permanent.
Rep. Zinke spoke out against mining in the Paradise Valley along the northern boundary of Yellowstone National Park earlier this year, but just this month he indicated his support for building a copper mine in the headwaters of Montana's legendary Smith River despite the fact that nearly two-thirds of Montana voters oppose it.
Rep. Zinke vigorously opposed the Obama administration's efforts to restore protections for headwaters streams and intermittent wetlands under the federal Clean Water Act, and railed against the Clean Power Plan, which aims to curb emissions that cause climate change and harm rivers.
While Rep. Zinke has said that you can literally see the glaciers in Glacier National Park melting before your eyes, he questions the extent to which humans have played a role in climate change and supports efforts to streamline permitting to allow more coal mining and oil and gas drilling on federal public lands.
So, what kind of Secretary of the Interior will Rep. Ryan Zinke be if he's confirmed? The answer is – it's unclear. On some issues (e.g., keeping public lands in public hands and permanently reauthorizing the LWCF), he is likely to be more like Teddy Roosevelt. But on other issues (promoting more fossil fuel extraction on public lands), he could be more like James Watt, the notorious Interior Secretary under President Ronald Reagan. Our job must be to encourage him to be more like the former and less like the latter. Because our outdoor heritage depends on it.