Victory for Tennessee's Harpeth River
The Harpeth River Watershed Association shares news of a victory against sewage pollution for one of America's Most Endangered Rivers® of 2015.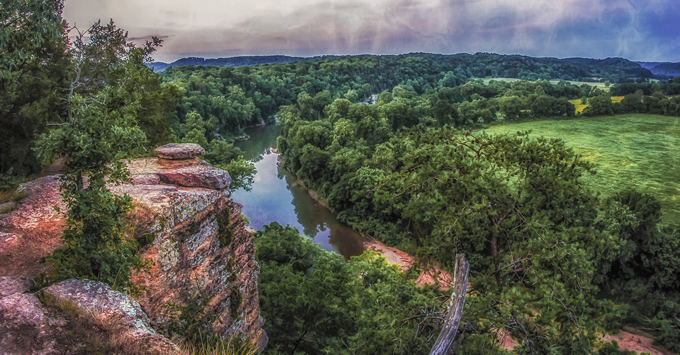 Guest post by Harpeth River Watershed Association is a part of our America's Most Endangered Rivers® series spotlighting the Harpeth River.
---
We are happy to report good news for one of America's Most Endangered Rivers® of 2015, the Harpeth River in Tennessee. In August 2016, Judge Sharp of the U.S. District Court in Nashville approved the settlement of the federal Clean Water Act citizen suit brought by Harpeth River Watershed Association (HRWA) against the City of Franklin, TN in August 2014. The court enforceable settlement is designed to bring Franklin into compliance with the terms of the state permit for the city's sewage treatment plant. Franklin's sewer plant is the largest single source of permitted discharge of pollutants into the State Scenic Harpeth River.
The Harpeth was highlighted on American Rivers' annual list of endangered rivers in 2015 in part due to concerns over unpermitted discharges of wastewater into the river. The river's water quality is impaired from unacceptably high levels of pollutants that feed harmful algae growth that can cause dangerous conditions for wildlife and public health according to the TN Department of Environment and Conservation. This court-enforceable settlement, if faithfully implemented by Franklin, will improve the water quality of this very popular Tennessee State Scenic river resource flowing through Nashville and one of the fastest growing regions of our state and country.
The significance of this effort for clean water and public participation in government include:
Franklin brought into compliance with state sewer plant discharge permit
Harpeth River will see reduced pollution if all aspects of settlement are implemented
Prevention of dangerous algae and toxic conditions in Harpeth River
Publicly accessible water quality monitoring of river conditions is expanded
Increased support for new pollution reduction plan being developed for the entire Harpeth River
Federal Court validation that citizens have the right to participate in and comment on government decision-making without retaliation
No sewer rate increases related to the lawsuit
Next Steps Toward Recovery of Harpeth Already in Motion
This settlement begins the next stage of a broad community effort to restore the State Scenic Harpeth River. Franklin and HRWA have already agreed on locations for water quality monitoring in the river as required, and Franklin is in the process of installing monitoring equipment based on the state's approval. Such information is essential to the new pollution reduction planning process for the entire Harpeth River that has been put in motion with the settlement. The TN Department of Environment and Conservation (TDEC) announced the start of this effort, called a "Total Maximum Daily Load" (TMDL) last year, with HRWA, Franklin, U.S. Environmental Protection Agency, and the U.S. Geological Survey as the core partners. The process of formulating the TMDL plan will require several years to determine how much pollutant the Harpeth River can receive and still meet water quality standards, and to allocate that pollutant load among the various sources.
This successful settlement is one of many significant milestones over our 15 years that have already resulted in improving water quality in one of America's Most Endangered Rivers. Our efforts have led to the launching of the first comprehensive pollution reduction plan for an entire river system in the Southeast. We are also now working with Franklin and TDEC on establishing conditions for the new permit for the expansion of Franklin's sewage treatment plant, which needs to reduce pollution loads in the river.
American Rivers and the Harpeth River Watershed Association thank YOU for taking action on behalf of this special place!!
---
The Harpeth River Watershed Association in middle Tennessee is dedicated to preserving and restoring the ecological health of the Harpeth River and its watershed. Our work leverages the scientific and technical training and experience of our staff and advisors with the efforts of a diverse corps of volunteers who are crucial to every aspect of our programs.