Grants provide big boost in Central Valley Floodplain Restoration Efforts
Through recent grants from the California Proposition 1 grant program and Wildlife Conservation Society, American Rivers has recently had a huge boost in support of our Central Valley Floodplain Restoration efforts.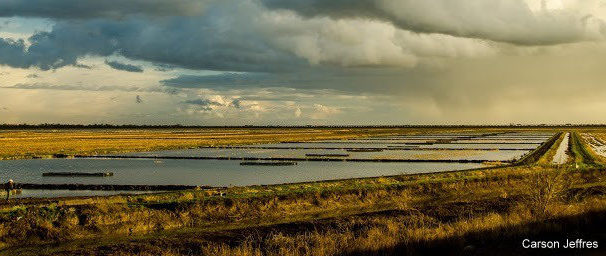 American Rivers' Room for Rivers program improves community safety and ecosystem health in the California Central Valley region by reconnecting rivers to their floodplains. This program is currently focused on advancing model floodplain-restoration projects to restore critical habitat for fish and wildlife and transform flood management to create a more resilient and sustainable river management paradigm.
Through recent grants from the California Proposition 1 grant program and Wildlife Conservation Society, American Rivers has recently had a huge boost in support of our Central Valley Floodplain Restoration efforts. In the last year, we have secured over $7 million in funding for 5 different on-the-ground multi-benefit floodplain restoration projects along the Sacramento and San Joaquin Rivers in the heart of the Central Valley. Private support from foundations, such as the Argosy Foundation, California Water Foundation, and Leavens Family Foundation, has also provided critical seed money to develop and advance these efforts as well as policy level flood management reform through our work advocating for multi-benefit management measures in the 2017 update to the Central Valley Flood Protection Plan.
Some of our exciting on-the-ground work includes:
Great Valley Grasslands Floodplain Restoration
This project aims to reconnect approximately 220 acres of grassland/floodplain wetland along the lower San Joaquin River in the Great Valley Grasslands State Park, which lies adjacent to the San Luis National Wildlife Refuge Complex near Los Banos, CA. The project is planned to be completed in 2019.
Paradise Cut Floodway Expansion and Floodplain Restoration
In collaboration with local and state agency partners, this project will expand an existing flood bypass near the town of Lathrop, CA to increase flood conveyance capacity while simultaneously providing more frequently inundated floodplain habitat. In addition, American Rivers will be working to secure conservation easements on lands in the expanded bypass to benefit endangered species such as Swainson's Hawk.
Yolo Bypass Floodway Expansion and Floodplain Restoration
This exciting project is a multi-faceted bypass expansion and habitat restoration project in the Yolo Bypass near Sacramento, CA. In partnership with the California Department of Water Resources, CalTrout, and Knaggs Ranch, we are working on near-term habitat restoration elements within the bypass expansion footprint. We will be improving connectivity for adult Salmon and Steelhead fish passage in the bypass, and developing novel ways to manage agricultural lands for fish – specifically using rice fields to "farm" juvenile salmon in winter months when fields are fallow and can be flooded to provide critical rearing habitat.
These model projects highlight the importance of a multi-benefit approach to flood management in the Central Valley and beyond if we are to provide a sustainable water supply, flood protection, a working agricultural economy, and ecosystem recovery. Giving rivers more room to move by expanding floodplain area both decreases flood risk by lowering the water level of the river during floods, but also provides critical floodplain habitat and function – one of the most critical habitat types for many of our endangered and threatened species in the Central Valley. For example, a recent report aimed at valuing Central Valley floodplains concluded that the three biggest "value lines" for connected floodplains were 1) reduced flood stage (water level); 2) habitat; and 3) agriculture, each of which can generate benefits valued in the thousands of dollars per acre per year.
Small, regular floods that inundate riverside floodplains are essential to a river's health, and provide a wide variety of benefits to wildlife, fish and people. When we manage rivers wisely, we can keep communities safe and enjoy all of the benefits healthy rivers provide. Healthy floodplains are nature's flood protection.
American Rivers continues to advance on-the-ground model projects throughout the Central Valley and work on policy reform at the state level to showcase the success of a multi-benefit flood management approach.