Smith River copper mine is not worth the risk
Tyler Shepherd, a mining professional, discusses why mining for copper in the Smith River Basin in Montana is unwise. The Smith River was listed as one of America's Most Endangered Rivers® of 2016 due to the threat of copper mining.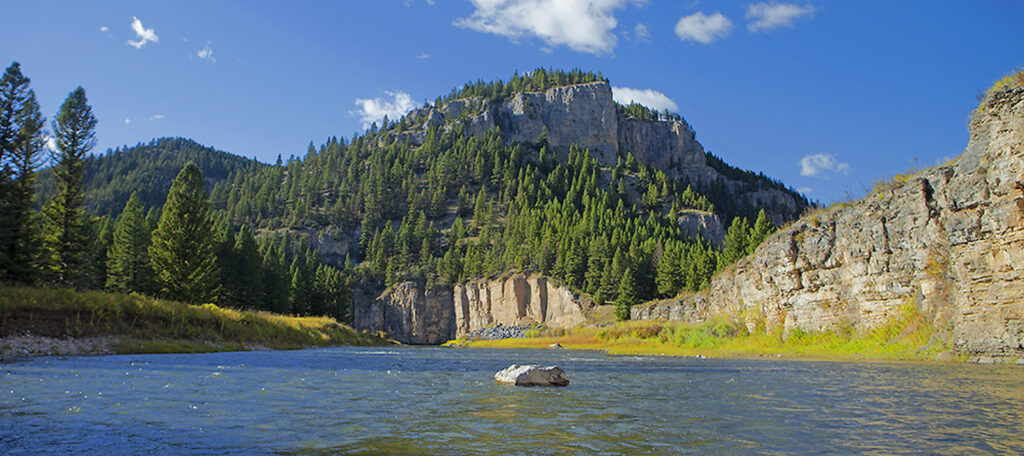 Guest post by Tyler Shepherd is a part of our America's Most Endangered Rivers® series spotlighting the Smith River.
I'm not your typical opponent of Tintina Resources' proposed copper mine in the headwaters of the Smith River.
For over 40 years, I've spent my career exploring for, developing, and mining mineral deposits throughout the Americas. I have worked for both small-junior and large-major mining companies in most facets of this business including exploration geologist, permit writer, equipment and plant operator, project manager, and president. Mining is essential to our way of life, just as is agriculture. Everything material in our lives is either grown or mined. Therefore, I do not write this without some trepidation.
Having read through Tintina's permit application, it is my opinion that this copper mine, if allowed to go forward, will irreparably contaminate the Smith River.
As an outdoor enthusiast, fly fisherman, and reasonable conservationist, I have had the privilege and pleasure of having floated the Smith River twice. This river truly is a gem and a national treasure. It's also economically significant to Montana, generating $10 million annually from fishing alone. This figure does not include monies generated by river floaters, wildlife viewers, and other outdoor enthusiasts, as well as downstream water users. This substantial economic benefit can last in perpetuity if we keep the river healthy.
Mineral deposits are not always located where one would prefer to have them. Some mineral deposits, such as those found in parts of Nevada where I spent much of my career, are located in hydrologically closed systems where the environmental risks are manageable. This one, much like the Seven-Up Pete gold deposit on the Blackfoot River, is not. Pollution generated from this mine inevitably will make its way down Sheep Creek, into the Smith River, and eventually into the Missouri River.
Tintina's copper deposit is sulfide rich with numerous associated metals, some of which are quite toxic. Once sulfide minerals are exposed to air and water, they produce sulfuric acid. This acid accelerates the release of various metals and elements into our environment in a much more toxic state. It may only take a few years, or it may take 50 years, but this pollution will occur.
There is nothing special or unique to the operating plan for this mine that will eliminate the environmental liabilities. Basic chemistry, engineering and physics dictate the proposed exploitation of this deposit.
Mining companies in general tend to come and go based on the economic viability of the deposits, financial situation of the company, and change in management. More likely than not, Tintina will not exist 20 to 30 years from now. Certainly their current management will not be in place, either to safeguard the project or to be held accountable for the pollution that this project will cause. When this mining project shuts down, environmental monitoring and remediation will soon cease due to lack of funding and personnel. This is when pollution and contamination will increase dramatically.
A possible solution to this dilemma would be to remunerate Tintina for its expenditures to date, and then permanently withdraw the headwaters of the Smith River from any further mining activity. This type of deal has been done before, most notably with the buyout of Noranda's proposed activities just outside Yellowstone National Park in the 1990s.
Mining has its place, and is important to America. That does not mean mining should be allowed anywhere and everywhere. Some sulfide bearing mineral deposits that are virtually certain to produce acid mine drainage, and are located directly adjacent to or upstream of environmentally sensitive places, should be off limits due to their unacceptably high environmental risks. The Black Butte high sulfide ore deposit, directly upstream of the rare, unique, and environmentally sensitive Smith River should not be allowed to be exploited due to the extreme likelihood of pollution and contamination.
If Montana's decision-makers, environmental regulators and residents are sincere about wanting to protect the Smith River for future generations, they should keep this copper in the ground.
---
Tyler Shepherd has spent his career in the mining industry. He now works as a mining consultant and small businessman, currently living in Yakima, Washington.