New Madrid Levee Project Criticized by Peers
Report shows the Corps' plan to build a levee at New Madrid across the last natural floodplain in the region is significantly flawed.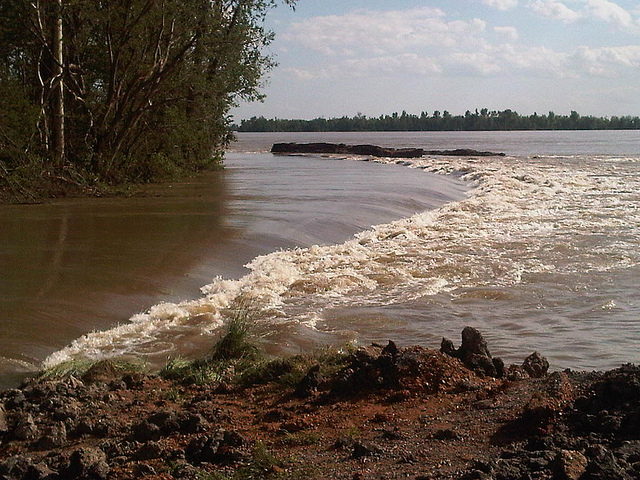 Since the 1950s, the US Army Corps of Engineers has been trying to build a levee near New Madrid, MO to halt seasonal backwater flooding and promote agriculture production within the lower portion of the New Madrid Floodway. The levee would prevent the Mississippi River from reaching 75,000 acres of backwater habitat, which during the regular biennial high water events floods about 33,400 acres – about the size of Washington, DC. The wetlands in this region not only support unique species, especially during seasonal floods, but during the large flood events is an essential reproduction area for many Mississippi River fishes.
American Rivers has asked the Environmental Protection Agency to veto the project because most experts agree that the wetlands and habitat loses would be un-mitigatable. And the Final Independent External Peer Review Report for the project supports our claims.
External peer reviews of Corps projects are called for when a project is controversial or exceptionally large. During the peer review, the Corps contracts with experts through a third party to review the materials and resources used by the Corps in their decision-making process. The panel charged with reviewing the New Madrid Levee Project found several flaws in the Corps resources and decision-making, including:
The assumptions used in the economic analysis could not be justified, e.g. the Corps claims that the main benefit for the project is an increase in agriculture producer profits, but they provided little information to justify or quantify these claims.
The economic analysis did not take into account the changes in environmental amenities associated with the project, like revenues from recreation.
The wetland loss was underestimated, and the wetland mitigation plan "downplays the importance of ecosystems."
The data used in the environmental model is out of date and insufficient for evaluating the impact of the full range of species in the ecosystem.
The expected impacts from climate change were not considered in projecting future crop yields.
The Corps incorrectly assumes "that wildlife can relocate if habitat is lost."
The Corps suggests throughout the working final environmental impact statement "that there is little to no value associated with river connectivity or flood pulse for environmental resources."
The report is clear: the Corps' plan to build a levee across the last natural floodplain in the region is significantly flawed. Next we wait for the final environmental impact statement – which will reveal the Corps' final decision to move forward with the levee project or abandon it forever.