Mountain Meadow Restoration in California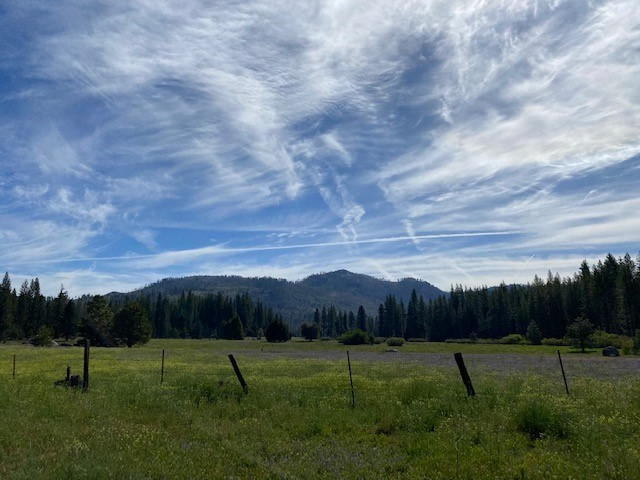 A meadow is an area where shallow groundwater enables grass-like plants and wildflowers to flourish. Although meadows cover only two percent of the Sierra Nevada mountain landscape in California, they are critical to the health and resiliency of the region's rivers due to the ecosystem benefits they provide. Unfortunately, approximately half of all meadows in the Sierra Nevada are in degraded condition, primarily due to historic human land uses.
Why we restore meadows
There are few landscapes that safeguard our rivers' headwaters like a healthy meadow. Healthy meadows benefit people, wildlife, and rivers by acting as natural reservoirs that give rain, snow, and runoff the chance to slow down, spread out and sink into the soil, filtering and storing water. Healthy meadows provide many of the same outstanding natural benefits as floodplains:
Meadows Store Water: Meadows store spring floodwaters, replenishing groundwater and releasing cool flows in late summer. This natural storage is especially important based on predictions of less winter snowpack under climate change for California.
Meadows Clean Water: Wet meadow vegetation filters out sediment and pollutants, improving downstream water quality.
Meadows Provide Important Habitat: Meadows are biodiversity hotspots in California. Water-logged conditions and high plant biodiversity provide habitat for many rare and threatened fish and wildlife species.
Meadows Sequester Carbon: Meadows contain organic soils that store carbon, important in the context of climate change.
Government agencies, foundations, conservation groups, private ranchers, and utilities are all investing in meadow restoration not only to preserve clean water and protect critically endangered habitat, but also to make our natural water supply infrastructure more resilient in the face of climate change.
How a Meadow Protects Clean Water
Healthy meadows are green infrastructure. A healthy meadow has a relatively shallow, meandering stream channel that supports a shallow groundwater table and wet meadow and riparian vegetation, like willows. Runoff during spring floods can spread laterally across the meadow, slowing and soaking in, replenishing groundwater that seeps into the river in the summertime. The meadow system filters sediment and provides important wet meadow habitat.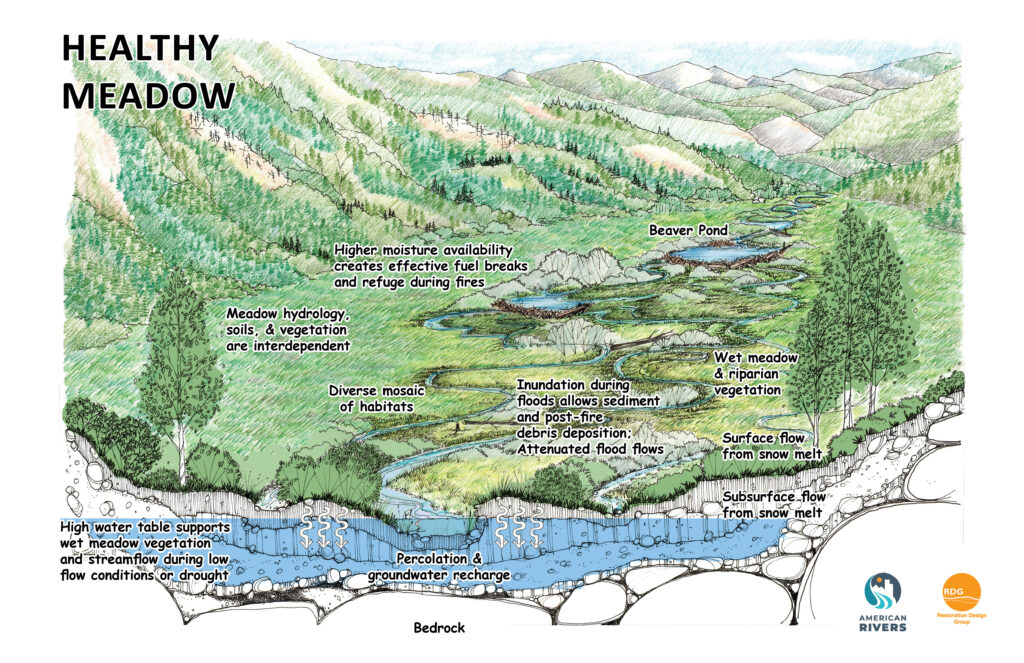 How Degraded Meadows Create Problems
Unlike in healthy meadows, water flows quickly out of degraded meadows. In a degraded meadow, the channel erodes and become deeper and less meandering. This creates a disconnect between the channel and the meadow floodplain. Springtime floods cannot spread out and sink in. Instead floodwaters cause further erosion, cutting deeper and wider channels and sending fine sediments downstream. Groundwater is drawn down below the roots of meadow vegetation and dryland plants take over historic floodplains.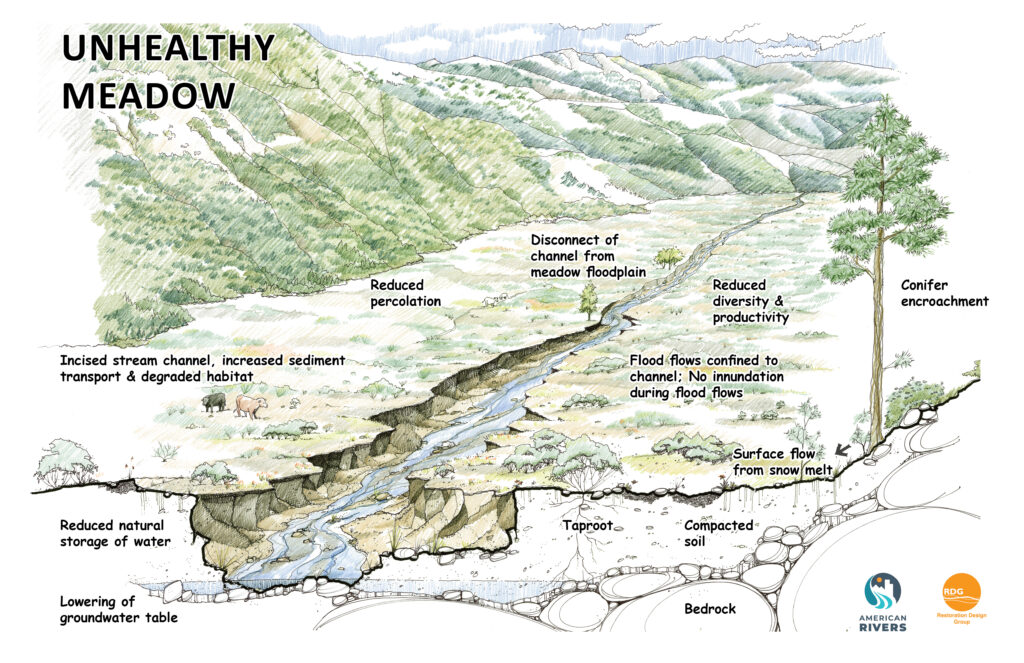 Human interference is the biggest cause of mountain meadow degradation, beginning with trappers and settlers who started the cycle of erosion when they nearly eradicated beavers, overgrazed livestock, built roads and trails, and ditched and diverted streams within meadows.
Our work restoring meadows in the Sierra
American Rivers is working to restore the health of mountain meadows to help ensure that California rivers and water supply will be resilient for years to come. With assistance from the National Fish and Wildlife Foundation and others, American Rivers is working to promote meadow restoration in California through:
Mapping high elevation meadows and quickly assessing their overall health
Developing and applying methods to prioritize meadows for restoration work
Restoring high-priority meadows to provide multiple benefits
Evaluating restoration methods and developing a "toolbox" from past successes
Standardizing monitoring methods to assess restoration success and improve future projects
In addition, American Rivers helps promote meadow restoration at a regional scale. We co-lead the Sierra Meadows Partnership, a regional collaborative of diverse partners focused on restoring Sierra meadows, and co-authored the Sierra Meadows Strategy, an approach to increasing the pace and scale of meadow restoration in the Sierra.
We published the results of our monitoring for the Indian Valley Meadow Restoration in the Journal of the American Water Resources Association in 2018. The results demonstrated that restoration enhanced groundwater recharge and dry season streamflow.
Learn more
Explore the following publications for additional information on meadow restoration:
Evaluating and Prioritizing Meadow Restoration in the Sierra. American Rivers and colleagues introduce tools to assess meadow condition, prioritize meadows for restoration, and monitor the effects of restoration. Data are presented for meadows in the Yuba and Mokelumne Watersheds.
Meadow Condition Scorecard: A Rapid Assessment Tool. Science staff from American Rivers and colleagues developed a rapid method for scoring meadow condition. The method is both rigorous and accessible to landowners and others without specialized experience. See also: "Evaluating and Prioritizing Meadow Restoration in the Sierra." The results of American Rivers' Meadow Condition Scorecard Assessments are available via the UC Davis Sierra Nevada Meadows Clearinghouse.
Monitoring Hydrologic and Water Quality Impacts of Meadow Restoration. American Rivers details methods to improve and standardize the monitoring data so we can better manage, evaluate and learn from past meadow restoration projects.
Monitoring Vegetation Response to Meadow Restoration. Stillwater Sciences and American Rivers define standard methods for measuring vegetation response to meadow restoration in the Sierra Nevada.
Forage and Cattle Response to Sierra Meadow Restoration. UC Davis, American Rivers, and Stillwater Sciences model how meadow restoration improves forage quality and productivity and ultimately cattle production. See also the MS Excel calculator, below.
Forage and Cattle Response: MS Excel Calculator. This spreadsheet estimates increases in weight gain and carrying capacity following restoration.
Monitoring Restoration on Private Lands. Privately owned meadow lands offer particular opportunities and constraints, when monitoring the effects of restoration.
A Guide For Restoring Functionality to Mountain Meadows. Stillwater Sciences assesses meadow restoration techniques and post-restoration management options.
Private and Publicly-Owned Meadow Lands in the Sierra Nevada. Maps and tables show the distribution of meadow land ownership throughout the Sierra Nevada.
Rapid Assessment of Ecosystem Condition. American Rivers introduced restoration planning tools at the 2011 Ecological Society of America conference.
Project Specific Publications
Restoration of Priority Meadows in the Walker Watershed – Monitoring Report. The final monitoring report for an American Rivers project that restored three mountain meadows in the Walker watershed, protecting habitat for federally threatened Yosemite toad.
---